Green Curry with Tofu Recipe
I'm sitting here looking back at the journal I kept during my trip to Sri Lanka and Thailand earlier this year.
We flew into Bangkok in the middle of the night, in the middle of a heat wave. The temperature in the city reached 95 degrees earlier in the day, humidity hitting 94 percent. On a night like this, the air in Bangkok had a big, heavy physical presence. I had to work a bit to breathe it, and push a bit to move through it.
Our cab dropped us off at 12:30 a.m. on a corner that edged up to the colorful melee that is Khaosan Road. I remember, immediately after stepping out of the cab, being hit by the smell of a nearby street vendor tossing up a beautifully spicy, aromatic stir-fry. I can tell you that after being on a 15-hour flight (coach) from San Francisco, there are few better welcomes to Thailand. We walked down the the main strip in search of our lodging, passing the festival of vendors, boom boxes, families, and young people that plays out nightly and into the early morning hours on Khaosan Road.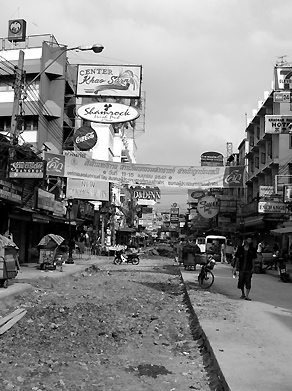 Repaving Khaosan Road
Ironically, one of the most peaceful moments I experienced during my time in Thailand was right in front of our hotel, smack in the middle of the KSR strip. We stayed in a great little hotel in the midst of a sea of hostels, called the Buddy Lodge (it has one of my favorite swimming pools). Apparently, unbeknownst to me, the hotel pumps mosquito spray through the vents late, late at night -- and to me, that mosquito spray smelled like a natural gas leak. In our final night there they were spraying at about 4:30 in the morning, and I was convinced there was a gas leak in the hotel, so I went downstairs to alert the front desk (who of course looked at me like I was crazy). I also tried unsuccessfully to evacuate Wayne from the hotel, and finally (in defeat) decided to just go sit on the curb in front of out temporary home until the sun came up.
It was beautifully quiet. No club music, no motor bikes, and no hustlers looking to hook you up with a ride. There were a couple shop keepers starting their preparations for the day and you could hear the whisk of their brooms go back and forth against the sidewalks. And then the monks came. A few at a time wearing their vibrant orange robes, they would stop at the open-air cafe across the street from where I was sitting, silently fill their lunch pail with a bit of food provided by the woman at the cafe and then continue down the street.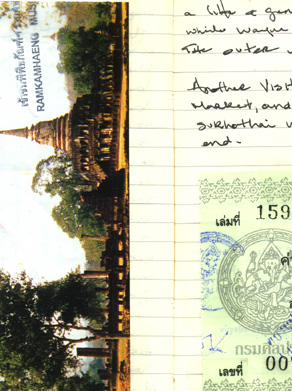 Journal detail
We spent a few days in Bangkok, and then made our way around to other parts of of the country:
Sukhothai, Lotus Village
Koh Samed, Lima Coco
Chiang Mai, Tamarind Village (a wonderful place to stay)
Midnight produce delivery, Sukhothai
One of the highlights of our stay in Chiang Mai was a trip to a farm for a day of cooking. Cooking schools are in abundance in Chiang Mai and spending a relaxing day picking, chopping, pounding, steaming, and sauteing was a welcomed shift from the craziness of Bangkok. Also, one of the things I miss most when I'm away from home on a long trip is cooking my own food. So, I was thrilled to be there and excited to learn from real Thai home cooks.
Market, Chiang Mai
We picked the Thai Farm Cooking School because it came highly recommended by some of the people staying at Tamarind Village, it was affordable $25 per person (I think), and you go to the market first to get some of your ingredients. You pick the rest at the farm itself. I know Amy has also done a class or two in Chiang Mai at the Thai Kitchen Cookery Centre, so keep that one in mind as well.
Rice variety, Chiang Mai
We made a red curry the day I visited the farm, we also made papaya salad, pad thai, and spicy corn cakes. As a bonus, they sent up home with a thick booklet of all the recipes they make regularly at the farm.
It has been COLD here in San Francisco, so I thought I'd make a nice warm bowl of the green curry from their booklet and reflect back on a wonderful trip. A few of the ingredients like the krachi or the galangal can be tricky to find ...but ask around, look at local Thai or Asian markets, and then make note of your sources. I keep kaffir lime leaves in the freezer, and stock up when I come across them. I posted the recipe as it is written in the booklet below. The chili paste packs some kick -- I usually make a 4x batch now, and save it for future uses.
Journal detail
The Chiang Mai Thai Farm Cooking School
10/1 Ratchadamnoen Road soi 5
50000 Chiang Mai
Phone: 053 224 740
01 288 59 89
07 174 92 85

Thai Kitchen Cookery Centre
2/1 Changmoikao Soi 3 Rd
T. Changmoi A.Muang
Chiangmai 50200 Thailand
mobile phone (01)9801950
fax (053)233967
email [email protected]
Contact: TubTim (Tim) Imprahai
Green Curry with Tofu
This was the recipe from the cooking school. I don't eat chicken, so we used tofu instead. Whatever your personal preference.
Ingredients for chili paste:
2 green hot chilies (Thai chilies)
1 tablespoon chopped shallots
1 teaspoon chopped galangal
1/2 teaspoon chopped kaffir lime rind
1 tablespoon chopped garlic
1 tablespoon chopped lemongrass
1 tablespoon chopped krachai
1/4 teaspoon roasted cumin seeds
1/4 teaspoon roasted coriander seeds
1/2 teaspoon salt

Other ingredients:
1 cup sliced eggplants
1/4 cup smaller pea-like eggplants (makheau phuang)
1/3 cup sliced onion
70 grams sliced chicken (or firm tofu)
1 teaspoon sugar
1 tablespoon fish sauce (or soy sauce for vegetarians)
3 kaffir lime leaves
2 stems sweet basil (horapaa)
1 cup coconut milk
1 cup water

(Again, chicken can be replaced tofu)
Preparation of green chili paste:
Put the ingredients for the chili paste in the mortar. Pound with the pestle until everything is mixed and ground thoroughly. (hs note: I pound the chilies first, then add the garlic - pound that, add the shallots - pound that, etc. Or I give it all a whirl in the food processor and finish it off with the mortar and pestle).
Preparation of Green Curry:
Pour the coconut milk in the wok and heat on low fire. Stir until oil appears. Add 1/2 of the green curry paste and stir until fragrant. Add the tofu/chicken and wait until almost done. Put you vegetables in the wok (or pan) and add some water. When everything is cooked, add sugar and fishsauce (or, in our case, soysauce). Stir and taste. If preferred add some more salt or sugar. Finally, put the sweet basil and lime leaves. Serve with rice.