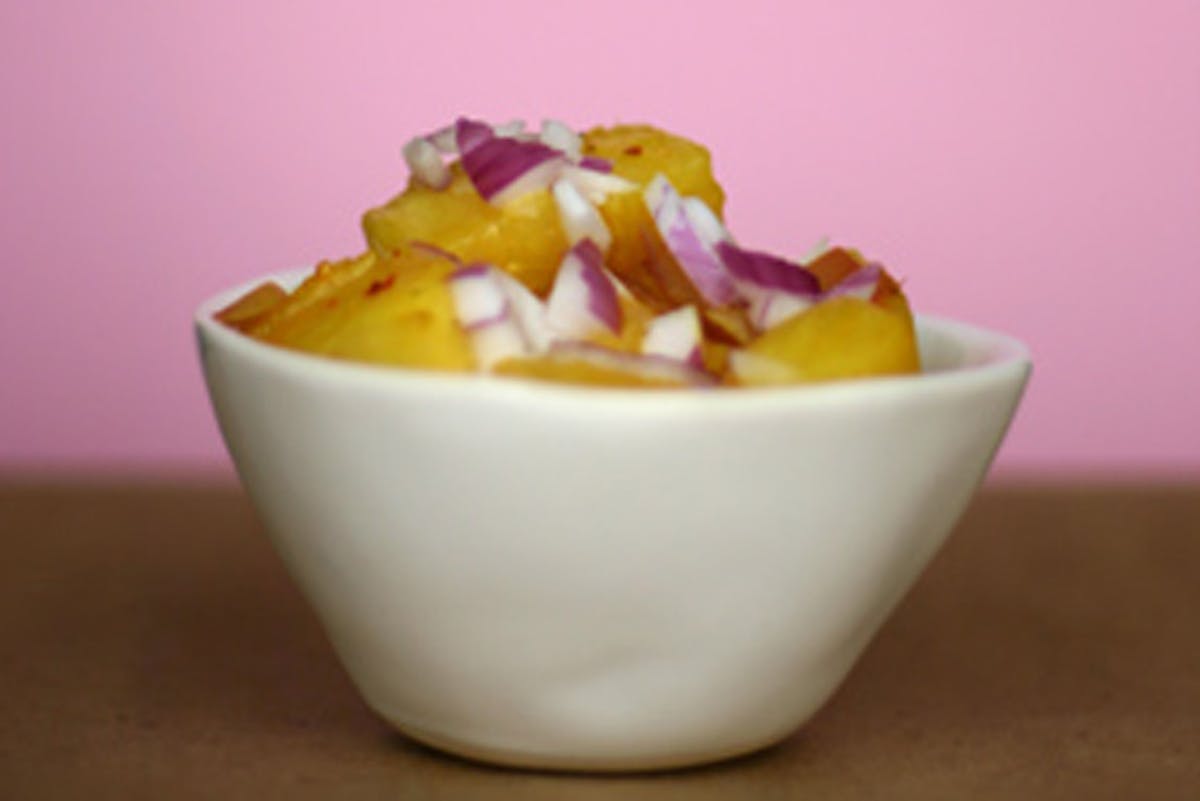 Spicy Pineapple Saute Recipe
Sri Lanka is the tear-drop shaped island nation just a hop-and-a-skip off the southern tip of India. The terrain of the island is varied and stunning -- ranging from rolling tea-carpeted hill country to pale and flat marshlands, and technicolor tropical beaches. I'm not sure how many people I know could pick it out on a map, and based on my brief visit to Sri Lanka, the opposite is true as well. Many people stared at me blankly when I replied to their queries regarding where I was from -- "U.S.A" or "America." Their eyes lit up with a flicker of recognition when I tried "Hollywood" out as a reply....which isn't exactly true, but at least it is in the same time-zone.
Welcome to Sri Lanka
We flew into the capital city of Colombo the night of their elections. Some of you may be aware of the civil war that has been a part of Sinhalese life for the past twenty years. We were a bit nervous flying in from Singapore because although there has been a successful cease-fire in place for a couple years, elections in the past had been very violent. The war has caused an estimated 50,000 casualties. The election date was announced after we booked our flight, so we were in a tough place. Our flight landed after midnight and we quickly hired a car to take us to a guesthouse near the coast while the rest of Sri Lanka was already fast asleep.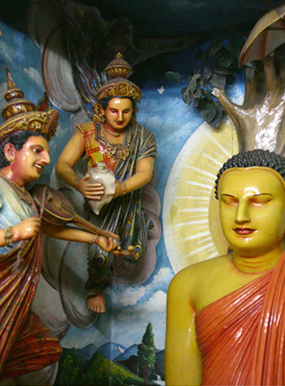 There is so much to say about Sri Lanka, it is hard to know where to start. As the sun rises in the morning, the saturated hues of everyday life hit you like a punch to the stomach -- it is as if you have never really seen color before. There are vibrant green sprawls of rice fields perfectly framed by sky-scraping palm trees. Bouquets of bananas range from magenta to red, red to red-orange, and then red-orange to canary yellow. It is the kind of place that made my eyes hurt from staring too much.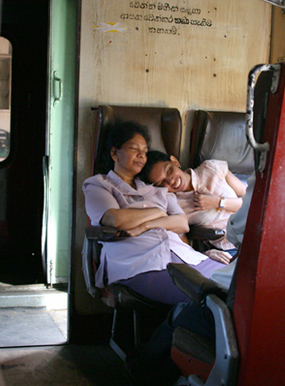 We got an early start the next day (election day) and made the drive to Kandy, a medium sized town which sort of functions as the cultural heart of Sri Lanka as well as a gateway to the famous tea country. The streets were completely deserted, shops boarded up, one or two bakeries were selling goods, but shut down early -- people were scared, and many wives urged their husbands and sons to stay close to home. We walked around for an hour or two, and then made the hike back up the hill to our guest house high above Kandy and the lake where the kitchen was bustling with activity in preparation for the nightly buffet.
Come to think of it, I am now realizing that much of what I came to know about food in Sri Lanka I learned in the first couple of days. We didn't have much luck with restaurants in Kandy, or Sri Lanka in general for that matter. The towns really aren't that big, and while we tried a wide variety of recommendations from our guidebooks, we were disappointed with western-inspired menus - Sri Lankans attempting to cook their idea of what British and German tourists like.....this results is a dismal cuisine, let me tell you. Even when we tried to order rice and curries, or stir-fries we were sunk. We tried to order string hoppers one day, and the waiter laughed at us, I'm still not sure why -- but we never got those string hoppers. We did however have some luck in a couple of the guest houses -- I ate a years supply of lentils in two weeks. We had fried bitter gourds, flavorful rice and curries, homemade yogurts, milk from king coconuts, and lots of fresh fruit.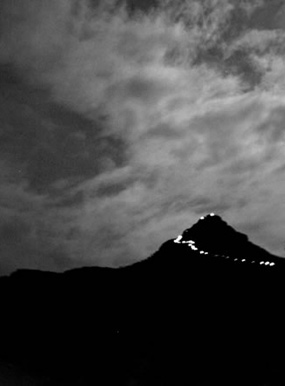 Another culinary highlight was Sinhalese New Year's Eve. We were in a great little beach town called Unawatuna. We were splurging a bit and staying at a great beachfront place, Thaproban, nestled 5 feet from the ocean in a thicket of palm trees. The proprietors encouraged us to go to their New Years celebration, and we agreed. After the sunset we made our way back from the beach through a jungle road a short way to a sister retreat, where we were greeted with a stunning, authentic Sri Lankan buffet, music, and fireworks. I am talking -- four different types of curries, 12 different Sri Lankan sweets and desserts, good wines, and king-sized cold beers. It was was great to finish up our trip with a meal that really showed off just how wonderful Sri Lankan cuisine can be.
Onto the recipe at hand - Spicy Pineapple Saute. I picked this recipe because it has many of the spices used in traditional Sri Lankan cuisine; cloves, cardamom, curry leaves, cinnamon, and turmeric. Paired with juicy pineapple, and creamy coconut milk it sounded like a sure-fire hit. Bonus points because it only took about 10 minutes to make. I pan-fried the spices for a minute, and I know the people downwind of my house, at the park, must have been wondering what smelled so good. Added the pineapple chunks, and then the coconut milk. Very straight forward. The recipe suggests serving over yellow rice, but I just don't see myself eating a whole bowl of this for lunch. As I was making it, I immediately thought it would be perfect if you cut the pineapple into more of a dice, and made a warm, pineapple topping out of it to put on top of kabobs, or if you eat meat - on top of grilled chicken or fish in the summertime. It is both sweet and savory, and the spices added a level of complexity without being overpowering. Delicious.
In some of the early entries on this site I didn't request permission to run the recipe I was writing about from the publisher so it won't appear here. The majority of entries on 101 Cookbooks will have the recipes attached, this just happens to be one of the ones that doesn't.
From: Exotic Tastes of Sri Lanka Page: 99