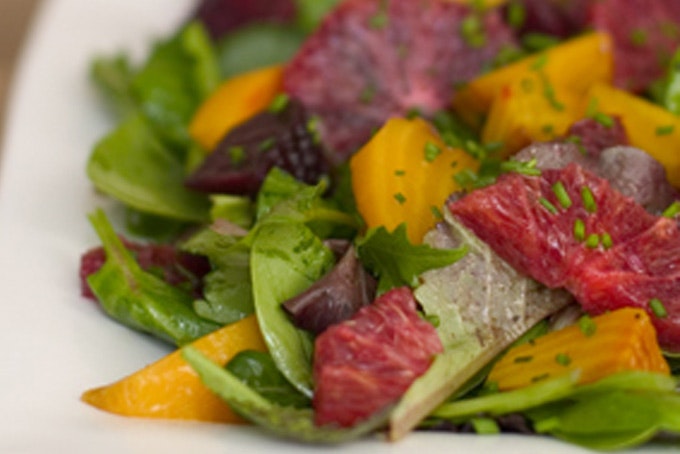 Roasted Beet and Blood Orange Salad with Spicy Greens Recipe
My aunt drove four hours on Christmas day to bring me a bag brimming with perfect, delicious central valley citrus from her town outside of Fresno. Freshly picked. Bet you all wish you had an aunt like mine. The bag was filled with blood oranges, kaffir limes and leaves (her friend has a tree), mandarins, special big yellow limes, and a jar of her homemade lemon curd. She also brought a bag of citrus for my sister Heather (which I was tempted to swipe).
We had a delicious meal with lots of family in attendance this year - aunts, uncles, cousins (we missed you Carrie!), husbands, grandma, and a baby. The menu was the following:
-Cheese sampler plate
-Suzy's spinach pesto dip + pita crackers
-Dad cooked the ham (looked sweet with a bit of a crust)
-Squash raviolis w/ sweet onion chard filling (veg entree)
-Winter salad with walnuts + dried cranberries
-Citrus vinaigrette
-Auntie Shay's pretty twice-baked potatoes
-Auntie Shay's Holiday Citrus Loaf
-Pie
-Homemade peppermint bark
If she'll give up the recipe, I'll post my aunts recipe for her Holiday Citrus Loaf Cake next year before the holidays. It is beautiful to look at - blonde with orange and yellow-jeweled candied fruits in it. I swear it will change the way you think about end-of-year fruit cakes.
So, back to the citrus at hand - I drove home to San Francisco later that night and was trying to think of what to make with my special bag of sunshine. I decided to try this beautiful Roasted Beet + Blood Orange Salad by Maria Helm Sinskey. I made her Fresh Ginger Gingerbread with Soft Cream last year, and have been looking forward to making more of her recipes.
Couple things for starters. This isn't really a salad you can just throw together - you have to roast, and do a little marinating, so plan ahead. Also, this is one beet-y salad, so if you are a beet lover, this salad has your name on it - if not, you might want to pass. On the orange front, Maria recommends keeping an eye out for smaller blood oranges with a bit of that pretty blush on the skin - I agree, they seem sweeter and juicier to me.
This salad can also be made without the greens, or with just a bit of greens as a side dish. The vinaigrette is delicious, and the salad looks beautiful, colorful, and impressive as part of a large spread. It would make a great addition to any winter buffet.
Roasted Beet and Blood Orange Salad with Spicy Greens
1 1/2 pounds medium gold beets
1 1/2 pounds medium red beets
Extra virgin olive oil
Salt
Freshly ground black pepper
6 small blood oranges
Blood Orange Sherry Vinaigrette (recipe follows)
1/4 pound baby arugula
1/4 pound baby spinach
1/4 cup sherry vinegar
1/4 cup finely chopped chives
Preheat the oven to 400 degrees.
Trim the tops and roots from the beets and wash well. Place the red beets on a piece of foil large enough to fold over and seal. Drizzle with olive oil and season with salt and pepper. Seal the foil and repeat with the gold beets. place both foil pillows on a sheet tray and roast in the preheated oven for 1 to 1 1/2 hours until the beets are tender when pierced with a knife. Allow the beets to cool and then peel.
While the beets are roasting, peel the oranges with a serrated knife and remove all of the white pith. Slice into rounds 1/4-inch thick. Remove the pips and reserve the slices in the refrigerator unless you will be using them within 2 to 3 hours.
Prepare the Blood Orange Sherry Vinaigrette (below).
Wash the arugula and spinach well and spin dry. Mix the greens together and reserve covered with a damp towel in the refrigerator.
Cut each peeled beet into eight wedges. Keep the red and gold beets separate or their colors will bleed together. Toss each color with 2 tablespoons of sherry vinegar; season with salt and pepper. Allow the beets to marinate for at least 1 hour or overnight.
In a large bowl, toss the beets and their juices together with enough vinaigrette to coat; add the orange segments and toss gently so that they don't break up.
Drizzle the greens with vinaigrette to moisten and toss with the beets and blood oranges; season with salt and pepper to taste. Garnish with the chopped chives. You may also place the greens on a large platter and serve the beets and oranges on top.
Serves 8.
Blood Orange Sherry Vinaigrette
2 small blood oranges
1 medium shallot, peeled, trimmed, and minced
2 tablespoons sherry vinegar
Salt
Freshly ground black pepper
1/4 to 1/2 cup extra virgin olive oil
Juice and strain the blood oranges. Measure 1/4 cup of juice.
In a medium bowl, whisk the juice with the shallots and the sherry vinegar; season with salt and pepper to taste and let the mixture marinate for 10 minutes.
Whisk in the olive oil to taste. Add more olive oil if the vinaigrette is too acidic for your palette. Adjust the seasoning to taste.
Makes 1/2 to 3/4 cup.
From The Vineyard Kitchen: Menus Inspired by the Seasons (HarperCollins, 2003) - reprinted with permission