Cheesy Potato Spoon Bread Recipe
Outrageously good cheesy potato spoon bread recipe. Warm, tasty, cheesy, crusty, cayenne-kissed, oven-baked goodness. If you are a fan of comfort food - look no further.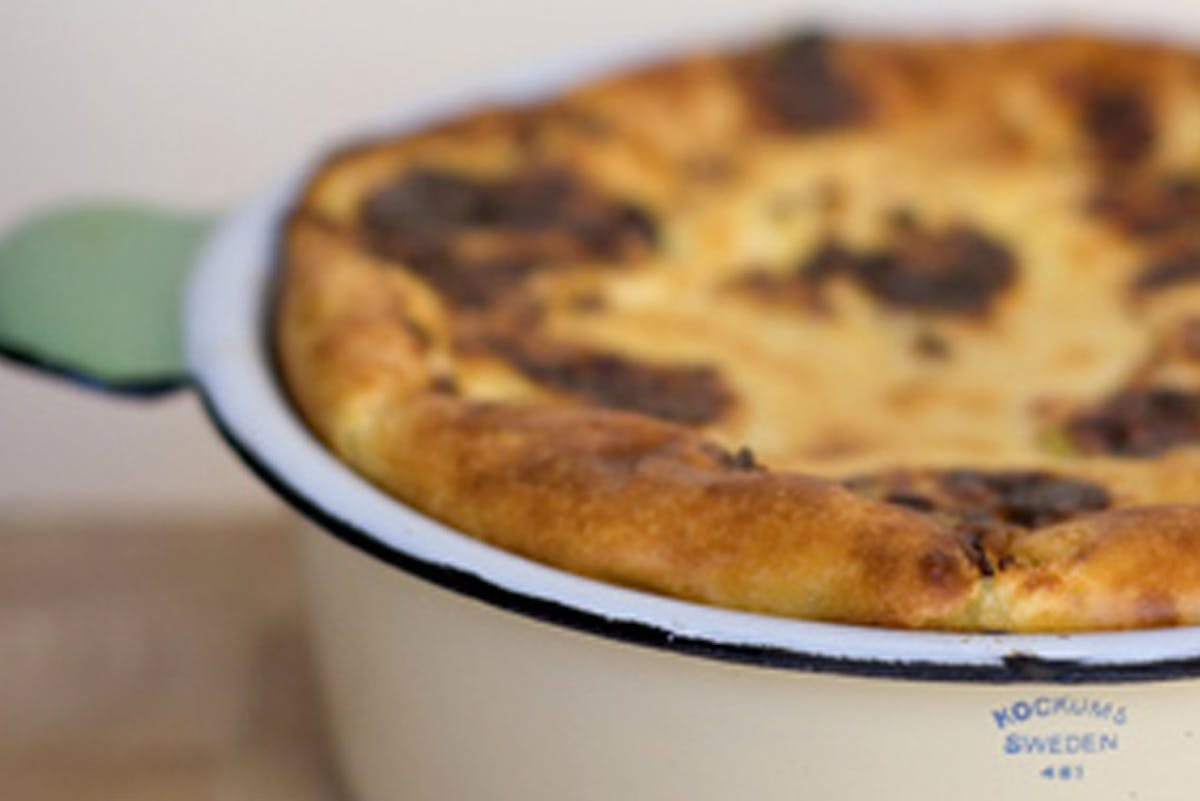 This recipe is outrageously good. Warm, tasty, cheesy, crusty, cayenne-kissed, oven-baked goodness. If you are a fan of comfort food - look no further.
I clipped this recipe from last months Vegetarian Times. And yes, I can sense many of you non-vegetarians rolling your eyes already. The magazine is actually really slick looking (full color!), and is a great resource for vegetarians and non-vegetarians alike. I know a lot of people are looking for new ways to incorporate more whole grains and vegetables into their diets these days - lots of great ideas and recipes to be found in this mag. You can even sign up for 2 free issues if you want to check it out. Anyways, I spotted this winner in the last issue, and gave it a go.
It all comes together really easily, not necessarily a quick recipe, per se....but really basic and straight forward (and no tin-lined copper molds to wrestle with!). You could conceivably make it ahead of time, and bake it off whenever convenient - when you get home from work, or when you have people over for dinner.
I'm not recommending that you eat a plateful of this for lunch everyday - but if you are going to take a stroll down the cheese + starch sidewalk, this is the direction you want to head.
Be sure to season well (salt) along the way or it will end up tasting blah.
Cheesy Potato Spoon Bread
4 cups leftover mashed potatoes
1 cup all-purpose flour
3T soy margarine (I used butter)
1/2 teaspoon onion powder
salt to taste
1/2 teaspoon ground white pepper
1/2 teaspoon cayenne pepper
4 large eggs, beaten, or 1 cup egg substitute
1/4 cup minced parsley
6 oz. Pepper Jack Cheese, shredded (I used a sharp white cheddar)
10 ounces fat-free cream cheese, softened
1. Preheat oven to 425F. Generously butter 6 1-cup ramekins or 2-qt. souffle dish or casserole.
2. If using cold mashed potatoes, warm in large nonstick skillet or saucepan over medium heat until very hot, stirring frequently to prevent scorching.
3. Meanwhile, bring 1 cup water to a boil. Put flour, margarine, onion powder, salt, pepper and cayenne pepper in mixing bowl, and pour boiling water over mixture. Using electric mixer on low, beat for 1 minute, and add very hot mashed potatoes. Beat again well. Add eggs, and beat again, until thoroughly combined. Set aside to cool slightly.
4. Mix parsley, shredded cheese and cream cheese in mixing bowl. Scoop 1/2 cup potato mixture into each ramekin, or put 4 cups into prepared casserole. Make a well in center, and spoon in 2 heaping tablespoons of parsley-cheese filling. Cover filling with 4 tablespoons potato mixture. If using casserole, top with remaining potato mixture. Place ramekins or casserole on baking sheet.
5. Bake 50 minutes. Let cool 15 minutes before serving. Garnish with sprigs of parsley if desired.
Serves 6.
Recipe by Joyce Piotrowksi From: Vegetarian Times (March, 2005)