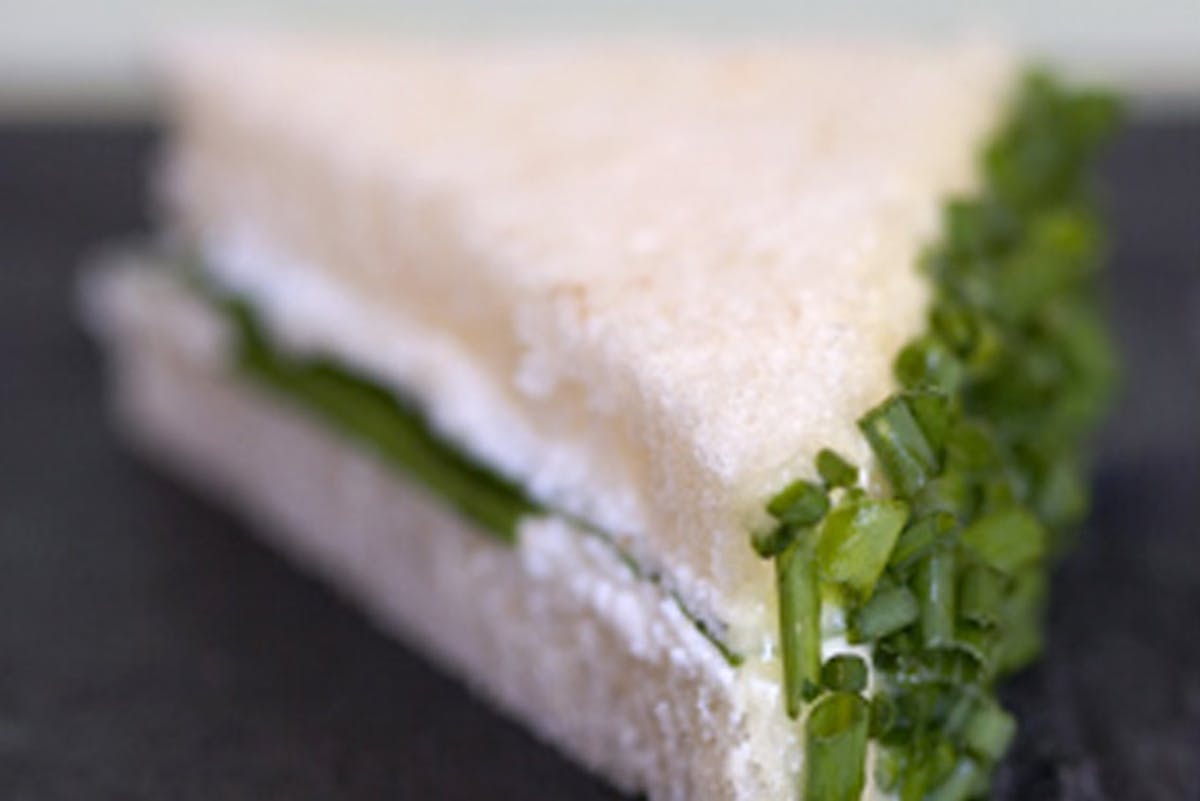 Goat Cheese and Chive Tea Sandwiches Recipe
I found myself enveloped in a world of doilies, vintage tea pots, and ruffled, rose-colored curtains for a couple hours on Sunday afternoon.
I was excited to go to my friend Quyen's bridal shower, mainly because I like her a lot, but also because she was having it at Lovejoy's Tea Room. Lovejoy's is an eclectic little place here in San Francisco where you can have afternoon tea - in the way I imagine some older British women do. This is a shop that over time has evolved from an antique store that would serve tea, to a tea shop where you can also buy antiques. Subtle, but different. The setting is comfortable and you feel as if you are in the sitting room of an eclectic, antique collecting aunt - minus the cats.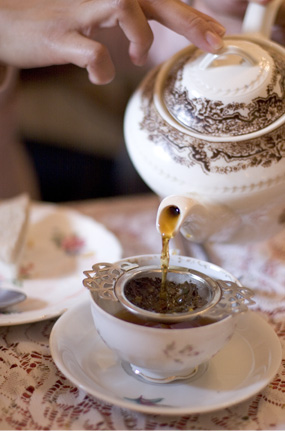 Scones, bottomless tea pots, tiny crustless sandwiches, and spring-tinted petit-fours greet you and your friends. On perfectly mismatched china we were served an assortment of daintily cut sandwiches, currant scones, mango tea, coleslaw, and mixed greens. I locked onto the pear and Stilton triangles - whisper-thin slices of just-ripe pear and an economic spread of pungent Stilon cheese on white - delicious. The cheddar and chutney also went fast with this crowd. Next time I look forward to trying the fig and olive tapenade, and the Mandarin orange with cream cheese.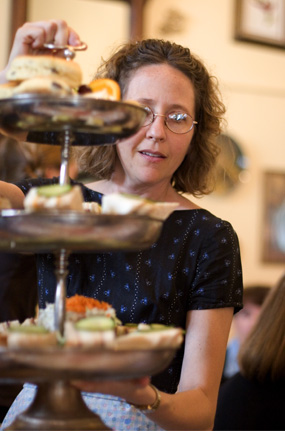 I had my eye on the cute aprons the waitresses were wearing. There was a parade of delightful floral patterns, polka dots, and pink ribbons throughout the afternoon. Not bad for a work uniform I say.
The ladies in the kitchen brought the little girl sitting behind us the sort of hot chocolate that kids dream of. It came in a giant pink mug that she could barely get her little hands around. The whipped cream was pilled at least four inches high and left a kiss on her nose as she sipped.
A great place for an afternoon with friends. Look for a tearoom in your area, or visit Lovejoy's when you visit San Francisco - I can't wait to take my mom here for her birthday, she will love the whole experience.
In keeping with my excitment about all the posibilities for variations on the crustless tea sandwich, I decided to whip up a couple for lunch. Right off the bat, let me tell you - making these little delights isn't nearly as fun as consuming them. I had a vision of platters full of perfectly trimmed, precision sandwiches in a dizzying assortment of cute shapes. That didn't really happen. It is hard to get the sandwiches to stay flat and proper, and it is tricky to trim the edges perfectly so they don't look shaggy (and I even used cookie cutters). This is where my appreciation for good food stylists really kicks in.
The sandwiches tasted really good, but making them is a little fussy for me - and you end up wasting quite a bit with the trimming and shaping and all. I suspect some of you might be up for the challenge, and those of you who aren't - the sandwiches as still very tasty with the crusts intact. Not as good for a party platter, but good for everyday eating. The sun-dried tomato mayo on the B-L-Tea Sandwich is delicious, and the chives paired with the goat cheese and watercress is a nice combination as well.
The Martha Stewart Hors D'oeuvres Handbook is a classic for this sort of thing. She must have recipes for 20 different kinds of tea sandwiches in this book, all beautifully photographed. On top of the tea sandwiches, it is an encyclopedia of finger foods ranging from bites and skewers, to canapes and crostini. If finger-food is your thing, definitely take a flip through this book -lots of great ideas and recipes.
Goat Cheese and Chive Tea Sandwiches
8 ounces fresh goat cheese
24 very thin slices of white sandwich bread, crusts removed
1 medium bunch watercress leaves, enough to make about 2 lightly packed cups
2 bunches of fresh chives, finely snipped to make 1/2 cup
2 tablespoons homemade or prepared mayonnaise
1. Spread goat cheese liberally on all the bread slices. Arrange the watercress leaves in an even layer on 12 of the bread slices. Top each of these slices with a second slice of bread, goat cheese side down.
2. Place the chives in a small shallow bowl. Halve each sandwich on the diagonal. Using a small spatula, carefully spread mayonnaise along the long side of one tea sandwich, and then dip this long edge into the chopped chives. Repeat with each tea sandwich.
Makes 2 dozen.
B-L-Tea Sandwiches
1 1/2 pounds of thick-sliced hickory-smoked peppered bacon (heidi: I used Smart Bacon - vegetarian option)
24 (4 ounces) sun-dried tomatoes
1 cup homemade or prepared mayonnaise
Kosher salt and freshly ground pepper
24 1/4-inch-thick slices of rye bread
6 ounces lamb's lettuce (mache) or other baby lettuce leaves, enough to make about 2 loosely packed cups
1. Heat the oven to 375F with the rack in the center. Arrange the bacon strips in a single layer without touching on 2 baking sheets and bake, one at a time, in the oven for 10 minutes each. Remove and drain off the fat.Continue to bake until the bacon is crisp, another 10 minutes. Drain and let cool on paper towels. Crumble the bacon into small pieces, about 1/2-inch each. Set aside. (heidi: I cooked the Smart Bacon in a skillet with a splash of oil until crisp).
2. Meanwhile, heat 3 cups of water in a small saucepan until almost boiling. Place the sun0dreid tomatoes in a medium bowl and cover wih the very hot water. Allow the tomatoes to soak until they are soft, about 20 minutes. Drain, pat dry, and finely chop. Combine the tomatoes and the mayonnaise. Season generously with salt and pepper.
3. Spread each bread slice with the mayonnaise mixture. Generously sprinkle half the bread slices with the bacon. Arrange the mache over the bacon, sprinkle with pepper, and top with the remaining bread. trim the crust. Slice each in half and serve.
Makes 2 dozen.
From Martha Stewart's Hors d'Oeuvres Handbook (Clarkson Potter, 1999)