Butter-toasted Hazelnuts Recipe
One of my favorite party-friendly ways to use hazelnuts. This butter-toasted hazelnut recipe uses toasted butter, fresh tyme and lemon and orange zest to add a simple yet sophisticated twist to a nut bowl.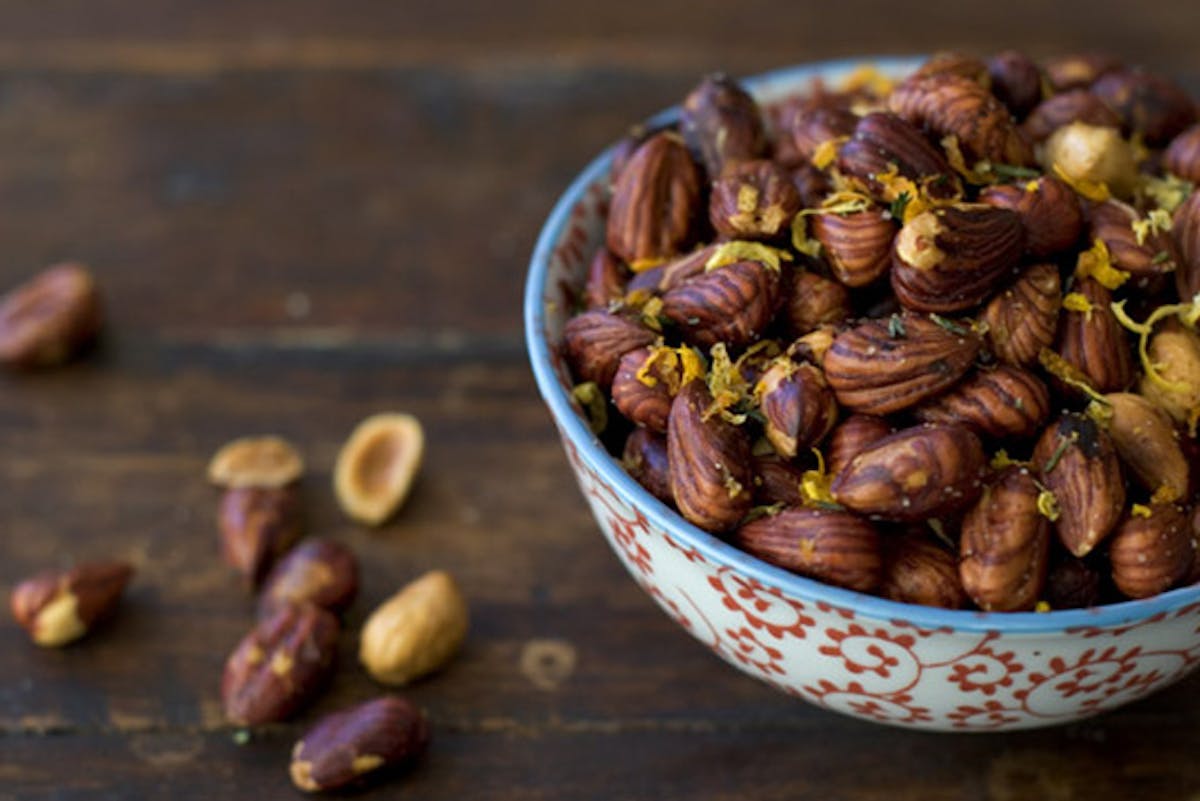 2007 was the year I fell for hazelnuts in a big way. Pine nuts, pistachios, and walnuts make regular appearances in my recipes, but all took a back seat to the auburn-skinned hazelnut when the cold weather set in. I threw together this butter-toasted hazelnut recipe as a quick snack one night before a few friends came over, I've since gone on to use hazelnuts (in excess!) all season. The hazelnuts are roasted for a short time, then finished in a big skillet with fresh thyme, citrus zest, a bit of salt, and a touch of brown butter.
Many people rub the skins off hazelnuts - not me. A bowl brimming with the puggish nuts has a lovely rustic quality when the skins are left intact. Without their skins hazelnuts look naked.
A note on the hazelnuts (also called filberts) you see above and below - notice their shape, sort of like plump almonds. Don't let that throw you, I came across these hazelnuts at Whole Foods Market the other day - they are simply pointed hazelnuts. For this recipe you can use any type of unskinned hazelnut, but I think I actually prefer the flavor of the round hazelnuts best.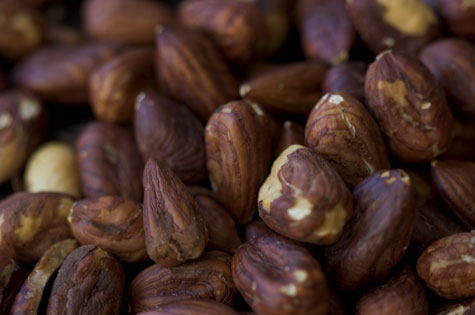 I've been using any leftover nuts sprinkled over salad, in grain-based bowls, and even crushed as a crusting component.
Happy New Year to everyone. I'll add to that a heartfelt THANK YOU for all your encouragement, insight, and participation here. I'm very much looking forward to another year on 101 Cookbooks. I realize how fortunate I am to have such a fantastic forum here to explore ideas and ever-changing inspirations. I encourage you to let me know what you'd like to see more of on the site in the coming year - for January I'm definitely going to focus on some of my favorite quick and healthy meals. I also have a couple surprises up my sleeve...
Butter-toasted Hazelnut Recipe
You can use any shaped hazelnut, I actually prefer the round ones to the pointed ones pictured here. Also, a little tip regarding the thyme. An easy way to remove thyme leaves from their stems is to pinch the stem at the top and then run your fingers down going against the direction the leaves grow - stripping them off the stem.
3 cups unskinned hazelnuts
1 tablespoon unsalted butter
1/4 teaspoon fine ground sea salt
1 tablespoon thyme leaves, fresh
zest of 1/2 orange
zest of one lemon
Place the hazelnuts in a single layer on a rimmed baking sheet. Toast in a 375F degree oven for about 15 minutes or until the nuts become fragrant, their skins darken, and some skins begin to split a bit. Remove from the oven.
In a large skillet over medium-high heat warm the butter. You want the butter to get toasted and fragrant, this takes a minute or so. If you can see any of the little frothy-looking butter solids in the pan, they should start to turn golden. Stir in the salt, and now add the hazelnuts. Stir to get the nuts coasted in butter, and stir in the thyme - it might pop and hiss a bit - that's o.k. Saute for about a minute and then finish with the orange and lemon zests, save a bit of the zest for garnish if you like. Remove the nuts from heat, and when they've cooled a bit, taste to see if you need to add more salt. Serve warm or at room temperature.
Makes three cups.