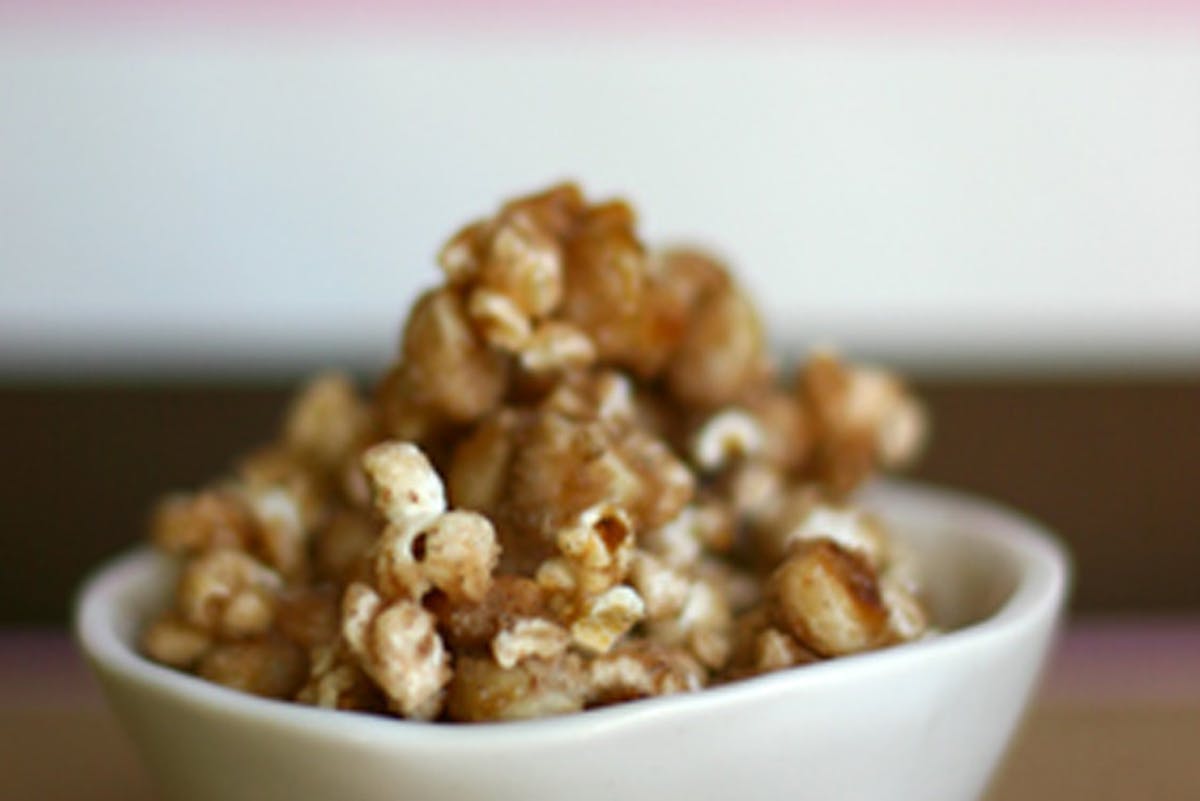 From the Archives: Spiced Caramel Corn Recipe
I am in Mexico (Yucatan) until the end of the week, then back to regular posts. Between now and then I will run a couple favorite past entries from the archives.
This recipe became a favorite because not only is it unique and delicious - it also helped me answer all those questions that come up when you go to pop a batch of popcorn over a stove - high heat or low? A drop of oil or a glug? Enjoy this recipe and then start dreaming up your own special seasonings.
(Originally posted January 5, 2004)
Give me a finicky souffle recipe over making popcorn any day.
Making popcorn gives me a bigger headache in the kitchen than anything else I attempt. Something so simple, right? Not really. If I'm not busy burning the kernels, then I am standing around staring, waiting for them to pop (often times indefinitely).
This recipe caught my attention because for a long time I have been thinking about how great it would be to be able to request a few extra ingredients or flavors in the kettle corn we always pick up when we go to the farmers market -- and while this isn't exactly kettle corn, it is close.
The first step in this recipe was to make a nice fresh fluffy batch of perfect popcorn. Fortunately, I had much better luck this time around. Part of my problem in the past has been that I buy my popcorn kernels from those organic bins, which means it doesn't come with popping instructions. I never know how much or how little oil to use, the strength of the burner, or whether to shake the kernels or just let them sit in the bottom of the pan.
In the past I have burned popcorn over med-low heat. My instinct was to try again using even less heat, but not so! I stumbled onto this gem of a recipe and according to Nancy Silverton, only a drop of oil, and some high heat were between me and a batch of great popcorn. And bless her, she was right. If you follow her instructions, you too can have flawless popcorn.
I toasted up some macadamia nuts, no problem (except they also burn in a flash if you aren't careful). Then I was on to conquering the spicy caramel coating. A ton of sugar and a heavy dose of spiciness makes the magic happen - cinnamon, nutmeg, cloves and cardamon all represent. Making the coating was uneventful if not perilous. Cooking with sugar-sweet molten lava can be a bit unnerving.
I stirred in the popcorn, let it firm up on a baking sheet, and had a huge batch of very spicy caramel corn which was a big hit. Twenty-four hours later there is none left.
Couple notes about this recipe. Don't try to double it. I thought it might not actually make enough (it only calls for 1/3 cup popcorn kernels), but it makes a TON if your popcorn pops up nicely. Flavor wise, I love the spiciness, but I ground up an entire nutmeg for it, and I think that may have been a bit much. I think I eclipsed the other wonderful flavors, next time I'll go a bit lighter.
Tasty. Addictive. A fresh twist on an old favorite.
Spiced Caramel Corn
4 ounces whole macadamia nuts (about 1 cup), optional
1/2 teaspoon vegetable oil
1/3 cup unpopped popcorn
1/4 cup water
2 cups sugar
2 tablespoons light corn syrup
1 vanilla bean, split lengthwise and scraped
3/4 teaspoon ground cinnamon
1 1/2 teaspoons freshly grated nutmeg
1/8 teaspoon ground cloves
1/4 teaspoon ground cardamom
1 1/2 teaspoons coarse salt
1. Preheat the oven to 325 degrees. Spread nuts on a small rimmed baking sheet, and bake until fragrant and beginning to brown, 10 to 15 minutes. Remove from oven, and let stand until cool. Coarsely chop; set aside.
2. Line a baking sheet with a Silpat (a French nonstick baking mat); set aside. In a medium stockpot, heat oil over high heat. Add popcorn, and cover. Once the corn begins to pop, shake the pan constantly. When the corn has finished popping, remove from the heat, uncover; set aside.
3. In a large deep pot, at least 12 inches wide, stir together water, sugar, and corn syrup. Add vanilla pod and seeds, cinnamon, nutmeg, cloves, cardamom, and salt. Bring to a boil over medium-high heat without stirring. Using a pastry brush dipped in water, brush down the sides of the pan to remove any undissolved sugar granules. Reduce heat to medium, and cook, tilting and swirling the pan, until the mixture just begins to smoke and is a deep caramel color, 4 to 5 minutes more.
4. Stir in the popcorn and nuts. Cook, stirring, while moving the pot on and off the heat to prevent the caramel from burning, until the popcorn is completely coated and the mixture is deep mahogany in color. Pour onto prepared baking sheet, and spread in an even layer. Let cool. Remove and discard vanilla bean. Store in an airtight container at room temperature for up to 3 days.