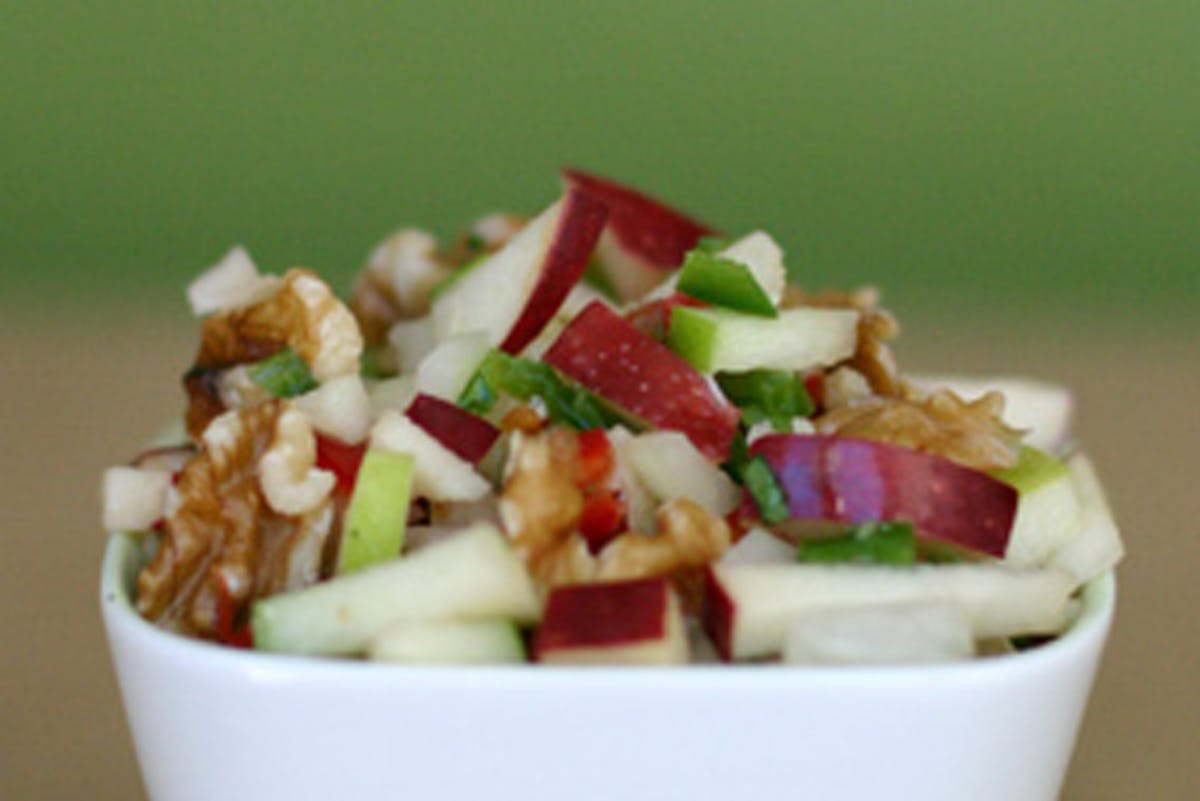 From the Archives: Fresh Apple Salsa Recipe
The Fran Gage Patisserie sat at the top of 18th Street just below Market from 1984 to 1995, just a short walk from where I now live in San Francisco. People would travel across the city for her pain au levain, fruit tarts, croissants and holiday buches de Noels. I moved to San Francisco shortly after the bakery burned and missed out on the opportunity to taste Fran's creations. I've often wondered which wedge shaped building at the top of 18th housed the bakery, I think it may have been the building that is now JavaLisa, but that is just a guess.
I bought my first Fran Gage cookbook on a rare sweltering hot day in San Francisco about three years back. The kind of day where instead of cool coastal breezes whisking through our streets -- hot air was streaming straight in from the San Joaquin Valley, over the Berkeley foothills, and into the city. Wayne and I dug out our dusty beach chairs, put on a slathering of SPF 30, and walked the couple blocks to Alamo Square (many of you have seen pictures of the famous 'painted lady' Victorian houses taken from this park). The views are nice, people were out picnicking and enjoying the time in the sun with friends, there were a few hibachis going. I sat down and read Bread and Chocolate: My Food Life In and Around San Francisco, from cover to cover.
I love her stories, her casual tone, and the way the book captures San Francisco. I will admit it was the adorable illustrated cover that initially caught my attention and inspired my purchase of the book, but it was the writing that made this one of my favorites. A friend of mine moved to New Zealand and I sent her a copy of this book to remind her of home.
The book talks of sentimental affections for a sleek, workhorse of an electric dough sheeter which she eventually parted ways with when she gave it a new home in Elizabeth Falkner's new upstart, the now legendary Citizen Cake. She talks of funghi finding adventures with the Mycological Society of San Francisco, making the once noble quince popular again, and being a late-blooming convert to olive oil. This book is a real treat.
I haven't cooked anything from Bread and Chocolate in a while, and of course I am always tempted to do one of her baking related recipes. Because I baked last time, I decided to try the Fresh Apple Salsa recipe, and use it on a grilled panini I'm planning on making for my lunch.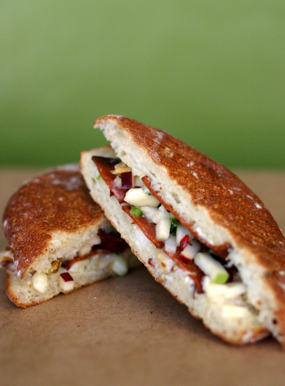 The apple salsa was a big hit. It was sweet and spicy, crunchy and tangy all in one bite. Lime juice, apples, onions, walnuts, and a couple kinds of chile peppers made for a wonderful mix of flavors. I fired up the panini maker, spread a couple ciabatta rolls with a bit of creamy brie and a layer of crisped fake bacon and then grilled them until the cheese was oozy and the bread was crisp. To finish them off, I took them off the grill opened them up and put a generous helping of the apple salsa inside. One of the best sandwiches ever. For the non-vegetarians out there Fran also says the salsa is great on grilled chicken, halibut, and roast pork.
Fresh Apple Salsa
2 tart apples, locally grown if possible
4 tablespoons lime juice
1 fresh jalapeno chile
1 fresh Anaheim chile
1/2 medium onion, finely chopped
Handful of cilantro, roughly chopped
1/2 cup (2 ounces) walnuts, coarsely chopped and lightly toasted
2 tablespoons peeled and finely slivered fresh ginger
1/4 teaspoon salt
Cut the apples from the cores, leaving the skins intact, and cut the fruit into 1/4-inch cubes.
Toss the apple pieces with the lime juice and set aside.
Cut the chilies in half lengthwise and remove the seeds and white ribs. Slice them thinly. Add to the apples. Add the onion, cilantro, walnuts, ginger and salt and mix thoroughly.
Serves 4 to 6.