Ginger Cupcakes with Ginger Cream Cheese Frosting Recipe
Julie Hasson's delicious ginger cupcake recipe. Little bursts of crystallized ginger speckle each moist and sophisticated little cake.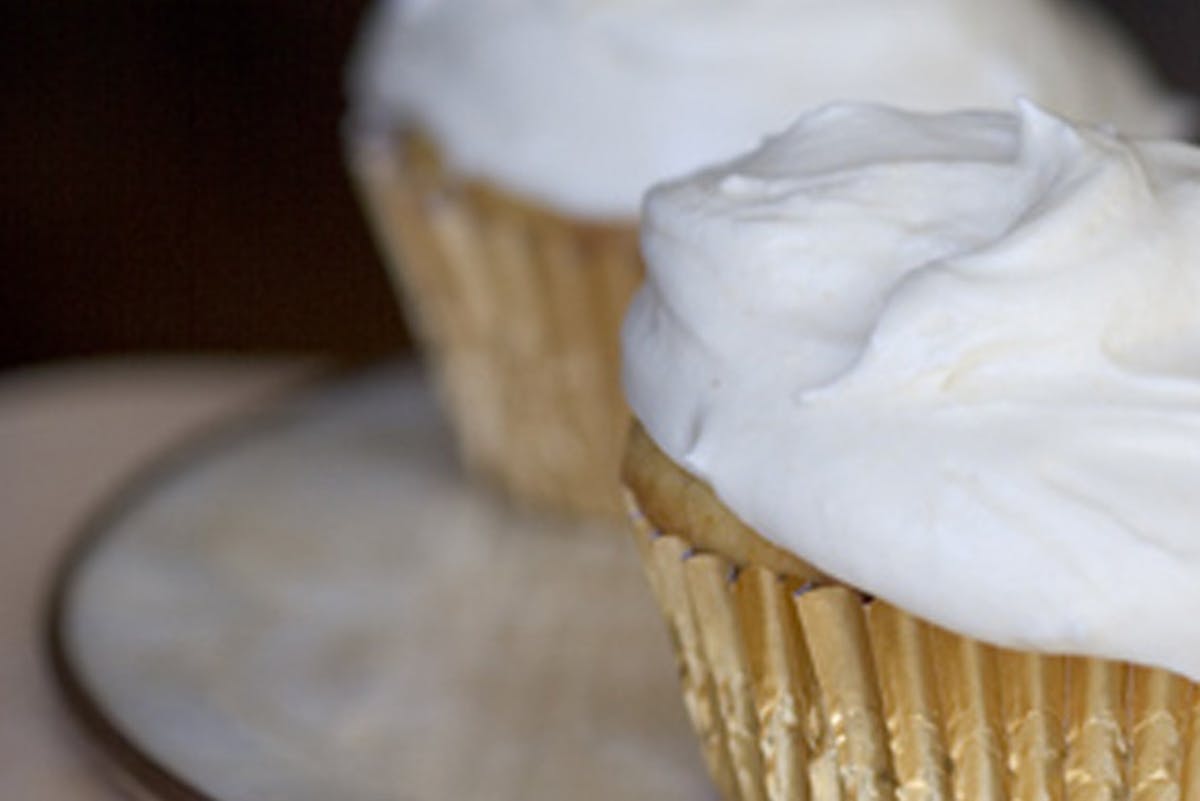 In the spirit of birthdays and cupcake holders, I turned to my friend Julie Hasson's popular cupcake cookbook. I met Julie earlier this year and she was generous enough to give me a copy of her cupcake book. I cherry-picked the Ginger Cupcake recipe (not an easy task - there are 100+ cupcake recipes to explore), and then decided to go full-force and pair them with the Ginger Cream Cheese Frosting.
Little bursts of crystallized ginger speckle the cupcakes, they were moist and delicious. Even party-goers who aren't normally ginger fans stuffed their faces and expressed their approval. The ginger was assertive but not overpowering (I left the chopped ginger out of the frosting because I like my frosting smooth, but added extra ground ginger)....If you love ginger, or just want to try a more sophisticated twist on traditional cupcakes - give these a try.
Other things to remember about this weekend:
- I thought it was a fluke at first. There was no way I was this lucky. For the past few years I've always kept an ear to the sky whenever I'm outside in the hopes that I will catch the bright green flash of belly feathers indicative of the wild parrots that patrol the skies above San Francisco. You can always hear them before you see then, and if you don't look up immediately, chances are you will miss them - particularly if they are on a cross-city flight path. They are now flying right over my house regularly each morning, squacking loudly right around 7am (give or take an hour). I hope they stay as I like waking up to them in the morning so much more than a cellphone alarm. I've seen a huge flock (70+ parrots) in the trees across from the the Ferry Building Farmer's Market, and on another night a huge congregation of them flying in circles in a park near the Embarcadero high-rises.
- I enjoyed a slightly spritzy Sunday afternoon tall lemonade at the newly opened Cafe du Soleil just up the block. The cafe gods must be smiling down on me. I came back from Mexico and there it was - a cornflower blue beacon at the corner of Fillmore and Waller - great made to order sandwiches, fresh bread, and perfectly dressed salads.
-My order of Cup-a-Cake holders arrived just in time for my friend Jen's birthday party. She bakes. A lot. And sometimes when she brings her pretty cupcakes to share with friends they get a little messed up in the process. She tries to make protective shells of aluminum foil - intentions are good, but not really effective. We can't have any more of her delicious creations getting smashed and mussed up, so I bought her a few of the ingeniously designed cupcake shields to protect her precious cargo.
Ginger Cupcake Recipe
1 1/2 cups all-purpose flour
1 tbsp ground ginger
1 tsp baking powder
1/4 tsp salt
3/4 cup finely chopped candied ginger
1 1/4 cups granulated sugar
1/2 cup unsalted butter, at room temperature
3 eggs
3/4 cup milk
Preheat oven to 350 degrees F (180 degrees C).
Prepare a muffin pan with paper liners.
1. In a small bowl, mix together flour, ginger, baking powder and salt. Stir in candied ginger.
2. In a large bowl, using an electric mixer, beat together sugar and butter until well combined. Add eggs, one at a time, beating well after each addition. Alternately beat in flour mixture and milk, making three additions of flour mixture and two of milk, beating until smooth.
3. Scoop batter into prepared pan. Bake in preheated oven for 23 to 28 minutes or until golden brown and tops of cupcakes spring back when lightly touched. Let cool in pan on rack for 10 minutes. Remove from pan and let cool completely on rack. Top cooled cupcakes with frosting.
Ginger Cream Cheese Frosting Recipe
Double this recipe if you like mounds of frosting on your cupcakes.
4 oz cream cheese, at room temperature
1/4 cup unsalted butter, at room temperature
2 1/4 cups confectioner's (icing) sugar, sifted
1/4 cup finely chopped crystalIized ginger
1 tsp ground ginger
Pinch salt
1. In a bowl, using an electric mixer on medium-high speed, beat together cream cheese and butter until creamy. With mixer on low speed, beat in confectioner's sugar, 1/2 cup (125 mL) at a time so that the sugar doesn't fly allover the place. Increase speed to medium-high, beating until light and fluffy. Add crystallized ginger, ground ginger and salt, beating until well mixed.
2. Spread frosting over cupcakes and refrigerate until ready to serve or for up to 8 hours.

Makes 12 cupcakes.
from 125 Best Cupcake Recipes by Julie Hasson (Robert Rose, 2005) - reprinted with permission