Chocolate Oblivion Truffle Torte Recipe
Rose Beranbaum's Chocolate Oblivion Truffle Torte Recipe creates the best chocolate cake I've ever tasted.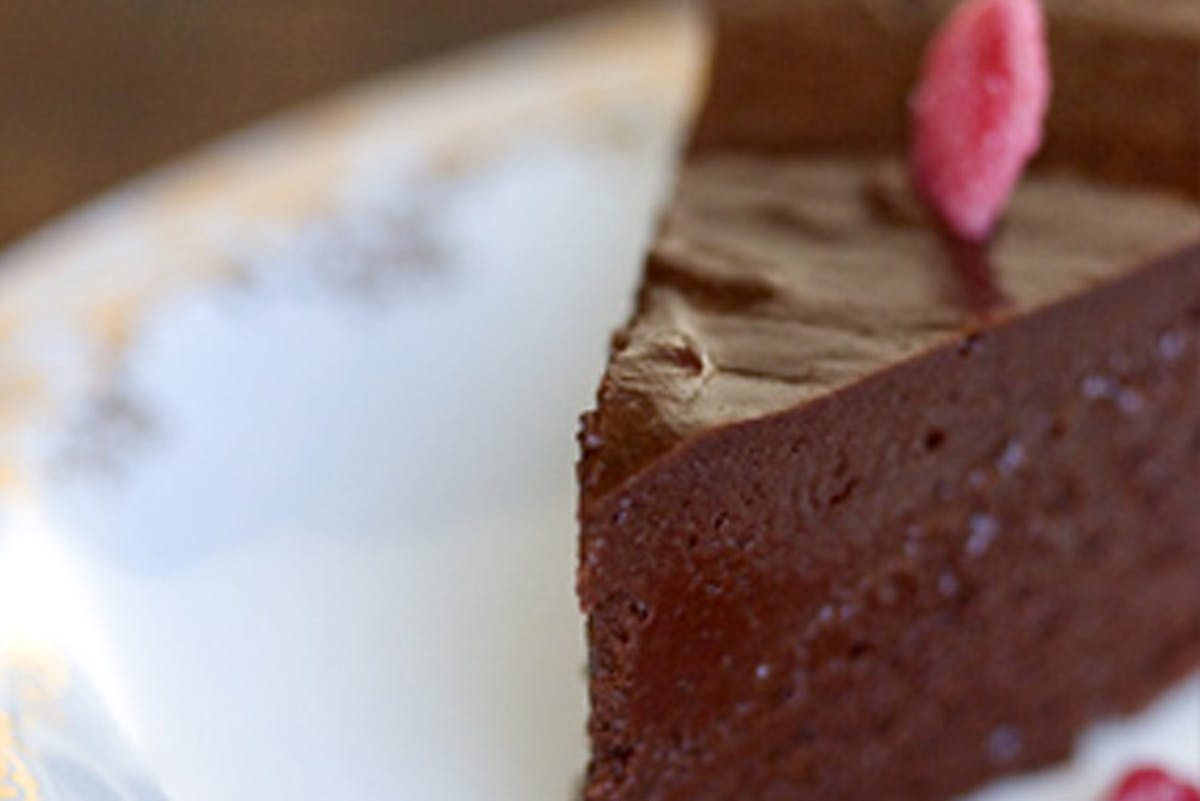 According to the guest book inside the back door of Scharffen Berger Chocolate Maker the two people who visited before me were named Shorty and Fatty. This struck me as particularly funny as I kept grazing my way through sample after sample waiting for the tour to begin.
The Scharffen Berger factory is made from a million red bricks, and is a beauty. Just the right size too - not at all a sprawler like many factories. It has a modest footprint and a few of the rooms are illuminated by natural light spilling in through windows that bump up against sky-high ceilings. The floor of the factory is punctuated by vintage chocolate making machinery including an impressive cherry-red roaster, and a melangeur that I believe the guide said was found in Serbia.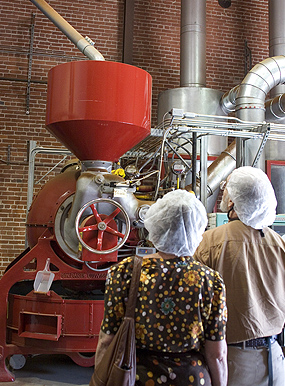 Scharffen Berger Chocolate Maker - big roaster
Talk of the recent acquisition was kept to a minimum. Business-as-usual seemed to be the message to the public. But you could tell people were curious and for a minute or two the direction of the classroom part of our tour turned from 'bean to bar' lecture into a 'bean to business' q+a - people were curious about how the factory would expand and grow under different ownership. The guide said they would be part of an entrepreneurial arm of Hershey, and added they were considering expanding operations and capacity by building a replica factory in one of two places - New York, or Pennsylvania.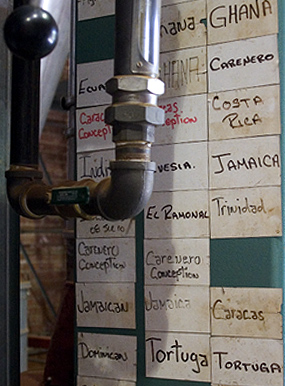 Scharffen Berger Chocolate Maker - bean origins
The timing of our visit was not at all a fluke, at a party recently a friend made a chocolate cake that floored me. It sat at the center of a big buffet table throughout the birthday party, pretty - but at the same time simple and unassuming. It was low-rise cake that she had stacked two high for a tiered effect, with a sheen of chocolate glaze. When the time was right, songs were sung, Jennifer meticulously cut the cake into tiny, thumb-size wedges and began to shuttle plates into eager hands. I swear to you a hush fell across the room as people blissed out on the chocolate. I've had chocolate on the brain ever since.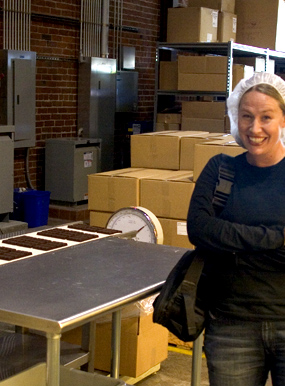 Scharffen Berger Chocolate Maker - me at the end of the line
Jennifer was nice enough to tell me where to track down the magic recipe. I kid you not - if there is only one chocolate cake in my life from this day forward, let this be it. Imagine a rich, creamy, crumb-less, dense chocolate mouse and you are on the right track. It is flourless, and made from just three main ingredients - bittersweet chocolate, butter, and floppy beaten eggs - with a touch of sugar depending on the chocolate you choose. I wasn't at all surprise when she told me the source was Rose Levy Beranbaum's Cake Bible.
Cake makers of the world unite under the flag of Beranbaum's Cake Bible - it is a cornerstone of many cake baking libraries. From the cover and title alone there is no mistaking that the author aimed big - you don't put the word bible on your cover unless you are serious. The book delivered and won the 1988 IACP Cookbook of the Year award. One of the fantastic things it does is give ingredient lists by both measure, and more accurately, by weight. It also offers up plenty of variation suggestions for each of the cakes. For those of you who are new generation of bakers, or just new to cake making in general it is well worth your time to look for this book - many libraries have copies of it in their collections, so you can look for it there as well.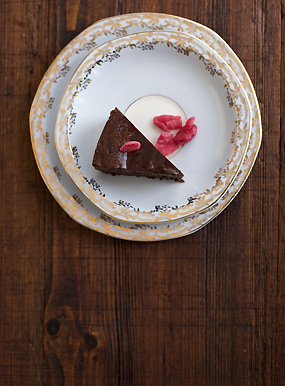 Chocolate Oblivion Truffle Torte Recipe
Beranbaum says this is her favorite way to eat chocolate. It is baked at a high temperature for a short time in a water bath delivering what she calls a result that is like the creamiest truffle wedded to the purest chocolate mousse. Be sure to serve it a room temperature, not chilled. I used Sharffen Berger 70% Bittersweet chocolate. Read through the recipe before starting, it is an easy cake to make, but there are lots of side notes that are important to the success of the cake.
Ingredients (all at room temperature):
bittersweet chocolate: 1 pound or 5 1/3 (3-ounce) bars or 454 grams

unsalted butter: 1 cup or 1/2 pound or 227 grams

6 large eggs: 1 1/4 scant cups or 10.5 ounces or 300 grams (weighed without shells)
* Beranbaum note: Two of my favorites are Lindt Courante and Tobler extra bittersweet. If using Courante chocolate, add 1/3 cup (2.25 ounces/66 grams) sugar to the eggs while beating. If using extra bittersweet, add 3 tablespoons (1.5 ounces/37 grams) sugar. Heidi note: I added 3 tablespoons superfine sugar to the eggs when using the 70% Sharffen Berger.
Prepare pan: One 8-inch springform pan at least 2 1/2 inches high, buttered and bottom lined with buttered parchment or wax paper; outside of pan wrapped with a double layer of heavy-duly foil to prevent seepage. One 10-inch cake pan or roasting pan to serve as a water bath.
Finished height: 1 1/2 inches.
Preheat the oven to 425 degrees F.
In large metal bowl set over a pan of hot, not simmering, water (the bottom of the bowl should not touch the water) combine the chocolate and butter and let stand, stirring occasionally, until smooth and melted. (The mixture can be melted in the microwave on high power, stirring every 15 seconds. Remove when there are still a few lumps of chocolate and stir until fully melted.)
In a large bowl set over a pan of simmering water heat the eggs, stirring constantly to prevent curdling, until just warm to the touch. Remove from the heat and beat, using the whisk beater, until triple in volume and soft peaks form when the beater is raised, about 5 minutes. (To insure maximum volume if using a hand mixer, beat the eggs over simmering water until they are hot to the touch, about 5 minutes. Remove from the heat and beat until cool.)
Using a large wire whisk or rubber spatula, fold 1/2 the eggs into the chocolate mixture until almost incorporated. Fold in the remaining eggs until just blended and no streaks remain. Finish by using a rubber spatula to ensure that the heavier mixture at the bottom is incorporated. Scrape into the prepared pan and smooth with the spatula. Set the pan in the larger pan and surround it with 1 inch very hot water. Bake 5 minutes. Cover loosely with a piece of buttered foil and bake 10 minutes. (The cake will look soft, but this is as it should be.)
Let the cake cool on a rack 45 minutes. Cover with plastic wrap and refrigerate until very firm, about 3 hours.
To unmold: Have ready a serving plate and a flat plate at least 8 inches in diameter, covered with plastic wrap. Wipe the sides of the pan with a hot, damp towel.
Run a thin metal spatula around the sides of the cake and release the sides of the springform pan. Place the plastic-wrapped plate on top and invert. Wipe the bottom of the pan with a hot, damp towel. Remove the bottom of the pan and the parchment. Reinvert onto the serving plate.
Tip: If you have an oven with a pilot light, it can save you a lot of time. The night before baking, place the chocolate and butter in the oven along with the eggs still in their shells in another mixing bowl. (Eggs should weigh about 12 ounces/340 grams.) The next morning, the chocolate and butter will be fully melted and the eggs the perfect temper- ature. Stir the chocolate and butter until smooth and be sure to remove it and the eggs from the oven before preheating oven!
Store: 2 weeks refrigerated. Do not freeze because freezing changes the texture.
Serve: Room temperature. Cut into narrow wedges with a thin sharp knife that has been dipped in hot water.
Pointers for success: For a moist airy texture, be sure to add beaten eggs to chocolate mixture and not the chocolate to the eggs. Wrapping the pan with foil keeps it watertight. Chill thoroughly before unmolding. Use the plastic-wrapped plate when unmolding to protect the surface of cake if you're not planning to use a topping.
Another note from Beranbaum: An 8- by 2-inch solid cake pan can be used instead of a springform-or an 8- by 3-inch pan if adding other ingredients from the variation section (pages 86 and 87). Once in San Francisco I made this cake for my newly married brother and his wife using a straight-sided Calphalon saucepan because they had no cake pans. The handle worked well to unmold the cake! To unmold, run a thin spatula around the sides, place the pan on a heated burner for 10 to 20 seconds, moving it back and forth, and then invert. If the cake does not release, return it to the hot burner for a few more seconds.
Understanding: Just as for cheesecake, baking the Oblivion in a water bath keeps the texture creamy throughout. When this cake is served at room temperature, you get a rush of chocolate from the moment it enters your mouth. The full flavor of chocolate can best be appreciated only in a softened state. (A chocolate bar, for example, has to start melting in the mouth before the flavor comes through.) The butter and eggs do not distract. Instead they contribute structure and the desired creamy texture.
Serves 16.
from The Cake Bible by Rose Levy Beranbaum (Morrow Cookbooks, September, 1988) - reprinted with permission