Salsa of the Year Recipe
Smoky and creamy, this salsa recipe is best drizzled over eggs, quesadilla, and crepes.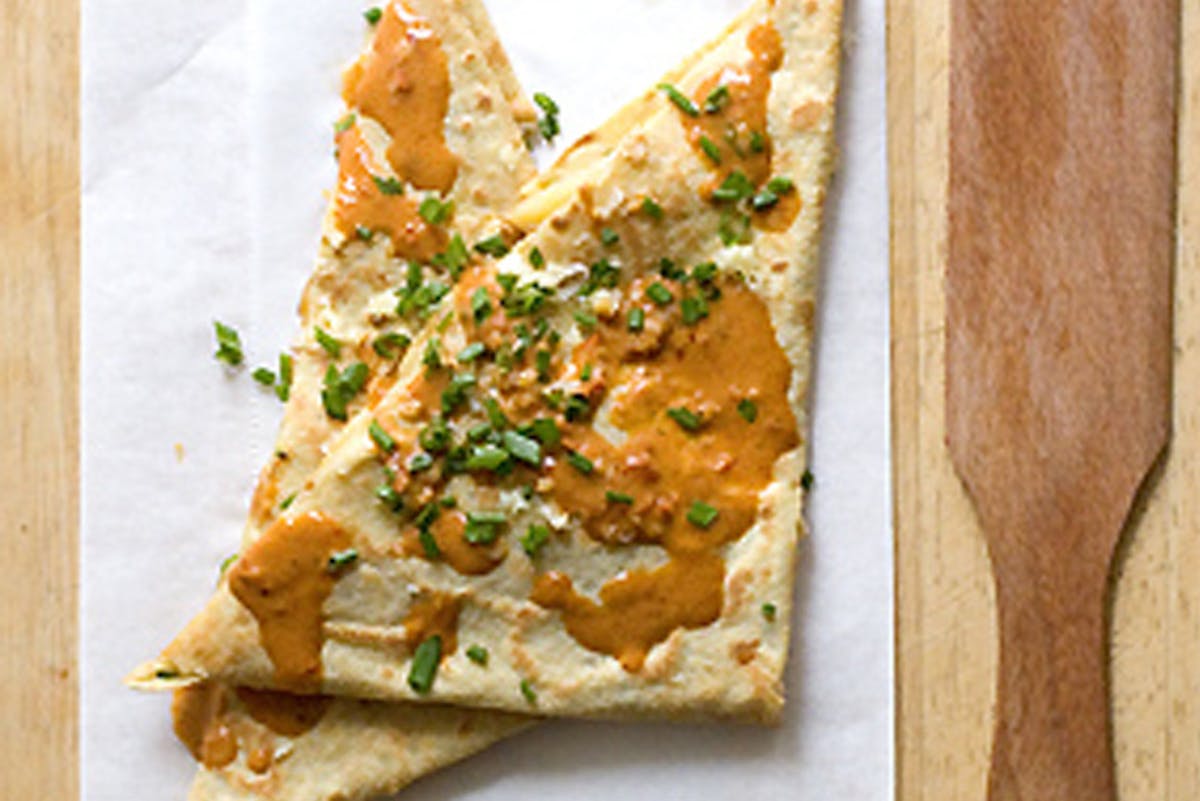 For a short time last year there was a burrito joint two blocks from my front door. To say it was mediocre would be kind. For those of you who are burrito aficionados, lets just say they made the burritos in the back, out of sight, and just leave it at that. Despite painful service, bad burritos, and the worst beer and wine selection I've seen inside the continental U.S. - I would go in there and eat every week. Why? They had this one salsa. I couldn't get enough if it. On the hot end of the mild spectrum, it was red/orange in color, smooth, and slightly smoky tasting. I couldn't figure out what made it creamy, but friends weighed in that it could be pureed nuts (pumpkin seeds) - this turned out not to be the case...I would ladle it over my taco or burrito, scoop it up by the tablespoonful onto their overly-salted tortilla chips, and sneak little plastic containers of it home with me in my purse.
Through a small window that allowed orders to come and go from the kitchen, I tried to ask the cooks what ingredients they used in the salsa. Each time I was told it was made by someone on the previous shift. I always missed the salsa maker.
Smoked Serrano Chile
One day while waiting to pay at the counter I noticed an administrative folder wide open in front of me. It was open to a recipe section with a back issue of Saveur peeking out - one with a picture of a bowl of salsa on the cover. So, I tracked down the back-issue of Saveur in the periodical section of the library, and started there - with the hopes of recreating my favorite salsa. One recipe in this issue seemed close to what I was after, and I used it as a jumping off point. In the end I used a slightly different chile than the magazine called for (thanks to some guidance from Lee James at Tierra Vegetables), and used quite a bit less of them for my first batch (which turned out delicious!). I added a couple splashes of cream to the final salsa and drizzled it in and over the Quinoa + Corn Flour Crepes I made for dinner last night (stuffed with pre-sauteed, sliced, tiny, red potatoes, a bit of grated gruyere, and plenty of chives). Sooo good.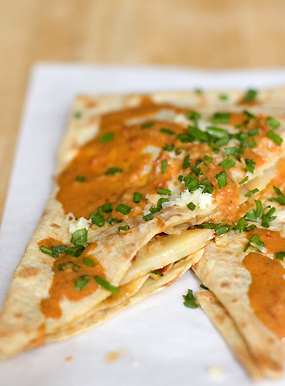 Salsa of the Year
You also might want to try this with other types of smoked chiles if you can't find the mirasol or smoked serranos (or you can mail order from Tierra). I also want to try it with chiles de arbol (not smoked that I know of). Play around a bit and get to know the different flavors and characteristics of the different chilies. I'm sure some of you chile geeks can offer up some other recommendations for substitutions as well.
3 T. vegetable oil
1 ounce dried mirasol (milder) or smoked serrano (more heat) chilies
garlic, 12 small to medium cloves - peeled
Another 3 T. vegetable oil
1 1/4 cups vegetable broth
Start by rinsing the chiles. Pat them dry with a paper towel. Heat 3T. vegetable oil in a thick-bottomed or cast iron skillet over medium-high heat. When hot add chiles and the garlic cloves. Cook, stirring regularly until the chiles puff up and the garlic browns a bit and begins to soften up, about 5 to 7 minutes. Transfer the chiles to a bowl filled with very hot water - soak until soft and pliable, roughly 20-30 minutes (if the water starts to cook - just drain and refill with more hot water). Drain, and remove the stems, veins and seeds of the chilies (I use a small paring knife for this). Puree the chilies, garlic, and broth with a hand blender or food processor. Heat the second 3T. of oil in the skillet over medium high heat. When hot add the chile puree (be careful, the oil is very hot, and the puree should really sizzle when it hits the pan). Stir constantly for 5 minutes or so as the salsa reduces and thickens up a bit. When it starts to stick to the bottom of the pan it is done. Remove from heat and season with salt to taste.
Enjoy this straight: with chips or on fresh tortillas, tacos, and just about anything coming off the grill.
Through the following variations you can really control the strength of the chile flavor as well as the overall spiciness - essentially through dilution.
- Stir in 1/3 cup cream (or to taste) - for a slightly creamy sauce that will add a bit of kick to a wide range of recipes. (this is the sauce you see in the pictures on this post). Drizzle on savory crepes, egg dishes, casseroles, etc.

- Stir a couple tablespoons into light or vegan mayo for a spicy sandwich spread.

- Spread on panini: with all sorts of fixings.
Makes about 1 cup.