Spring Roll Salad Recipe
Imagine a spring roll without the wrapper and you've got this salad. A familiar chorus of flavors - sweet, sour, tangy, hot, and nutty all projected onto a mound of serpentine rice noodles and seasonal vegetables with a peanut dressing and lime splash.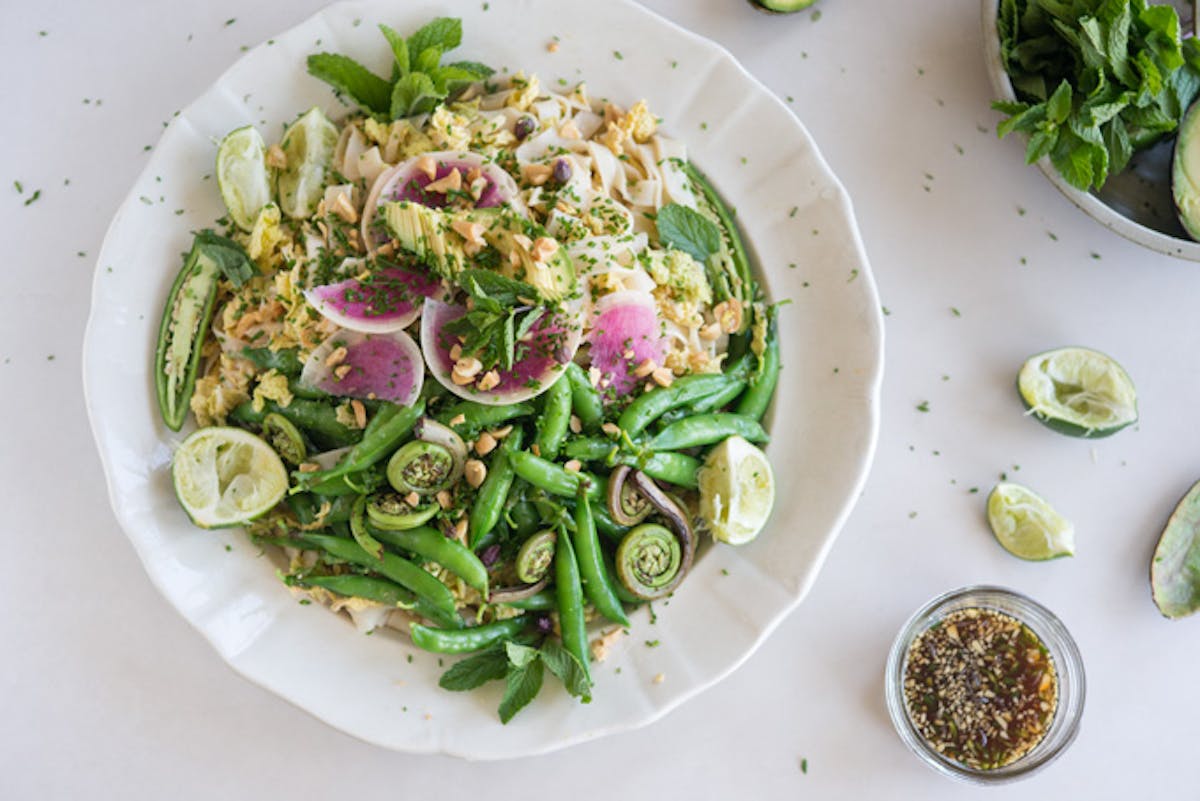 A spring roll salad is for the times you crave the flavors and textures of Vietnamese spring rolls, but want to skip out on the "making spring rolls" part of the equation. A number of you spotted this on my Instagram feed, and I wanted to post the recipe - it's fantastic. You've got the freshness of spring rolls, bit use rice noodles in place of rice paper wrappers. It's a familiar chorus of flavors - sweet, spicy, tangy, sour, salty, and nutty - all projected onto a mound of serpentine rice noodles. I throw together two quick sauces while a big pot of water is coming to a boil, and cook everything in one pot. This means the noodles, and whatever seasonal vegetables I plan on using. It's spring as I'm writing this, so a quick blanch of some snap peas, and fiddleheads in the pasta water was all that was needed - asparagus would have been welcome. Later in the year you could substitute green beans and other summer goodness!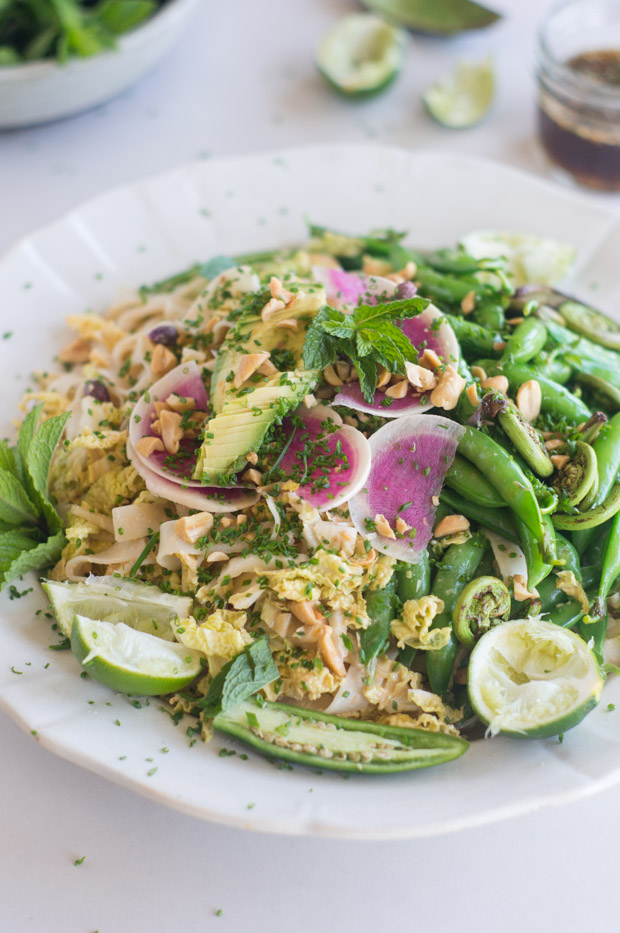 Spring Roll Salad
Peanut Sauce Dressing:
1 cup unsweetened full-fat coconut milk
1/2 cup peanut butter
1/2 teaspoon cayenne pepper
2 medium shallots, peeled


3 tablespoons brown sugar, maple syrup, or honey
1+ tablespoon shoyu / soy sauce

2 tablespoons fresh lime juice

Lime Dipping Sauce Dressing:
6 tablespoons hot water
2 tablespoons brown sugar, maple syrup, or honey
1 garlic clove, minced
1 teaspoon serrano chile pepper, finely chopped
1 tablespoon fresh lime juice
1 tablespoon shoyu / soy sauce

a few handfuls of seasonal vegetables: asparagus, snap peas, fiddleheads, green beans

12 ounces dried rice noodles
1 head napa cabbage (or other lettuces), thinly sliced
1/2 cup toasted peanuts, chopped

to serve (any of the following): limes, sliced avocado, extra peanuts, sliced radishes
Bring a large pot of water to a boil. While the water is heating, make both your sauces. To make the peanut sauce, place all the ingredients - coconut milk, peanut butter, cayenne pepper, shallots, brown sugar, soy sauce, and lime juice - in a food processor or blender, and blend until smooth. Taste, and adjust with more soy sauce or lime, if needed. Also, thin with little splashes of hot water to thin the consistency, if you like. Set aside.
To make the lime dressing, place the hot water in a small bowl and sprinkle in the sugar. Stir in the garlic, chile pepper, lime juice, and soy sauce. The sauces will keep for a week refrigerated. Bring to room temperature, or gently heat, before using.
Once the water is boiling, salt well, and add your vegetables to the pot. Blanch for just under a minute, remove with a slotted spoon or strainer, and run under cold water to stop the cooking. Set aside. Bring the water back to a boil, and cook the noodles per package instructions. Drain, and rinse under cold water until completely cold.
Place the noodles in a large bowl, or on a large platter, and toss with the cabbage, peanuts, and a generous amount of the peanut sauce. Top with the blanched vegetables, and give another light toss. Just before serving, drizzle generously with the lime dressing. Serve both dressings at the table, so people can add more to their liking.
Serves 4-6.
Prep time: 10 minutes - Cook time: 10 minutes