Shredded Un-Chicken Salad
A vegetarian take on the Chinese chicken salad of my youth. Toss shredded lettuces and cabbage, lots of cilantro, green onions, and the protein of your choice with a strong sesame-soy dressing punctuated with the bite of hot mustard. Forever one of my favorite salads.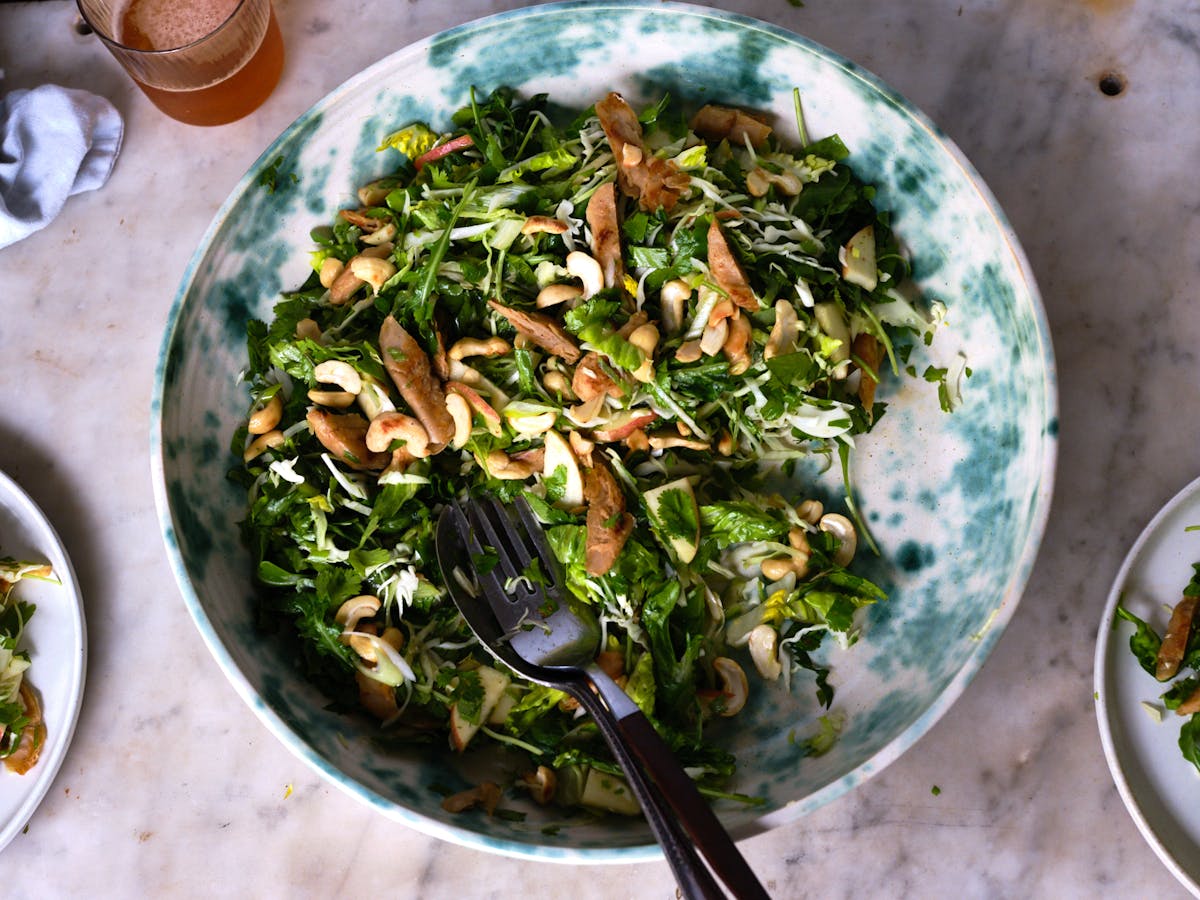 This has been an evolving recipe over the past twenty years and I think it *finally* nails all the notes I love in a great Chinese chicken salad. Specifically, it's a vegetarian take on what I think of as the amazing Chinese chicken salads of my youth, circa the 1980s. This version includes all my favorite components - the awesome super-strong hot mustard & sesame-soy dressing, the pile-it-on approach to cilantro, the scallions and toasted nuts. Then, with this version, you introduce some sort of alternate protein (or plant-based chicken). The whole situation is compiled into a feathery, light mountain of deliciousness.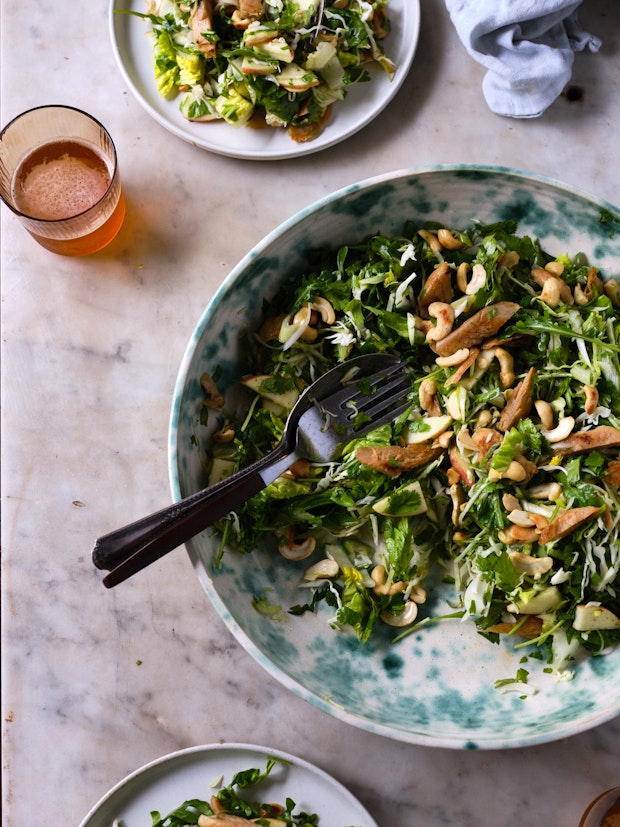 Protein: You Have Options
In place of shredded chicken, in the traditional version, you have options. I'll be honest and say, I'm not a huge fan of the highly-processed plant-based meats available, but there is one brand of plant-based chicken Wayne buys on occasion. This one - green bag, original (*not sponsored). I occasionally reach for it, especially in a recipe like this one, when I'm really chasing the nostalgia. Anyway, it's the best I've tasted. Alternately, if you're willing to let go of the chicken angle - a hard-boiled egg, or a bit of pan-fried tofu is all you need to make a one bowl meal of things.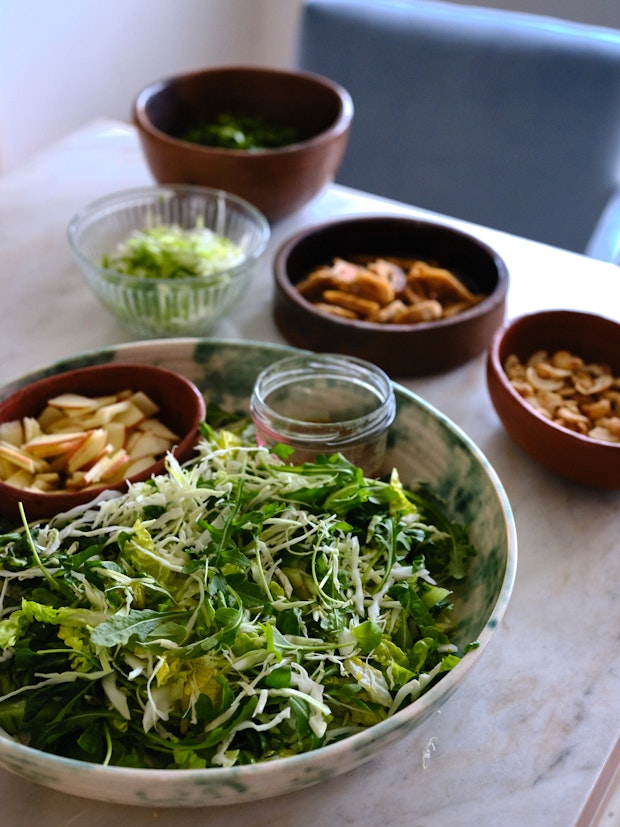 On The Go: Shredded Un-chicken Salad in a Jar
This makes a great on-the-go salad. Here's the plan. Place the lettuce / cabbage mixture in a large jar, with the plant-based chicken, egg or tofu tucked into that jar as well. The dressing should go in a separate jar, and a little side container is the way to keep the nuts crunchy. Deploy a little ice pack. Then when you're ready, a quick toss, and you've got a beautiful, vibrant salad. It's a good one for work, or picnic, or potluck.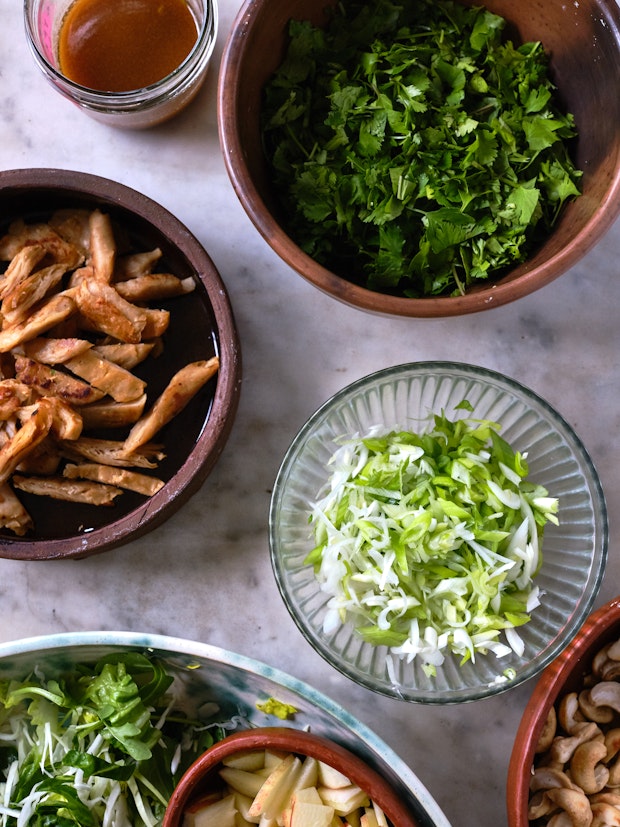 One More (optional) Component
There was always a crunchy component to the chicken salads I love most as a kid. It was either tons of strips of fried wonton wrappers or fried thin rice noodles (vermicelli). I don't love deep frying, so I normally skip this component when I make this salad at home, but you can certainly add it if you like.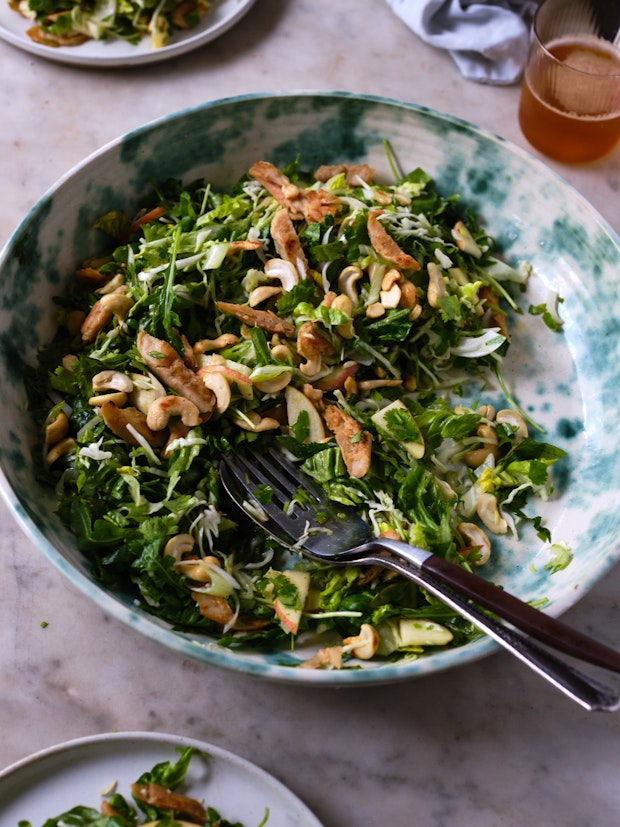 The photo above is the version I made yesterday using plant-based chicken, apples, and cashews along with shredded cabbage, arugula, and little gem lettuces. And the version below is from a few years back. You can see there's a bit of radicchio, sprouts, peanuts, and some watermelon radishes. This is a long way of saying, you can play around with different components of this salad based on what you have on hand. The dressing really brings is all together!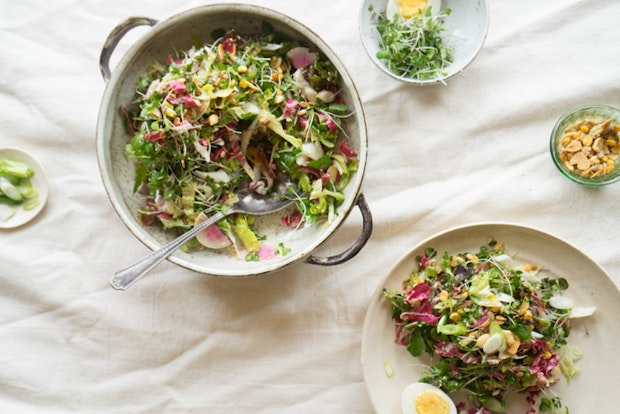 More Salad Recipes
Few people love a shredded salad or slaw more than me. So, if you're ready to show off your knife skills here are a few favorites.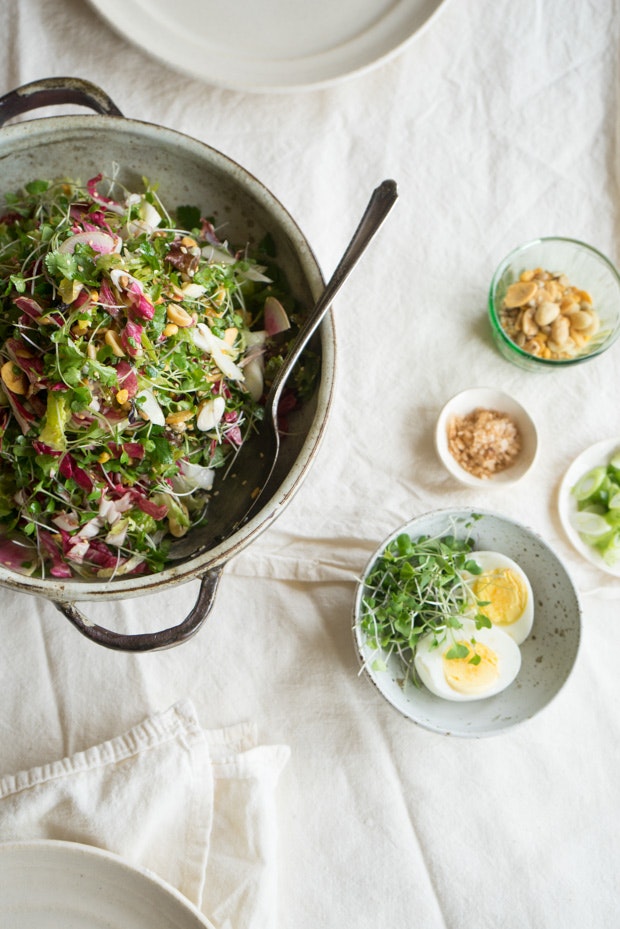 Enjoy and let me know in the comments if you land on any adaptation that you like in particular!
Shredded Un-chicken Salad
To make this gluten-free use gluten free tamari in place of the soy sauce or shoyu.
Ingredients
2

teaspoons

rice vinegar (white or brown)

2

teaspoons

sugar or brown sugar

3

teaspoons

soy sauce or shoyu

1 1/2

teaspoons

dry Asian hot mustard powder

2

tablespoons

toasted sesame oil

4

generous handfuls of a mix of thinly sliced green cabbage, iceberg lettuce, little gem lettuce, arugula, endives, radicchio, and/or micro sprouts

1

small bunch of cilantro, de-stemmed and chopped

1

bunch of green onions, thinly sliced

1

medium carrot or apple, very thinly sliced

1

large handful of toasted cashews, peanuts or nut/seed mix

top with: 8 ounces plant-based chicken strips (pan-fried), a couple hardboiled eggs, or broiled tofu
Instructions
In a small jar or bowl, which together the vinegar, sugar, soy sauce, mustard powder, and toasted sesame oil.

Rinse and dry the cabbage and lettuces. Prep the cilantro, green onions, and carrot or apple if you haven't already. If you're not making the salad immediately, you can store these ingredients in a jar or bowl, refrigerated.

When ready to serve, toss everything with as much dressing as you like, before tossing in a bunch of nuts and/or seeds. And lastly, add whatever protein you like to make a meal of it.
Related Recipes
More Recipes
Popular Ingredients