Spiced Candied Walnuts Recipe
This candied walnut recipe was is the perfect solution to a New Years Eve hors d'oeuvres dilemma. Made with walnuts, sea salt, black pepper, cinnamon, cayenne pepper, and powdered sugar.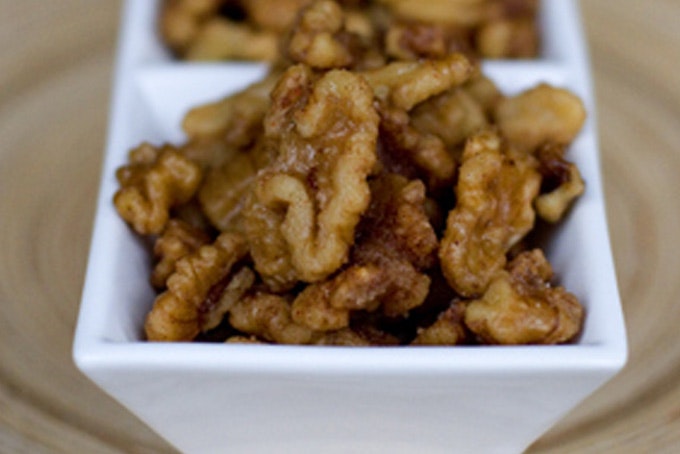 This candied walnut recipe was the perfect solution to my New Years Eve hors d'oeuvres dilemma. I was looking for something a little more downtown than blini with caviar to pair with all that bubbly tomorrow evening. I was thinking: minimally fussy finger foods, not too dainty or greasy - tasty crowd-pleasers that pair well with chilled flutes of champagne.
Given those parameters, I took the opportunity to crack the spine on Michael Chiarello's latest hardback - At Home with Michael Chiarello. I've cooked along with Michael C. many a Saturday morning as he was broadcast into my kitchen via public television - before he and his grey salt made the jump to the Food Network.
I expect solid, delicious recipes from Michael's books, because that's about all I've encountered in the past. Writing this post has reminded me how much I miss this Piadine with Baby Spinach (which I make veg. with no chicken) - totally worth the effort, lots of sub-recipes within this one.
Michael Chiarello has mastered the whole Napa Valley casual, everyday entertaining thing - warm lighting from a palette of sources (candles, fire in custom fireplace, napa sunset, etc), voluminous, generously filled wine glasses, a bounty of friends dropping by, button up shirt never too buttoned up - always a peek of white tee. His recipes fit right into the whole package. I leafed through the appetizer chapter and decided on the special ceci beans which he served in a paper cone placed in a cocktail glass. Kept going and then noticed the spiced candied walnut recipe toward the very front of the book - couldn't pass those up either.
Ceci with Garlic and Sage
No disappointments here - both recipes were delicious. The ceci's came together in 10 minutes - a total breeze. Don't leave out the optional slivered serrano though, it adds a vibrant green accent to the beans, and the perfect amount of bite to counter their creaminess. The walnuts? The best candied walnuts technique you will come across. They are perfect and addictive. Use this recipe to master technique and then play around with your own spice accents.
Happy New Year to everyone. Thanks for all your support, comments, ideas, and encouragement in relation to this site. You are all a big part of what makes this project fun and exciting for me. -h
Spiced Candied Walnuts Recipe
Peanut or canola oil for deep-frying (hs note: has anyone seen an organic peanut oil out there?)
Finely ground sea salt, preferably gray salt
Freshly ground black pepper
1/2 teaspoon ground cinnamon
1/2 teaspoon cayenne pepper
4 cups walnut halves
1 cup confectioners' sugar, sifted
Pour the oil to a depth of at least 3 inches into a deep fryer or a heavy, 8-inch-deep stockpot and heat to 350F. While the oil is heating, bring a large saucepan filled with water to a boil over high heat. In a small bowl, combine 1 teaspoon salt, 1/2 teaspoon pepper, the cinnamon, and the cayenne and mix well.
When the water is boiling, place the nuts in a sieve and dip them into the boiling water, about 1 minute for large halves, less time for smaller halves. Transfer the nuts to a large bowl with a little water clinging to them. (Blanching removes some of the tannins, making the walnuts sweeter.) While the nuts are still hot, add the sugar and toss well to coat evenly. The sugar will melt on contact with the hot nuts. Keep stirring and tossing until all the sugar has melted. If bits of unmelted sugar remain on the nuts, the nuts will not fry properly.
Stir the nuts again before frying. Using a large slotted spoon, transfer a few nuts to the hot oil, allowing the foam to subside before adding another spoonful. (Otherwise, the oil could foam over and burn you.) Fry the nuts until medium brown, about 1 minute for large halves, less time for smaller halves. Be careful not to overcook. lift them out with the spoon and scatter them on a rimmed baking sheet to cool slightly. Fry the remaining nuts in the same way, always working in small batches. While the nuts are still warm, transfer them to a bowl and sprinkle evenly with about half of the spice mix. Toss well to distribute the spices and then taste a nut. Add more spice mix to taste and toss well after each addition. let cool completely, then store in a tightly capped jar. They will keep at room temperature for about 2 weeks.
Makes 4 cups.
Ceci with Garlic and Sage
Cooking Notes: This technique lends itself to other beans, such as cooked runner beans and fava beans, and to fresh English peas. Entertaining notes: You can fry the chickpeas 1 hour in advance of serving. If you want to serve them warm, you can heat them up for a few minutes on a rimmed baking sheet in a 300°F oven.
2 cans (15 1/2 ounces each) chickpeas (garbanzo beans)
3/4 cup buttermilk
3/4 cup olive oil
1 1/2 cups 1Arborio Rice Coating (below)
1/4 cup thinly sliced garlic
15 fresh sage leaves
2 teaspoons thin serrano chili slices (optional)
Finely ground sea salt, preferably gray salt
Zest of 1 lemon, cut into julienne
Freshly ground black pepper
Drain the chickpeas in a colander, then rinse well under running cold water and pat dry with a paper towel. In a bowl, combine the chickpeas and buttermilk, stirring to coat evenly. Drain the chickpeas again in the colander, then place the colander over a clean bowl.
In a large saute pan, heat the olive oil over high heat. While the oil is heating, sprinkle the rice coating over the beans and shake the colander to coat the beans evenly. Repeat the process, using the coating that collects in the bowl. Don't worry if the beans don't absorb all the coating.

When the oil is very hot but not smoking, carefully add the beans, spreading them in an even layer. Cook, without stirring, until they are browned and crisp on the bottom, 3 to 5 minutes. Turn once with a spatula and add the garlic.
When the garlic turns brown, add the sage. When the sage turns crispy, add the chili slices, if using, and season with 1 teaspoon salt. At the last moment, add the lemon zest and pepper to taste. Using a slotted spoon, transfer the beans to paper towels to drain. Serve warm or at room temperature.
Makes about 3 1/2 cups.
Arborio Rice Coating
Cooking notes: If you have a spice mill, you can halve the recipe. Unlike the blender, the mill will successfully grind 1/2 cup rice.
1 cup Arborio rice
3 cups unbleached all-purpose flour
1 cup semolina flour
2 tablespoons finely ground sea salt, preferably gray salt
1 teaspoon freshly ground black pepper
Grind the rice in a blender until very fine. Put it in a bowl and add the all-purpose flour, semolina flour, salt, and pepper. Toss until well blended. Store the coating in a tightly sealed container in the freezer for maximum freshness. It will keep for several months.
Makes about 5 cups.