Turkish Coffee Chocolate Brownies
These brownies are dense and fudgy, deep-dish, and decadent with a high fat (butter & chocolate) to flour ratio. Espresso powder and an infusion cardamom seeds lends a Turkish coffee flavor profile.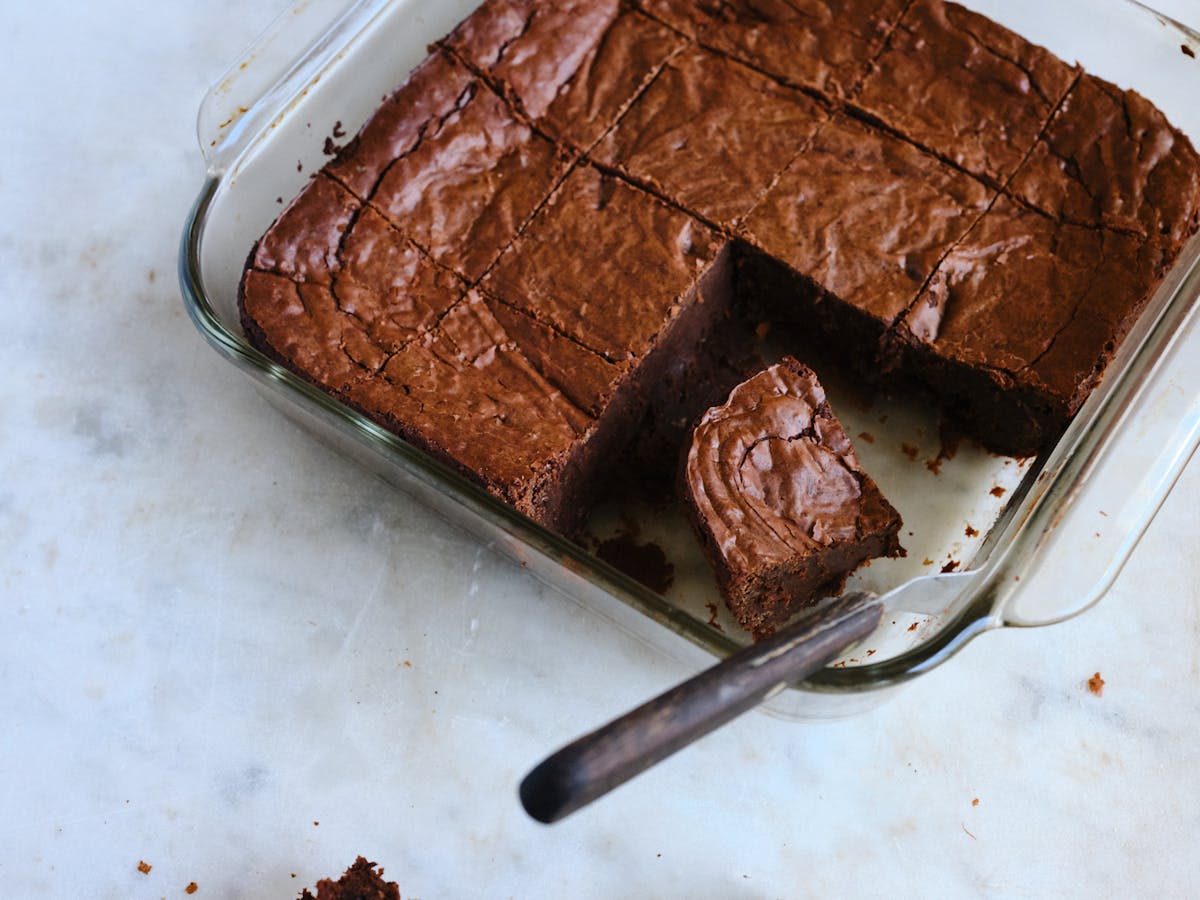 Ok friends, buckle up. This post is important, because it includes the recipe for the very best brownies I know how to make. They're fudgy, deep-dish, and decadent with a high fat (butter & chocolate) to flour ratio. In addition to lots of bittersweet chocolate in the batter, I dial up the intensity with 1/4 cup of espresso powder and an infusion of fragrant, freshly ground cardamom seeds blooming in vanilla extract. It's a flavor profile I love every time I encounter it. They're Turkish coffee chocolate brownies, and before you decide on your favorite brownie recipe, I encourage you to give this one a try. They're SO GOOD.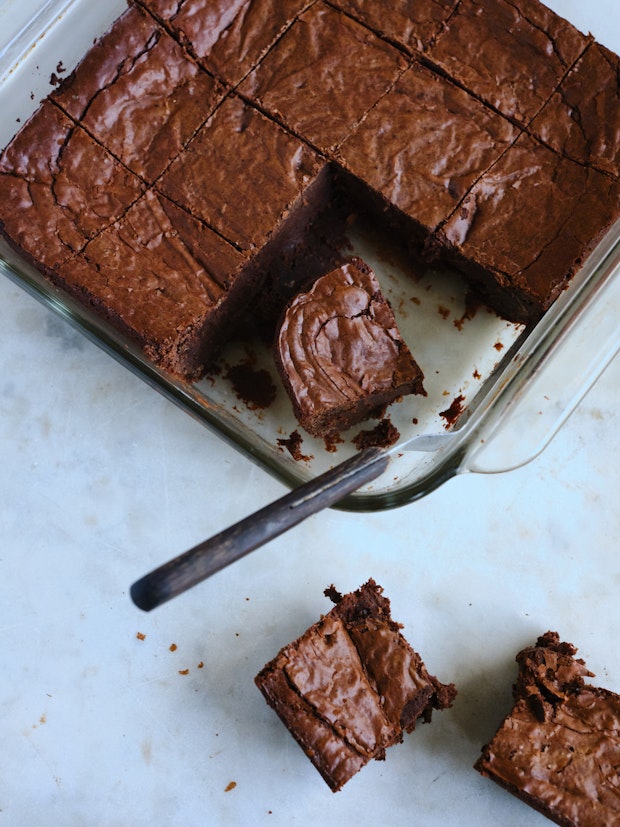 Tips for the Best Brownies
Chocolate

: I love Amy Guittard and her family's San Francisco-based chocolate. For these brownies I use a bag of Guittard Organic Bittersweet 74%. That said, any good bittersweet chocolate over 70% is great. If you can only get semi-sweet right now in the 60-70% zone - they'll still be delicious, but look for bittersweet as your first choice.

Grinding spices

: If you have a coffee grinder at home, you can grind the cardamom seeds along with your beans when grinding the espresso powder. Although, it's probably easier to use a mortar and pestle to quickly grind the cardamom. Your coffee grinder will retain the cardamom scent for a while if you don't clean it which takes some effort. To clean a coffee grinder you can grind a handful of white rice to clear it of other ingredients and scent.

Invest in good cardamom

: Many of you are familiar with Diaspora Co. turmeric, but don't sleep on the cardamom. I use it here and it is incredibly fragrant and special. Other things you can do if you have a jar -  steep pods in tea, grind a couple seeds with your coffee beans in the morning, toss a few pods into stews, etc. Freshly ground spices can make a huge difference in your baking.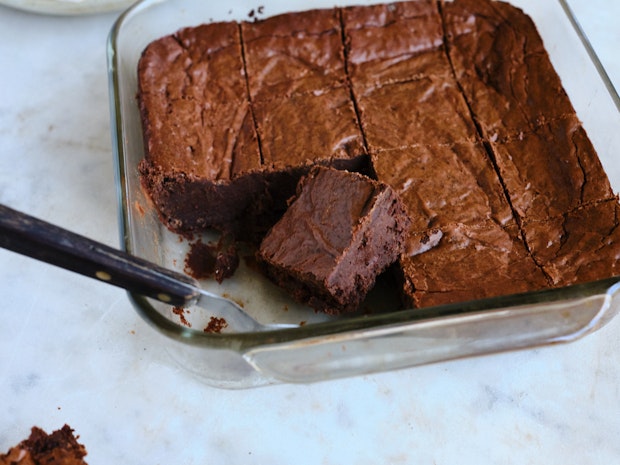 What Type of Coffee to Use?
A dark, robust roast is welcome here. Anything labelled espresso. You'll want the coffee beans ground espresso-fine.
What Size Brownie Pan Should I Use?
You have some flexibility here. I call for baking in a 8x8-inch pan. If you only have an 9x9-inch brownie pan, I've baked these in that size as well. Your brownies will be a bit thinner, and you won't need to bake as long. A 9x13-inch pan will result in a thinner brownie, you'll need to bake for even less time.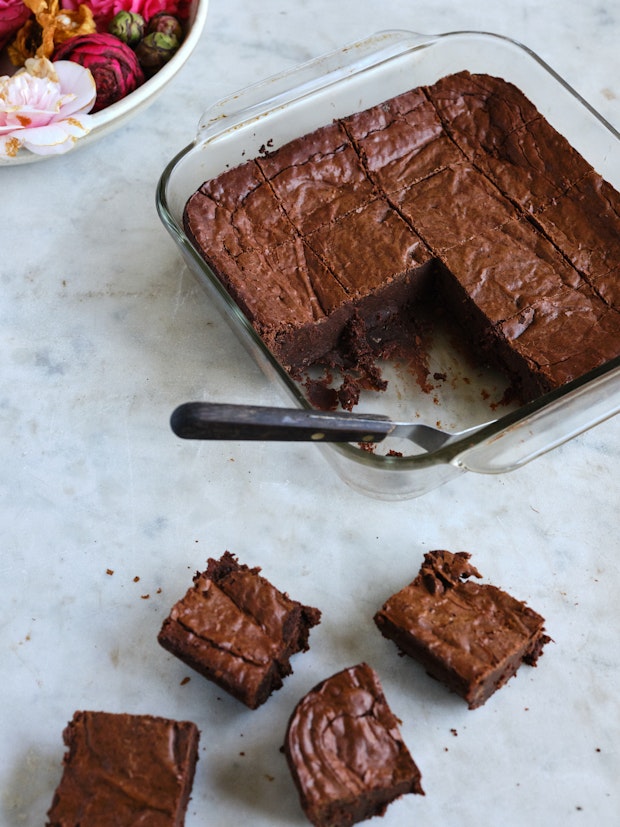 One variation I want to mention. I love using almond extract here in place of the vanilla extract called for.  I'm out right now, but if you have some, consider using it!
Other baking ideas: Maybe you're not in the mood for brownies, but cookie recipes sound good right now? I love these snickerdoodles, these shortbread cookies, and this Whole Wheat Chocolate Chip Skillet Cookie. On the cake front, stop what you're doing and bake this flourless chocolate cake. Also, a lot of people are baking this One Bowl Banana Bread right now. Kim Boyce's Rosemary Olive Oil Cake is wonderful, or if you're up for a bit of a project, make the Violet Bakery Chocolate Devil's Food Cake. 
Turkish Coffee Chocolate Brownies
Use a bittersweet chocolate in the 70% range.
Ingredients
2

teaspoons

vanilla extract

10

cardamom pods, shells discarded & seeds ground

3/4

cup

/ 100g unbleached all-purpose flour

1/4

cup

/ 20g finely ground espresso powder

3/4

teaspoon

fine grain sea salt

12

ounces

bittersweet chocolate, chopped

2/3

cup

/ 150g unsalted butter

3

large eggs

1 1/2

cups

/ 285g firmly packed dark brown sugar
Instructions
Preheat the oven to 350F with a rack in the middle. Butter an 8x8-inch baking dish, or equivalent.

In a tiny cup combine the extract and ground cardamom. You should have about 1 teaspoon of freshly ground cardamom. Set aside.

Combine the flour, espresso, salt, in a small bowl and set aside.

Construct a double-boiler by arranging a stainless steel mixing bowl over a small pot of simmering water. Place the butter in the mixing bowl and allow to melt. Turn off the heat, and stir in the chocolate, mixing until fully smooth and melted. Water is the enemy of melted chocolate so, avoid getting water or a steam in your chocolate bowl. Set aside.

In a large mixing bowl use a whisk to combine the eggs, sugar, and cardamom extract mixture. Really go at it with the whisk for a few minutes, until the sugar dissolves and the volume increases and lightens. The chocolate mixture should be roughly room temperature by now, use a spatula to fold it into the egg mixture. Keep folding until uniform. Sprinkle the flour mixture across the top, and gently fold into that batter as well, avoid overmixing.

Pour the batter into the prepared baking dish and bake until the edges look dark and done, and the top looks glossy with some cracking, about 25 minutes. The center should offer some structured resistance, no jiggling. Cool completely on a wire rack, cover with plastic wrap, and refrigerate overnight. These are good straight out of the oven, cooled a bit, but transcendent if you can hold off until the next day.
Notes
Makes 20 deep-dish brownies
Related Recipes
More Recipes
Popular Ingredients