Valentine's Chocolate Fondue Recipe
Silky, dark chocolate fondue recipe. Simple with just two ingredients and lots of ideas on what makes the best dunkables.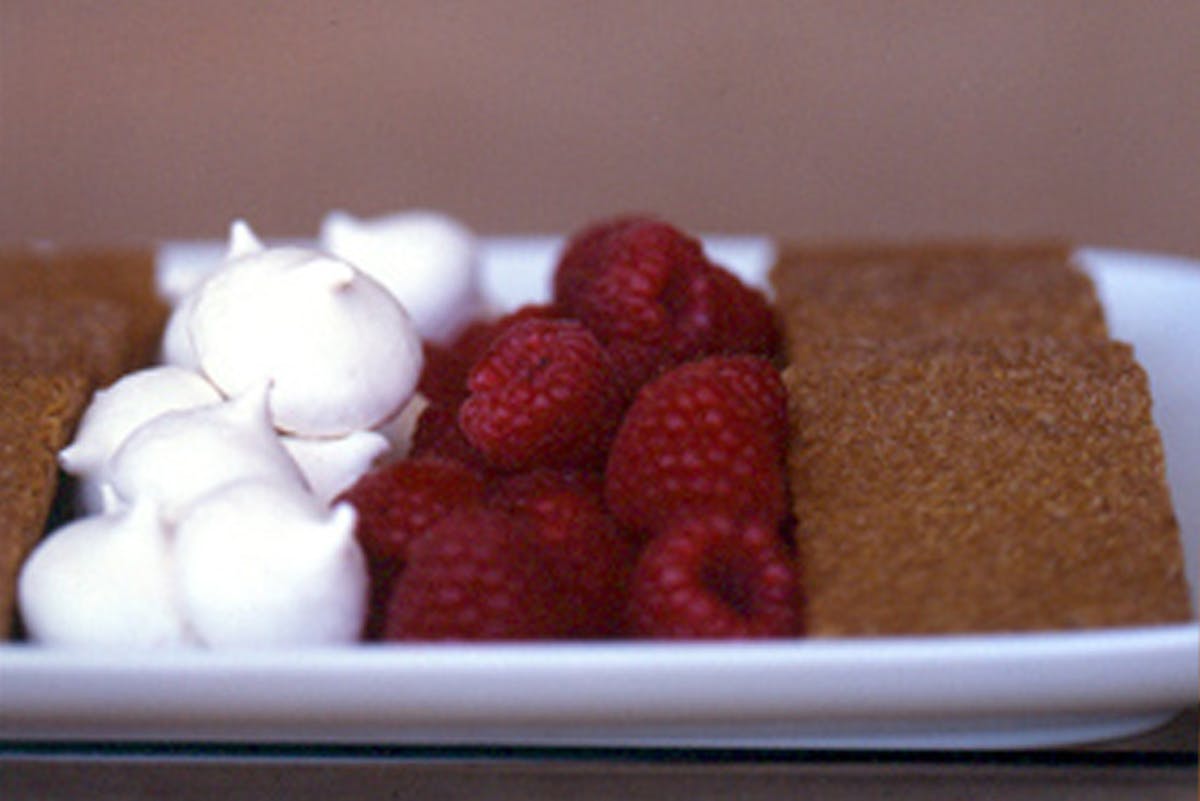 I always think of Valentine's day as the end of fondue season - no white shoes after Labor Day, no fondue recipes after Valentine's. A bit strict perhaps - but bubbling pots of fragrant cheese and silky dark chocolate only lend themselves to certain types of blistery weather. Their molten goodness seems to be able to warm you slowly from the inside out. A pot of chocolate fondue on Valentine's Day is the perfect way to get cozy with someone - and kiss winter goodbye with a sloppy, chocolate-smudged smile.
If you don't have a fondue set, you can do it all stove-side. We use our fondue pot a few times a year, so if you think you might make fondue more than once or twice, it really is worth the investment. Spend a little extra money and look for a good, versatile pot that will last a long time. I also recommend picking a color that won't date itself immediately - you are going to have this thing forever. Mine is white, enamel-line cast iron - if you want to personalize it a bit, keep your eyes peeled for fun, vintage dipping forks at flea markets and yard sales. For cheese and chocolate fondues you want to look for a thick-bottomed pot - this helps to diffuse the heat, which helps prevent scorching.
Different things to dip in chocolate fondue:
Fruits: sliced bananas (grilled + caramelized, even better), apples, pears, peaches, pineapples, dried fruit, citrus sections, strawberries, cherries, raspberries, blackberries.
Cakes and other sweet things: angel food cake, graham crackers, marshmallows, tiny brownies, tiny cookies, lady fingers, shortbread, amaretti, biscotti, crystallized ginger chunks, or meringues.
Have other ideas? Leave them in the comments.
Infusing: To make chocolate fondue the technique is pretty straight-forward. You simmer heavy cream and then stir in chopped chocolate over heat. There is the opportunity to infuse the heavy cream in the beginning with whatever accent flavors you dream up - like you do when you are making and ice-cream or gelato base. Some ideas: espresso powder, spices, herbs, fruit purees, or zests. If you are using herbs like mint, you might need to strain them out of the cream, and return the pot to heat before adding the chocolate.
Have fun! Keep your dipping ingredients bite-sized - no bigger than 1-inch square, and spring for good quality chocolate.
Oh! And one last thing. I'm going to Amsterdam next week! Debra from culiblog has hooked me up with all the must-see destinations - I can't wait to share my travels w/ lots of pics and hopefully a recipe or two. Let me know if any of you have any Amsterdam recs for me. I've only been once and it was on an extended lay-over on our way to East Africa....
Valentine's Chocolate Fondue Recipe
1 pound of premium semisweet or bittersweet chocolate, well chopped
1 1/2 cups of organic heavy cream
Set aside the chopped chocolate. Pour the cream into a medium, thick-bottomed saucepan (or double boiler if you have one) over low heat. Bring the cream to a simmer and add the chocolate. Stir until the chocolate is melted.
Transfer the chocolate to a fondue pot and enjoy.