Reese's Cup Remix with Brazil Nut Butter Recipe
A twist on the traditional peanut butter cup. It uses all-natural ingredients and instead of peanut butterthe chocolate shell envelopes Brazil nut butter.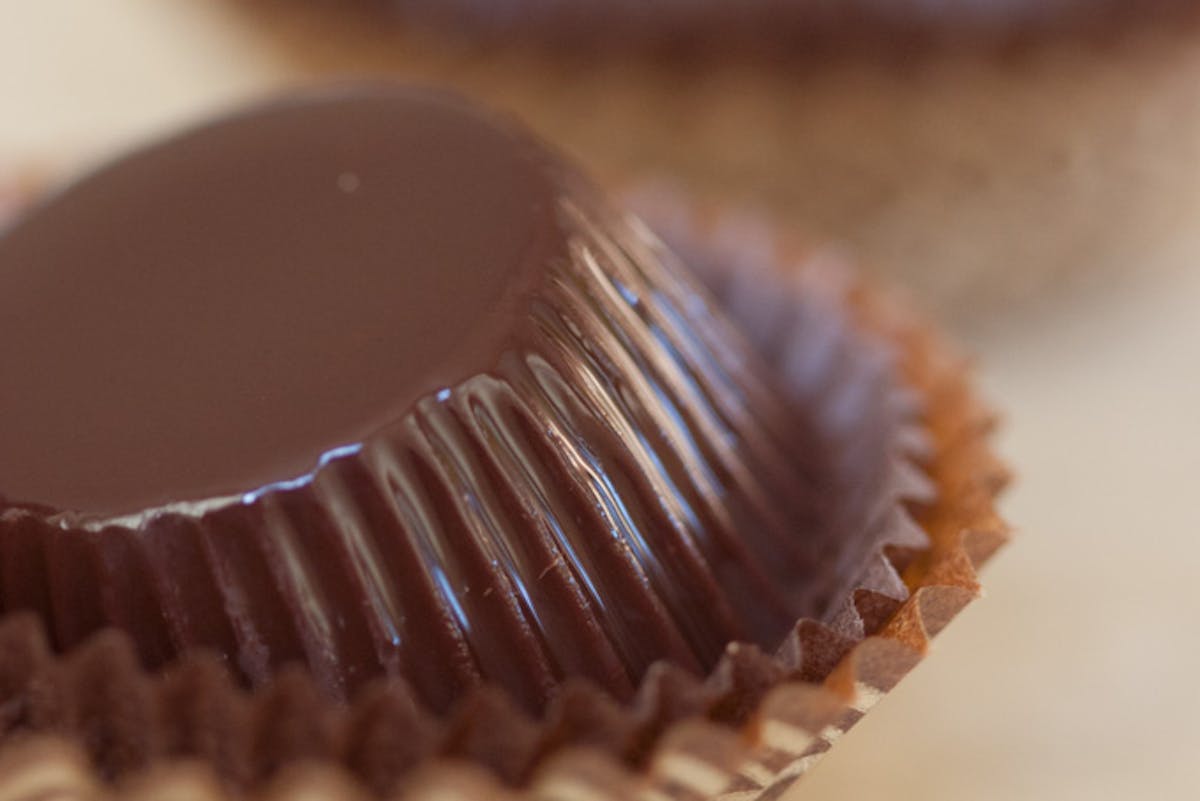 The Thin Mints were such a big hit, I thought I'd try one more remix this week. I suspect I'm not the only one out there with an affinity for peanut butter cups - sweet, nutty centers robed in chocolate. I wanted to do a version that played off the general shape of the traditional peanut butter cup, used all-natural ingredients, and had a contemporary twist to it. The twist? Instead of peanut butter, I went with a homemade Brazil nut butter filling.
As a kid Brazil nuts were the ones I always left at the bottom of the mixed nut bowl. I'm trying to make up for it now and there seem to be endless ways of integrating Brazil nuts into contemporary recipes - sliver them, puree them, toast them, grate them, use them as a thickener, make them into a nut flour, use them in cookies, biscotti, etc, etc, etc. I'm also on the lookout for an unrefined Brazil nut oil....
The nuts: Some are as big as a giant's thumb, they have a reddish-brown skin, and a taste that to my palette is somewhere between a macadamia and a blanched almond. You can read more about their nutritional profile here.
Recipe development and outcome: Making homemade nut butter cups is a challenge and a bit technical at a few stages. If you know this going into the project, there it is less likely that you will end up frustrated (maybe). For this exercise I used special plastic chocolate molds (that have been collecting dust in my cupboards for years). I suspect you could have more "homemade" looking results using tiny cupcake wrappers.
The taste and texture: The flavor of the Brazil nut isn't as pronounced (even when toasted) as peanuts or say, black walnuts. The nut butter I made for this recipe ended up nicely subtle with a prominent marzipan-ish flavor. Getting the amount of salt right was key, or the nut butter would have been completely flat and blah. Texture? The filling for a typical peanut butter cup is often a shade shy of solid. The filling here is more fluid, as you would expect from a homemade nut butter. The next time around I might firm it up a shade, but it is quite nice and natural as it is...
Pitfalls: You need patience to make these. Your kitchen will inevitably end up a mess. When it came time to pop the cups out of their molds (after setting overnight), my rate of success wasn't as high as it should have been - I cracked more than a few. What's the trick? I bet David knows the trick. When I finesse that part of the process, I'll update the recipe. The other thing I might do next time is have three different nut butter fillings on hand (black walnut, brazil nut, and the more familiar peanut butter) - do a range of cups to serve on a sample plate. The nut butters set off against the background of fine bittersweet chocolate is a real treat, being able to taste through a spectrum would be fun.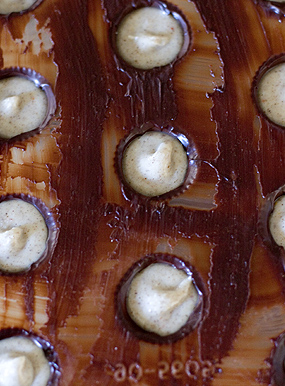 Brazil Nut Butter Cups Recipe
1 1/2 cups Brazil nuts, loosely chopped
1 teaspoon macadamia nut oil (optional)
2/3 cup organic powdered sugar (I use Wholesome Sweeteners brand)
~1/2 teaspoon finely ground sea salt
a couple pinches of chile powder (opt)

1 9.7-ounce bar of Scharffen Berger bittersweet chocolate, finely chopped

Special equipment: chocolate molds, piping bag.
Prep for your chocolate molds: Line a baking sheet with parchment paper or a Silpat. Place a cooling rack on top of the parchment. Make sure your chocolate molds are clean and dry.
Make the Brazil nut butter: In large (dry) skillet over medium heat, toast the chopped brazil nuts until they are fragrant - 6 minutes or so. Like pine nuts, these nuts are high in natural fat, and they will burn and go to black in a heartbeat if you don't keep an eye on them. let the nuts cool for a few minutes and transfer them to a food processor (hand blender doesn't do a good job here, I tried). Add the macadamia nut oil and puree the nuts for a minute or so. The nuts will turn to a paste and then into a nice spreadable butter. Add the sugar and blend. Now add the salt a few generous pinches at a time, to taste. You need the salty aftertaste to highlight the subtleness of the Brazil nut flavor. This is where I put a few pinched of smoked serrano chile powder in as well. Transfer to a piping bag, or a plastic bag with the corner snipped off and set aside.

Temper the chocolate: (this is how you get that nice shine on your chocolate)
Place 3/4 of the chocolate in the top of a double boiler to melt. I stir once every few minutes, but try not to dote on it. When the chocolate is nearly melted, remove it from the heat and add the rest of the chocolate a bit at a time, gently stirring in each addition until completely melted. Smear a bit of the chocolate on your parchment paper, if it sets in a couple minutes, you are in business.
Fill your molds: Partially fill each individual cup with chocolate, pick up the mold and tilt it around so the chocolate coats the sides of each cup from top to bottom. Turn the entire mold upside down and place it on the cooling rack to let any excess chocolate drip down onto the parchment (you can reuse this later). Let the chocolate set 20 minutes or so before flipping and piping the brazil nut butter into each cup (3/4 full), don't fill all the way to the top or you won't be able to seal the cup closed. After filling with the nut butter, pour another layer of chocolate across each cup to seal in the filling. Gently rap the mold on the counter once or twice to release any air bubbles. I pulled a straight edge across the molds to level out the chocolate, but it sort of messed up the temper on the bottoms a bit when I turned them out (maybe there is a better way of doing this?). Let the cups set in the refrigerator for at least an hour.
Turn them out (again any tips for this step are very welcome, I suspect it all goes back to how you pour the chocolate?).