Rajasthani Buttermilk Curry Recipe
Rajasthani buttermilk curry recipe from the award-winning cookbook Mangoes & Curry Leaves, by Jeffrey Alford and Naomi Duguid.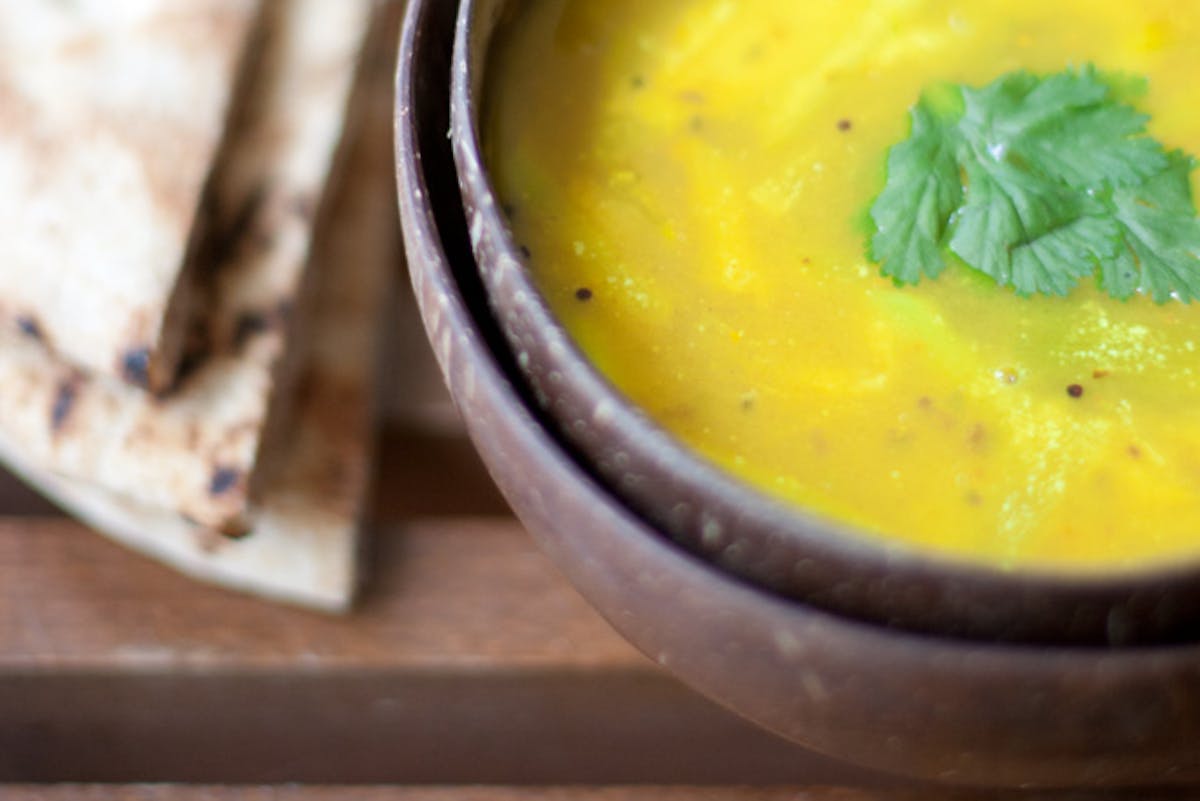 I tried out a Rajasthani buttermilk curry recipe for lunch today. It came from Mangoes & Curry Leaves - one Indian subcontinent, seven countries, two hundred recipes, forty essays and countless photographs. I'm kicking myself for not reviewing this sooner - what a stunning piece of work. This inch-thick volume (part cookbook, part cultural study) is aptly subtitled,Culinary Travels Through the Great Subcontinent. Authors Jeffrey Alford and Naomi Duguid document the the richness and diversity of countries like Bangladesh, India, Nepal, Pakistan, and Sri Lanka through a culinary lens.
Be forewarned, this is the kind of book that encourages one to quit their job, cash in their miles for a one-way plane ticket, max out the credit cards, and set off to see the world with their own eyes. If you really want to be pushed over the edge, remind yourself of their other award-winning books.
There is a fantastic essay on learning to build clay hearth (chula) with a Rajasthani woman I read before falling asleep last night - the perfect way to welcome colorful and fantastic dreams. Many more like it follow. On the recipe front, the headnotes are educational and enlightening. The food is photographed so beautifully you can't help but want to try your own hand. The good news is that many of the many of the recipes are very manageable for the home cook.
I make curries all the time, but haven't tried a buttermilk-based one. Today was the day. Also, it looked like it would come together in a flash - so I wasn't out much time if I didn't like it. I had all the ingredients on hand (just a few), and made this fragrant, yellow curry in under five minutes - including prep, while I was on the phone. No joke. The buttermilk and black mustard gave it a tangy, fresh, and lively flavor. Very tangy in a good way - but if you are a "no" on tang, this curry isn't for you. It is the sort of thing that begs to have a flatbread dunked into it, or ladled over rice. Beautifully delicious and different with flecks of scallion, black mustard seeds, and green chiles.
Other recipes I'm excited to try: Chile-hot Bhutanese Cheese Curry, Bangla Dal with a Hit of Lime, Dal with Coconut Milk alongside a Fresh Bean Sprout Salad, Tamarind-Mint Tea, and Nepali Polenta with Himalayan Grilled Tomato Sauce.
I suppose the upside to being late to the M&C party is that I some of you might already have the book, and you can point me to some of your favorite recipes.
Rajasthani Buttermilk Curry Recipe
Condensed author's notes: This is one of the family of buttermilk curries found in the northwestern parts of India, places where dairy products such as yogurt and buttermilk play a large role in the kitchen.
1 tablespoon vegetable oil (hs note: I used clarified butter)
1 1/2 teaspoons black mustard seeds
1/2 teaspoon cumin seeds
1/2 teaspoon turmeric
1 large or 2 medium scallions, trimmed, sliced lengthwise in half and then crosswise into 1-inch lengths
1 green cayenne chile, minced (hs note: the serrano I had on hand was a reasonable substitute)
1/4 water, if using yogurt

1 cup plain (full-or-reduced fat) yogurt OR 1 1/4 cups buttermilk

1/2 teaspoon salt, or to taste
2/3 tablespoons chopped coriander leaves (hs note: also known as cilantro)
Heat oil in a wok (or karhai) or medium heavy pot over medium-high heat. When it is hot, toss in the mustard seeds. When most of them have popped, add the cumin and turmeric and stir. Lower the heat to medium, add the scallions and chile, and stir-fry for about 3 minutes, until softened. If using yogurt, stir in the water. Reduce the heat to low, pour in the yogurt or butter milk, and stir until warmed through; do not allow to boil. Stir in the salt.
Transfer to a serving bowl and top with the coriander. Serve hot.
Serves 2 to 3.
from Mangoes & Curry Leaves by Jeffrey Alford and Naomi Duguid - reprinted with permission