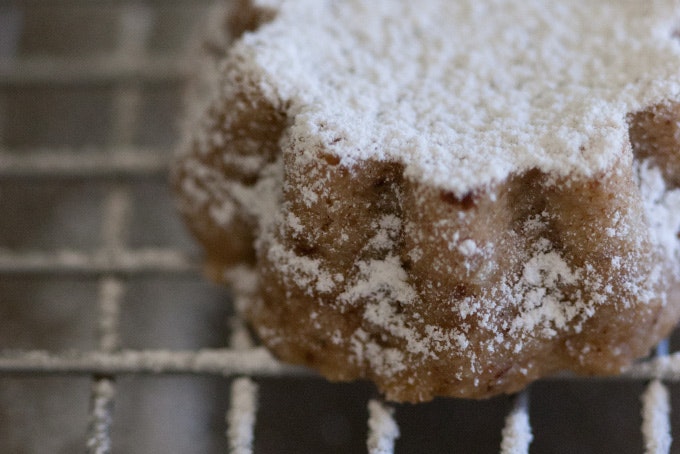 Mexican Wedding Cookies – Whole Grain Recipe
Today's post is going to be short and sweet. Literally. A good Mexican wedding cookie recipe results in a tender nutty, butter-based cookie topped with an extravagant blizzard of powdered sugar. The ones I encountered on my most recent panaderia crawl weren't very nutty, and were generally flavorless. I suspect the root of the problem is one of economics. Most of the pastries available in these bakeries are inexpensive. In the quest to keep prices low ($.50-$2) and still turn enough profit to stay in business, I suspect some of the bakeries use cheap, inferior base ingredients and leverage one dough across many products. This all got me thinking about trying my hand at a Mexican wedding cookie made from whole-grain flours, a flavorful sugar, and top notch butter. I wasn't sure if it would retain the spirit of its namesake, but I was curious enough to try.
Tasty and certainly more moist than your standard Mexican wedding cookie, their color gives them away as whole-grain. The beachy brown is a far cry from the bone white versions in the panaderia displays. That being said, they are pretty and rustic in their own right. I wanted to keep the crumb tender, so I used a combination of whole-wheat pastry flour and oat flour - but I suspect 100% ww pastry would work well too.
Whole Grain Mexican Wedding Cookie Recipe
1 cup pecans, toasted and cooled to room temperature
1 cup organic unsalted butter
1/2 cup fine grain evaporated cane sugar (I used Alter-Eco brand)
A splash of vanilla extract
A splash of bourbon (optional)
1 1/2 cups whole wheat pastry four
1 cup oat flour
1/2 teaspoon fine grain sea salt
organic powdered sugar for dusting
Preheat the oven to 325 degrees. Puree the pecans in a food processor until they become a fine meal. You don't want to go so far that they become a paste.
In a mixer beat the butter until it becomes creamy, add the sugar and mix until everything is creamy and lighter in color. The vanilla and bourbon go in next followed but the nut meal. Slowly add the flours and salt and mix until a stiff dough is formed (it was warm out today, so stiff might be a stretch). On a piece of plastic wrap pat the dough into a disk 3/4-inch thick. Cover with another piece of plastic wrap and chill in the freezer for 10-15 minutes. This makes for easy cookie stamping.

Use a 1-inch cookie cutter to shape the cookies and place them on a lined baking sheet. Bake for 12 minutes or until the bottoms of the cookies begin to brown ever so slightly. Dust with powdered sugar.
Makes 1 1/2 dozen small cookies.