Champagne Summer Shortcake Recipe
A fantastic summer shortcake recipe crowned with perfect little gems of summer fruit, glistening with a honey-and-champagne syrupy glaze.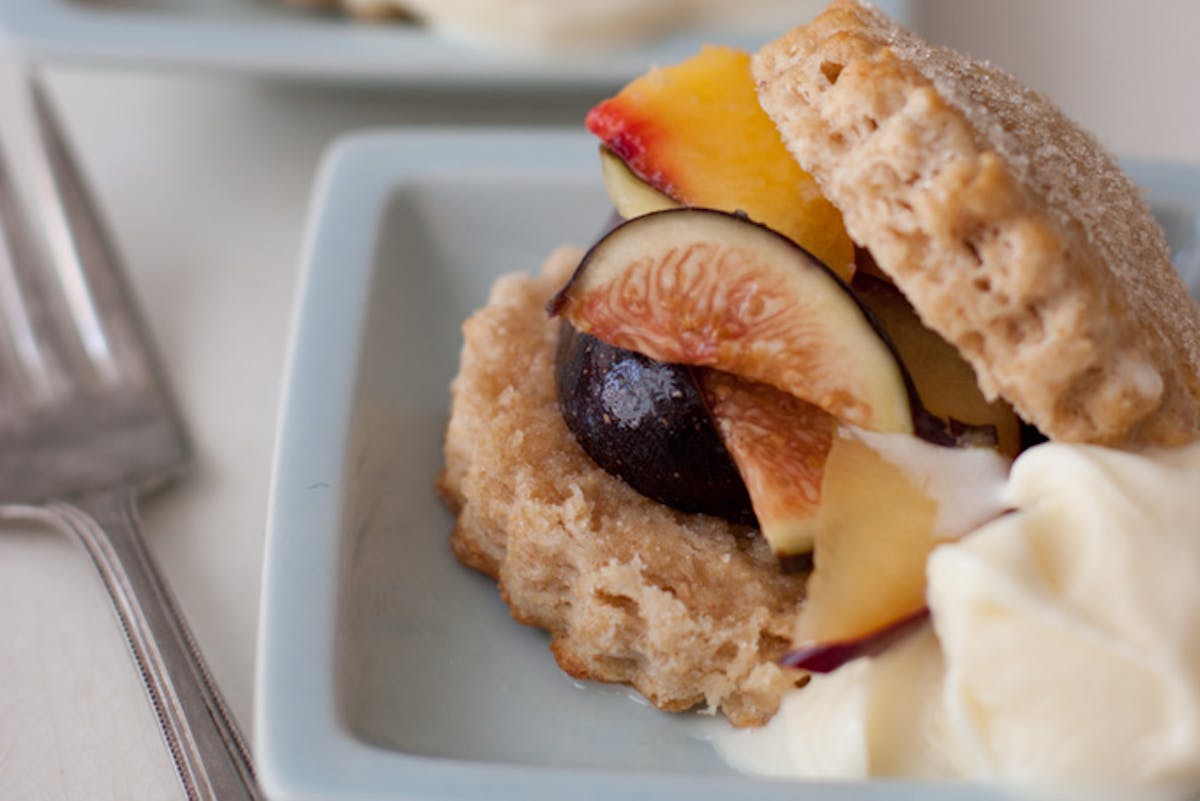 This summer shortcake recipe came to my attention when my friend Ross had us over to dinner a couple nights back and his girlfriend Karen breezily whipped up an impromptu feast for six of us in not much more than an hour, including dessert. And what a dessert it was. A fantastic shortcake crowned with perfect little gems of summer fruit glistening with a honey-and-champagne syrupy glaze.
There were a couple things that made this shortcake special though. The shortcake biscuits were on the salty side, a perfect foil for the sweet ice-cream and honey tossed fruit. She also took care to cut the fruit into tiny wedges allowing you to taste a medley of stone fruits and figs all in one reasonably sized bite. Each piece was perhaps an inch in length with the backbone of the wedge no wider than 1/2 an inch.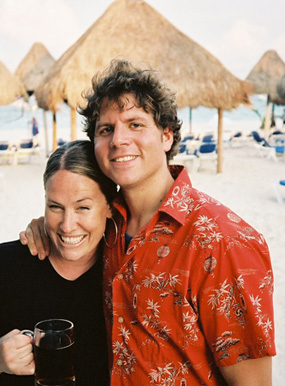 Me, Ross, and a mug of beer at a wedding in Mexico last year.
This is my remake of a terrific summer shortcake, but before you get started be sure to read the recipe headnotes.
Champagne Summer Shortcake Recipe
You can use all-purpose flour, whole wheat pastry flour, white whole wheat flour, or a blend - 2 cups total. Karen's were all-purpose based and they were lighter in color and had a less dense crumb. I wanted to try the white whole wheat flour and they turned out tasty as well, just not as signature looking. She did a drop biscuit, I rolled and stamped. You can do either.
Use the best, most flavorful fruit you can find. The ice cream and shortcakes are really just a stage to show of the wonderful plums, figs, nectarines, and peaches of the season. Feel free to mix and match your favorites. No frozen fruit.
Shortcakes:
2 cups flour (all-purpose, whole wheat pastry, or white whole wheat)
3/4 teaspoon fine grain sea salt
1 tablespoon baking powder
1 stick of organic, unsalted butter, cut into 1/4-inch chunks
1/4 cup granulated sugar
a scant 1 cup organic milk
1 egg white
A bit of coarse sea salt

Honey-champagne syrup:
1/3 cup honey
1/3 cup granulated sugar
1/3 cup champagne (alternately, sparkling water or just water)

Summer fruit:
- I used a mix of tiny black mission figs, black pluots, and yellow nectarines. Sliced into tiny wedges. Figure on about 1/2 cup of fruit per shortcake.

a pint of top notch vanilla ice cream (I used Laloo's goat milk ice cream)
Preheat oven to 425 degrees.
Make the shortcakes: Sift the flour, salt, baking powder, and sugar into a large bowl or food processor. Using a pastry cutter or 25 quick pulses of the food processor, blend until the mixture resembles tiny, sandy pebbles. If you are using a food processor transfer the mixture to a big bowl and using a fork stir in the milk until just combined.
Either drop directly onto a parchment-lined baking sheet (like drop biscuits), or turn the dough out onto a floured countertop, knead just once or twice to bring the dough together, roll out 3/4-inch thick and stamp with 1 1/2-inch biscuit cutter. Brush each shortcake with egg white and sprinkle with just a bit of coarse sea salt (and a bit more sugar if you like). Bake on the middle rack for about 12 minutes.
Make the syrup:Put the honey and sugar in a small saucepan over low heat and stir until the honey loosens up and the sugar dissolves. Remove from heat and whisk in the champagne. Toss the fruit wedges in the syrup.
To serve: Split each shortcake open and top with a scoop of fruit and a dollop of ice cream.
Makes about 12 medium-sized shortcakes.