Golden, Crispy Gnocchi Recipe
My favorite new way to make gnocchi in a flash - no boil. Cook them in a skillet until they are golden and crusted, and in this case serve with summer shell beans and shredded cheese.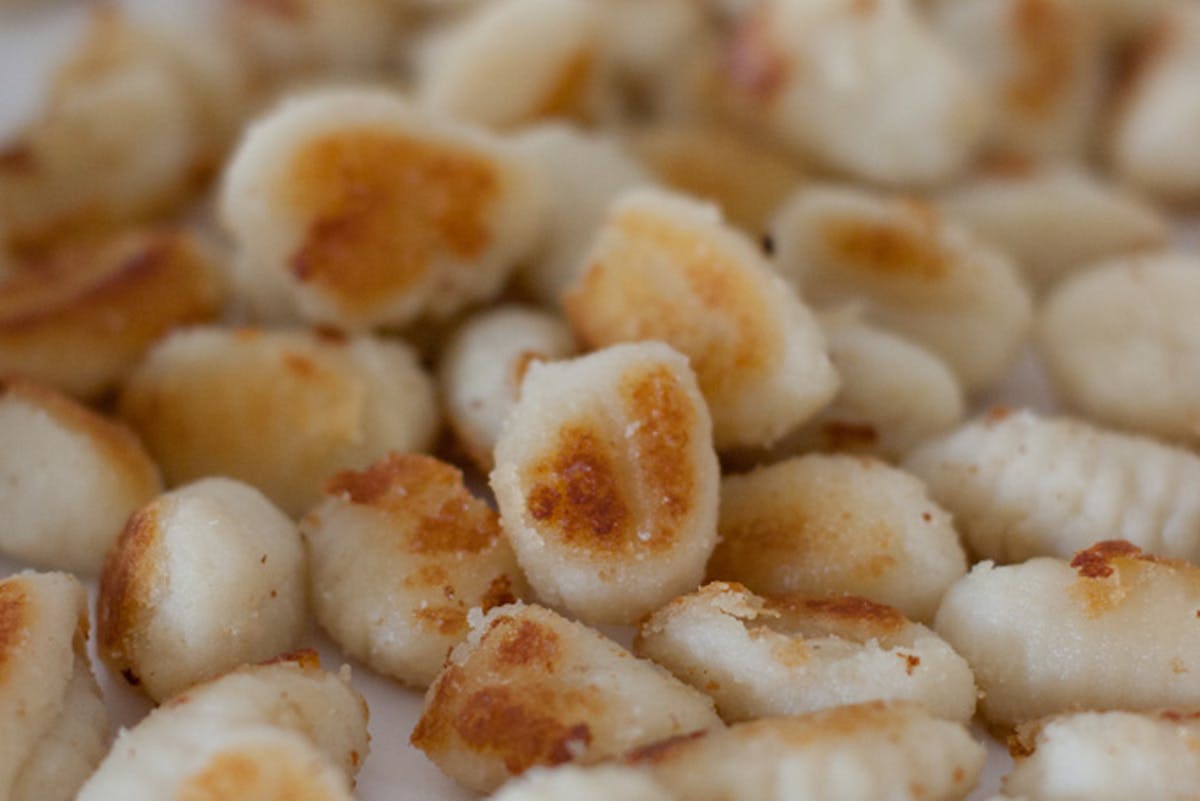 I spent Sunday afternoon at the ultimate potluck. The formula? Sunny day, sprawling backyard (with pool!), plenty of shade, and dozens of food bloggers gathering with their favorite plates and platters in tow (I pulled together this crispy gnocchi recipe). Owen was kind enough to open up his house, Guy (with help from some fairy angels) helped wrangle us into some semblance of order, and the whole day came together beautifully under a massive bay laurel tree. It was the second official gathering of Bay Area food bloggers.
Back in 2004, Alder, Pim, Amy, Derrick, Alaina, Anne, Heather and I had a casual get-together in my kitchen, but looking back I don't think any of us could have anticipated the amazing expansion of the food blog community since then. I think I speak for all of us when I say that I feel very lucky to have met so many fantastic individuals because of this site - other site publishers, writers and (of course) readers. I can't wait for an international get-together. I'd love to try to make something happen in the next couple years (giving people plenty of time to plan and save money).
Pals
At something like this, the whole "what do I wear?" thing goes out the window (sort of). Instead, you start thinking about what you want to bring for the potluck, to share with people. This year everyone outdid themselves - it was a beautiful selection of cheeses, salads, wonderful wines, meats, and no shortage of sweets.
I decided to to do a pasta salad, sort-of. Don't start yawning quite yet. I used gnocchi instead of noodles, and a different cooking technique. I've sworn off boiling gnocchi for the time-being. Instead I've been pan-searing fresh gnocchi in a skillet until it is looks like the photo at the beginning of this post. Delicious. The crust gives great texture and eye appeal. For the potluck I decided to pair the gnocchi with a medley of fresh summer shell beans and some chanterelle mushrooms. I think the key was keeping the components mostly separated until I was ready to plate it so the gnocchi would stay intact and home I would finish everything off in one skillet.
Kim Goodfriend's Nectarine-Blueberry CrackClafoutisCobbler
I've included shots of some of the other contributions to the potluck. Not at all comprehensive. Penny did a nice photo round up on Flickr that you can see here.
Recipe du Jour - Golden, Crispy Gnocchi with Summer Shell Beans. As you can clearly see from this shot, I have a hard time talking and shooting at the same time
Thanks to everyone who helped pull this together. And thank-you Elise for sending me home with some delicious apple butter.
Golden, Crispy Gnocchi with Summer Shell Beans
Look for fresh shell beans, still in pods at your farmers' markets. This time I used cranberry beans, not being able to resist their vibrant, mottled pink pods. I also added a few handfuls of butter beans, and of course favas (which I can get here at the market through November). Most beans you can pop right out of the pod and throw into a pot of boiling water to cook. Favas you need to remove the beans from their big outer pods, give them a quick boil (a minute or two), drain, rinse with cold water to cool them off, and then pop them out of their light colored inner shell. Intensive but worth it.
I buy fresh gnocchi from a pasta maker at the farmers' market as well. Throw them right in a well-seasoned pan with some clarified butter, toss and let them brown on each side, no boiling. This is not a typo.
fresh shell beans (try a mix of fava, cranberry beans, butter beans), shelled, roughly three cups of beans

1 pound fresh gnocchi

1/2 pound chanterelle mushrooms (optional - if you can't get chanterelles, skip the mushrooms)
a few sprigs of fresh thyme, leaves only
3 medium shallots, thinly sliced

a big handful of small cherry tomatoes, halved

clarified butter or extra virgin olive oil

splash of cream (optional)
freshly grated parmesan (optional)
Take the shelled beans and cook each type of bean in its own pot of water. They will take between 10 and 20 minutes to cook (taste to tell when they are done). Drain and salt to taste. Set aside. See header notes re: fava beans.
Heat a couple tablespoons of clarified butter (or olive oil) in a large well-seasoned (or non-stick) skillet over medium-high heat. Add the gnocchi in a single layer and toss to coat with the butter. Let them cook until they are golden brown on the bottoms and then use a metal spatula to flip the gnocchi. Cook until they are golden all over. Salt, transfer to a platter and set aside.
Clean out that same big skillet, add a bit more butter or oil, and over medium-high heat saute the mushrooms, shallots and thyme along with a few pinches of salt and pepper. The mushrooms will release a bit of moisture, keep cooking, and let them get a bit of color (another minute or two).
Toss the cooked shell beans into the skillet with the mushrooms, add the tomatoes and cook for another few seconds. Remove from heat and stir in a splash of cream if you like. Pour the beans and mushrooms over the gnocchi and sprinkle with grated parmesan.
Serve family style on a big plate or platter.
Serves 4-6.