How to Make Gnocchi like an Italian Grandmother
The gnocchi recipe taught to me by my friend Francesca's mother. A platter of petite, potato pillows coated with glistening flecks of basil pesto.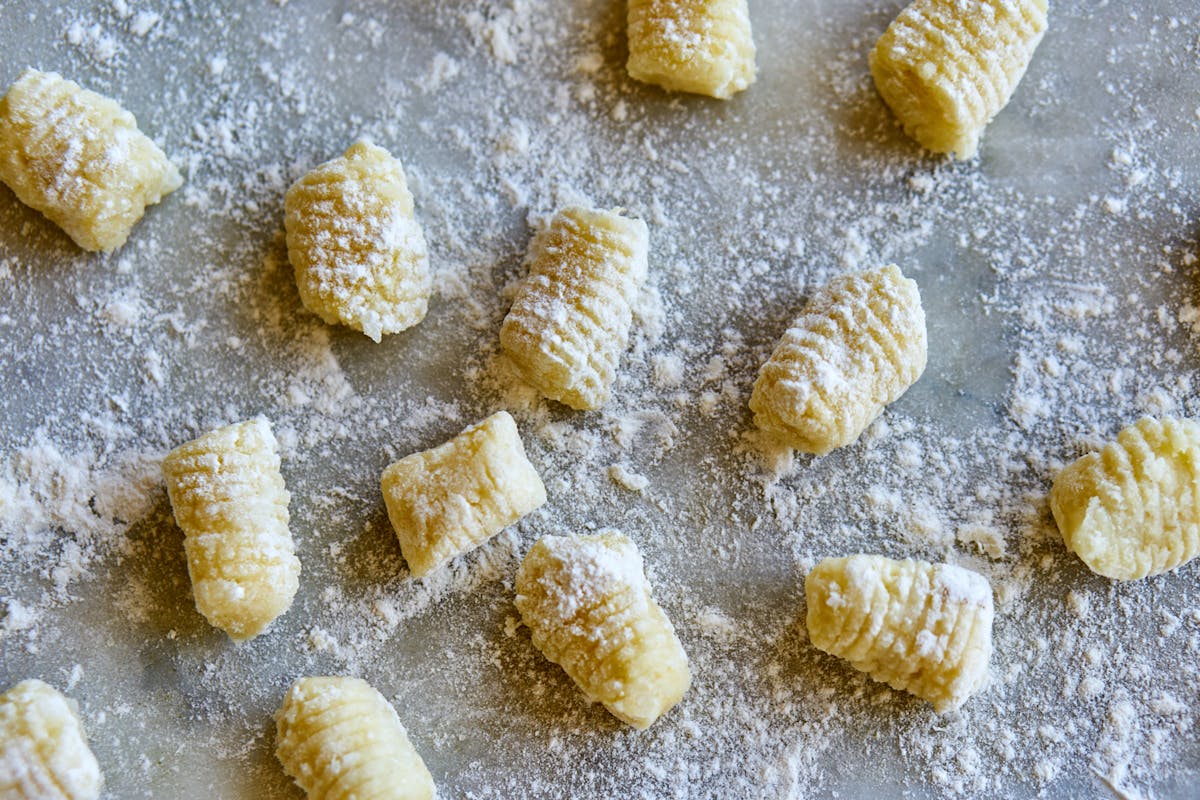 This gnocchi recipe was taught to me when a friend came to visit from Genoa, Italy. Her mother came with her, and one night, alongside a small mountain of beautiful, fragrant basil, she taught us her homemade gnocchi recipe. I posted about the pesto we made to go with it in a separate post, and as promised the gnocchi as a followup. You ready!?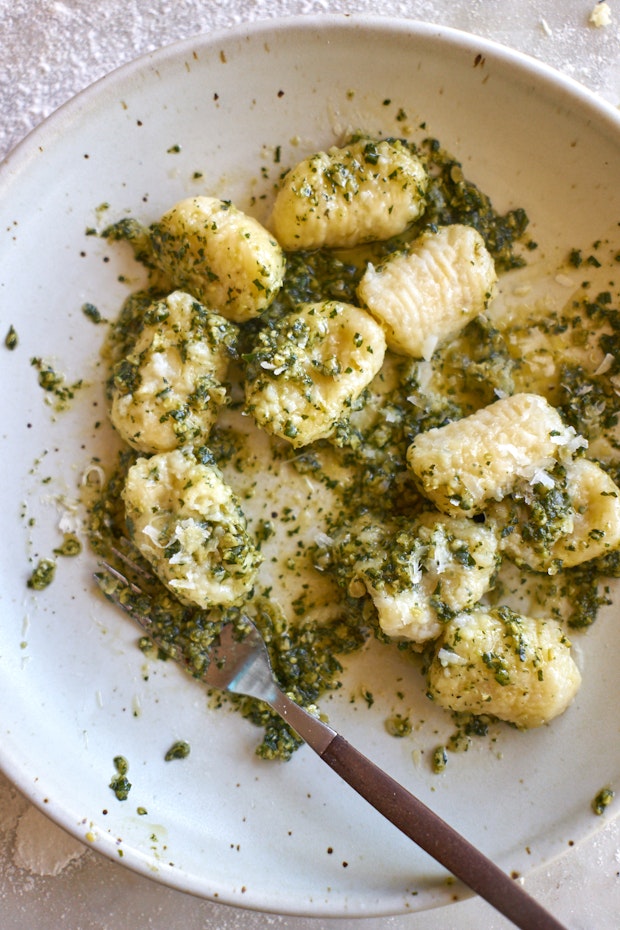 Gnocchi takes Patience
Gnocchi recipes aren't for the faint of heart. Many, many things can go awry. I'm not trying to scare you off or dissuade you, I just want you to know what you are in for. Gnocchi-making takes practice, patience, and persistence. At their best, potato gnocchi can be light and delicate. At their worst, dense, rubbery, and/or soggy potato dumplings. The very worst are the gnocchi that come apart in the boiling water before they even reach your plate. You've got this!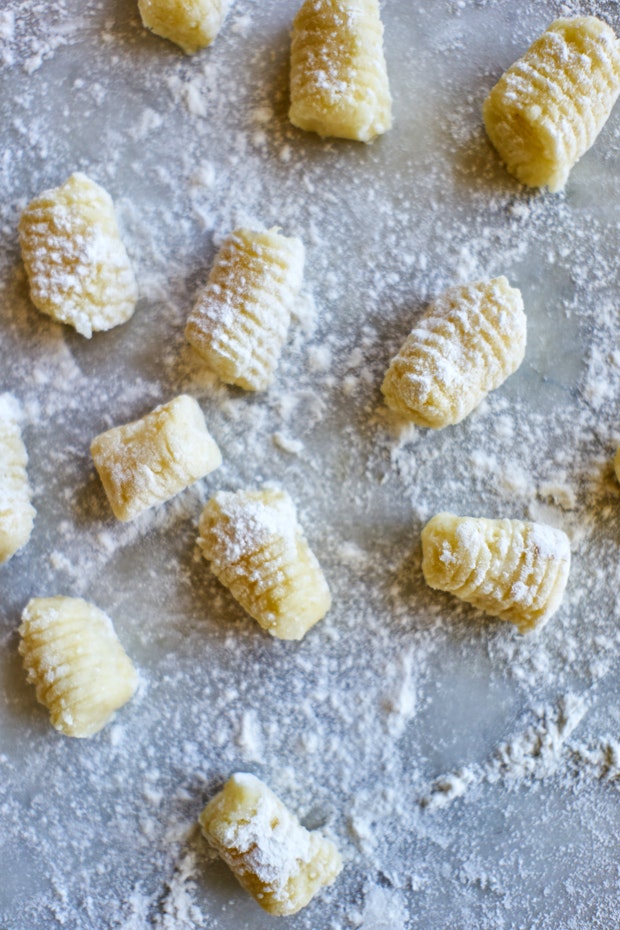 The Simplest Ingredients
The platter of petite, potato pillows coated with glistening flecks of basil pesto that Francesca's mother made us that night was beautiful. The gnocchi recipe she taught us had just three ingredients - boiled, starchy russet potatoes combined with a minimal amount of flour (too much flour and your gnocchi are going to be heavy), and a bit of salt - no eggs. I've tweaked her version to be a little more user-friendly here, because to be honest, eggless gnocchi are very tricky to get the hang of. They're very delicate to handle. I'm afraid if I post the eggless version here, there will be a number of you who will try it, get frustrated, and curse me. So, a bit of egg it is.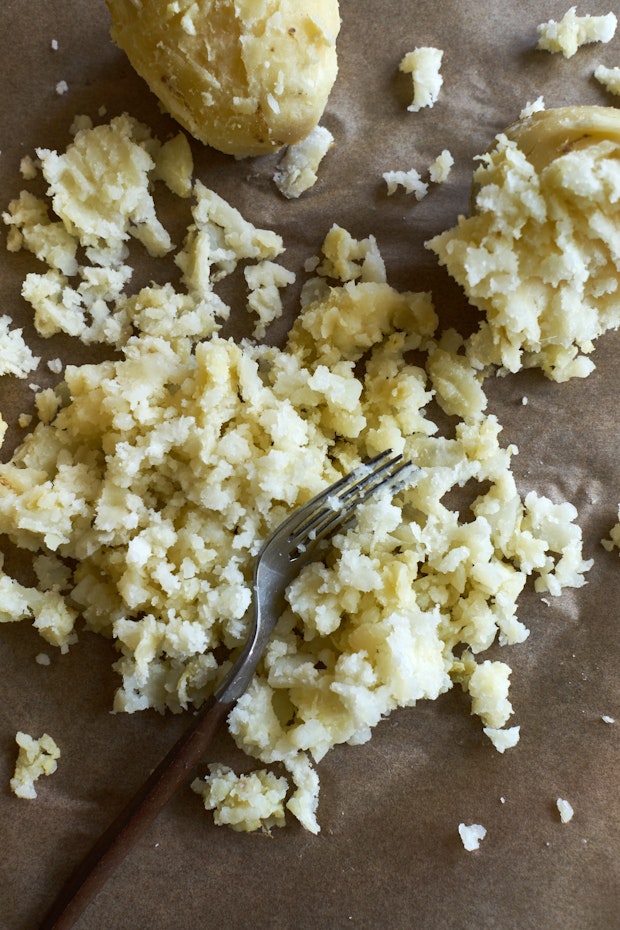 This Gnocchi Recipe: The Details
In the version here, I incorporate just enough egg to act as a bit of a binder for the gnocchi. We still aren't using an excessive amount of flour, and the resulting gnocchi are deliciously light. They can also stand up to a toss with your favorite sauce. You can see them pictured at the top of this post, tossed with this favorite pesto.
Gnocchi with Egg, or No?
If you are committed to trying an eggless version, try this version first. After that, perhaps the next time around, use half the egg or an egg yolk, and the time after that go for no egg. By that time, you should have all the other steps figured out and you'll have a better vantage point and level of experience from which to work You'll also have a better sense of how to handle and work with the dough.
Can You Freeze Gnocchi?
Yes! You can freeze gnocchi. After shaping them, prior to the cooking step, arrange them in a single layer on a baking sheet. Place in the freezer. Once the gnocchi are frozen, transfer to a bag or container for a future meal. Drop directly into boiling salted water and proceed with the recipe.
So, here it is - the long awaited gnocchi recipe. Give it a go, and let me know what you think. If you know how to make pesto, this is the time to do it! A simple toss is perfect. And if you haven't tried making your own homemade pasta, pappardelle or cavatelli - one of those should be next on your list! You can also find the complete list of pasta recipes here.
Other Flavors that are Great with Gnocchi
One last thing, if pesto isn't your thing, gnocchi is wonderful with a wide range of other ingredients. I love them with a simple red tomato sauce. They're also great boiled, and then finished in a hot pan with browned butter and crispy fried sage leaves. You can also take more of a cacio e pepe approach with butter, grated cheese and plenty of black pepper. Remember that these gnocchi are potato-based and have fun with a range of pairings!
Pasta Recipes
Favorite Pasta Sauces
More Favorite Italian Recipes
Gnocchi Recipe
Francesca's mom seemed disappointed we didn't have a potato ricer or potato mill on hand, but said that mashing the potatoes by hand would be fine. I've done it many times by hand now, and it is fine. If you have a ricer use it. For those of you wanting to do some of the preparation in advance, in one test I cooked and mashed a batch of potatoes a day ahead of time, put them in a covered bowl overnight, and incorporated the egg and flour the next day when I was ready to cook the gnocchi - no problems.
Ingredients
Scant 2 pounds of starchy potatoes,

2 large russets

1/4

cup

egg,

lightly beaten

scant 1 cup of unbleached all-purpose flour

fine grain sea salt
Instructions
Prepare the Potatoes
Fill a large pot with cold water. Salt the water, then cut potatoes in half and place them in the pot. Bring the water to a boil and cook the potatoes until tender throughout, this takes roughly 40-50 minutes.

Remove the potatoes from the water one at a time with a slotted spoon. Drain any excess water. Place each potato piece on a large cutting board and peel it before moving on to the next potato. Save the potato water. Also, peel each potato as soon as possible after removing from the water (without burning yourself) - I've found a paring knife comes in handy here. Be mindful that you want to work relatively quickly so you can mash the potatoes when they are hot. To do this you can either push the potatoes through a ricer, or do what I do, deconstruct them one at a time on the cutting board using the tines of a fork - mash isn't quite the right term here. I run the fork down the sides of the peeled potato creating a nice, fluffy potato base to work with (see photo). Don't over-mash - you are simply after an even texture with no noticeable lumps.

Let the potatoes cool spread out across your work surface for ten or fifteen minutes. Long enough that the egg won't cook when it is incorporated into the potatoes.
Make the Gnocchi
When you're ready, pull the potatoes into a soft mound. Drizzle with the beaten egg and sprinkle 3/4 cup of the flour across the top. I've found that a metal spatula or large pastry scraper are both great utensils to use to incorporate the flour and eggs into the potatoes with the egg incorporated throughout - you can see the hint of yellow from the yolk. Scrape underneath and fold, scrape and fold until the mixture is a light crumble. Very gently, with a feathery touch knead the dough. This is also the point you can add more flour (a sprinkle at a time) if the dough is too tacky. I usually end up using most of the remaining 1/4 cup flour, but it all depends on the potatoes, the flour, the time of year, the weather, and whether the gnocchi gods are smiling on you. The dough should be moist but not sticky. It should feel almost billowy.

Cut it into 8 pieces. Now gently roll each 1/8th of dough into a snake-shaped log, roughly the thickness of your thumb. Use a knife to cut pieces every 3/4-inch (see photo). Dust with a bit more flour.

To shape the gnocchi hold a fork in one hand (see photo) and place a gnocchi pillow against the tines of the fork (or gnocchi board), cut ends out. With confidence and an assertive (but very light) touch, use your thumb and press in and down the length of the fork. The gnocchi should curl into a slight "C" shape, their backs will capture the impression of the tines as tiny ridges (good for catching sauce later). Set each gnocchi aside, dust with a bit more flour if needed, until you are ready to boil them. This step takes some practice, don't get discouraged, once you get the hang of it it's easy.
Boil the Gnocchi and Serve
Now that you're on the final stretch, either reheat your potato water or start with a fresh pot (salted), and bring to a boil. Cook the gnocchi in batches by dropping them into the boiling water roughly twenty at a time. They will let you know when they are cooked because they will pop back up to the top. Fish them out of the water a few at a time with a slotted spoon ten seconds or so after they've surfaced. Have a large platter ready with a generous swirl of whatever sauce or favorite pesto you'll be serving on the gnocchi. Place the gnocchi on the platter. Continue cooking in batches until all the gnocchi are done. Gently toss with more sauce or pesto. Don't overdo it, it should be a light coverage. Serve immediately, family-style with a drizzle of good olive oil on top.
Related Recipes
More Recipes
Popular Ingredients