My Dad's Garlic Bread Recipe
My dad's garlic bread recipe - garlic, lots of butter, chives, and lemon zest slathered on a wide baguette. A garlic-studded, golden crusted masterpiece.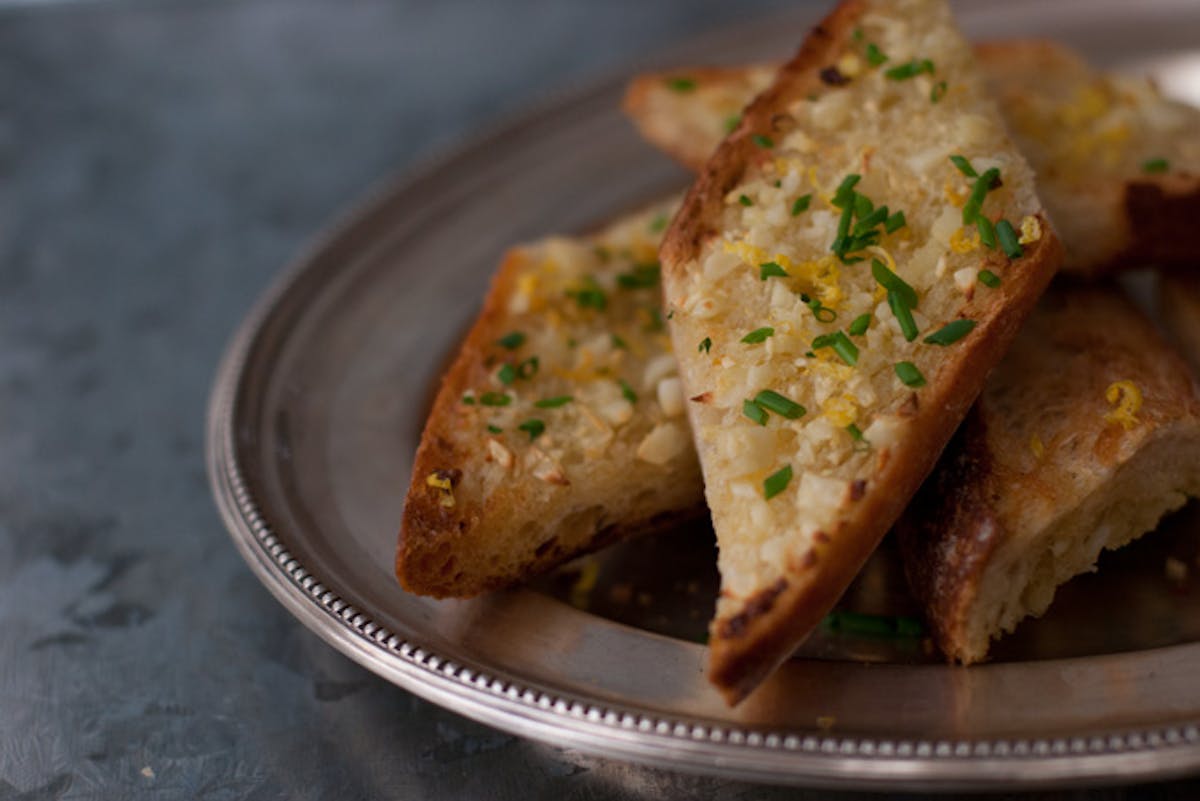 Garlic bread is one of my dad's specialties. But before we get into the details, let me back up a bit and start by saying that I was one of the fortunate kids growing up - really lucky. My dad cooked dinner for us nearly every night when he got home from work - AND he loved to do the dishes (a trait that clearly skips a generation). Well into my teen years friends tolerated slightly less liberal curfews at the Swanson household in exchange for the payoff the next morning - my dad's Saturday standard consisting of homemade biscuits, eggs, bacon, and freshly squeezed orange juice. The only problem my sister and I could identify was the early hour it was served. He would plate up at 8 a.m. laughing as he bellowed "up all night, up all day!"
I called my dad yesterday and asked him about his garlic bread. Everyone loves these garlic-studded, golden-crusted masterpieces and he brings baskets brimming with slices to lots of 'events' - office parties, picnics, parades, bingo night (somehow he ended up being a caller?). My dad is a chronic volunteer, so there are lots of opportunities for him to display his garlic bread-making prowess. I've had it a thousand times, but never paid much attention to his technique, so today was the day.
What follows is more of a technique than an actual recipe. The amount of garlic you'll end up using will correspond with the size of your bread loaf. My dad likes to use those giant supermarket 'artisan' bread loaves. I suspect it is because the larger loaves have more of the white bread 'flesh' enabling the absorption of lots and lots of garlic infused butter. I opted for a wide/tall french baguette from the bakery up the street from my house. You don't want to go with too narrow a baguette or you wind up with the wrong ratio of soft, garlic-buttery insides to crust. The baguettes with more body stay nice and moist throughout the baking and broiling. It's actually hard to go wrong, I mean this is garlic bread we are talking about - but the kind of bread you choose will define your final outcome.
I couldn't help leaving my little mark (and a bit of visual flair) on the recipe, so I added lots of lemon zest and chopped chives.
My Dad's Garlic Bread
The size of your baguette will determine how much butter and garlic you'll use. My dad uses roughly one head of garlic for each stick of butter.
1 loaf artisan French bread or wide baguette
1 - 2 heads of garlic
1 - 2 sticks of unsalted butter
1 bunch of chives (optional)
zest of one lemon (optional)
As told to me by my father. Slice that loaf of bread right up the middle so you have two halves (he uses his serrated knife for this). Now set them on their backs, cut side up. Mince the garlic or push it through one of those crushers - either way is fine. Now add it to the butter you should be melting in a small saucepan.
(This is where he got really animated). Now take a basting brush (or any brush for that matter - pastry, etc) and start slathering the garlic butter all across that bread. Really go for it, let it soak in. He then says to me, "heck, sometimes I even pour it on." (At which point I can't help but think that my mom would be mortified). Make sure you get all those garlic chunks evenly distributed. Now sometimes my dad makes a garlic bread in advance and freezes it (don't ask). If you are going to freeze the bread for later, this is when you do it - you don't want to bake, then freeze.
He recommends the 'double-bake' as he calls it. This is when you bake at a standard temperature (350 degrees) for 10 to 15 minutes to heat the bread (particularly if it is coming out of the freezer), and then brown it off for color under the broiler for a minute or two.
When the bread is finished broiling let it cool for a minute or two. This is when I sprinkle with the lemon zest and chives (and to be honest, I sprinkle a bit of zest on the bread before it goes in the oven too because I like that roasted lemon flavor alongside the garlic.) Slice and serve.
The short version of this recipe:
Cut, slather, bake, brown, slice.