Spinach and Zucchini Soup Recipe
Simple and delicious, vibrant green spinach and zucchini soup recipe. Light-and-healthy, but still creamy textured and plenty tasty.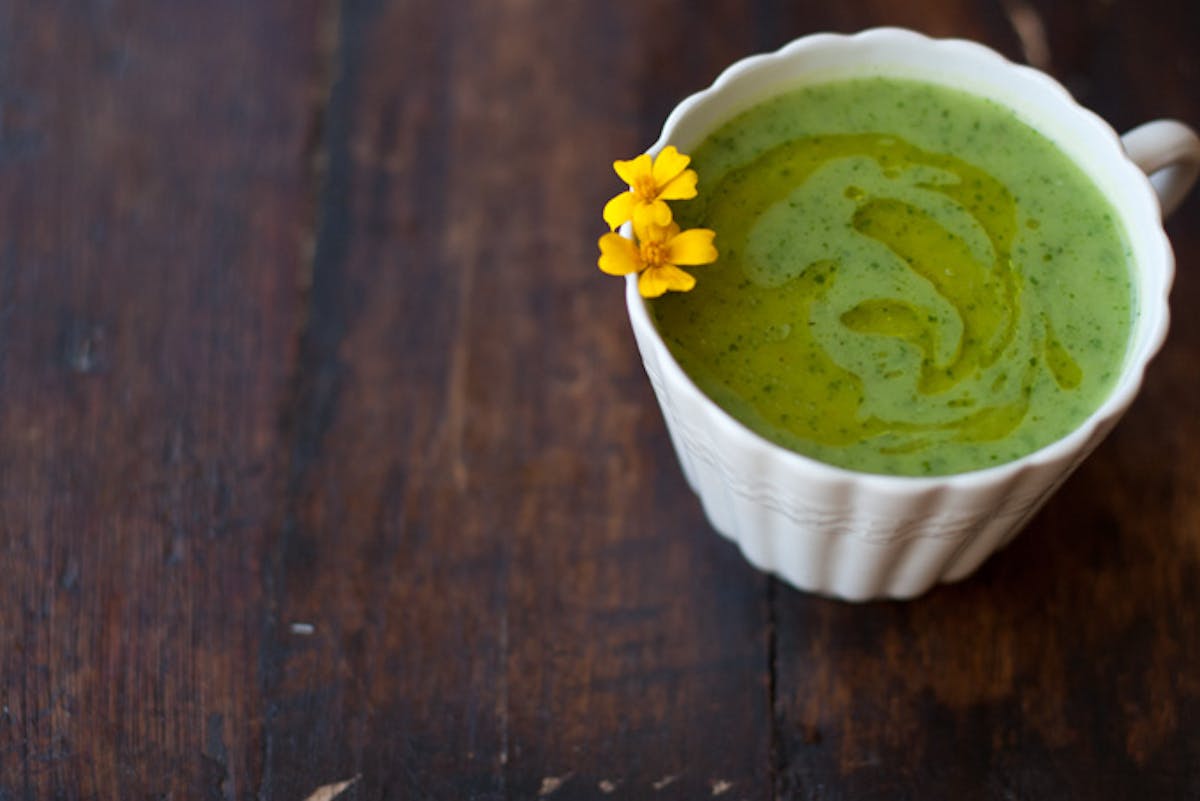 The zucchini just keeps coming and like many of you, I'm still trying to create delicious and inspired ways to use it up. That being said, I think I've had enough - and with this zucchini soup recipe I'm going to close the door on our prolific friends until next year. At its core this is a light-and-healthy, straight-forward zucchini soup with a couple little twists and tricks to make it ever-so-slightly special and unique.
Bumping up the color: I think we can all agree, pale and watery zucchini flesh isn't much to look at - to boost the color and visual appeal here I use fresh spinach as my secret weapon. By giving spinach a supporting role I was able to create a vibrant cilantro-flecked zucchini soup in an eye-popping shade of green with a nicely boosted nutritional profile.
Keeping it healthy: I knew I wanted a relatively smooth, pureed soup here. I was after a creamy consistency but without relying on copious amounts of heavy cream if possible. I ended up using potato in the soup base which gives the soup a bit of heft and thickness, something people often mistake for a fully cream-based soup. I might finish a soup like this with a tiny splash of cream, or a dollop of plain yogurt instead. Delicious either way.
The bulk of the time commitment here is in the chopping. Beyond that the soup only takes about 10-15 minutes once the ingredients start hitting the pot.
Other favorite zucchini recipes:
- Quinoa and Grilled Zucchini Recipe
- My Special Zucchini Bread Recipe
- Chocolate Zucchini Cupcakes
Spinach and Zucchini Soup Recipe
I prefer to use a light tasting vegetable stock here, nothing too overpowering. If you'd like a richer version of this soup feel free to finish the soup with a splash of cream, or a dollop of creme fraiche or plain yogurt in place of the finishing drizzle of olive oil.
3 tablespoons extra-virgin olive oil
2 cloves garlic, chopped
2 medium onions, roughly chopped
big pinch of salt
2 1/2 cups potatoes (2 medium) cut into 1/2-inch cubes
2 1/2 cups zucchini (2 medium), loosely chopped
4 cups vegetable stock
4 cups fresh spinach leaves, loosely packed
1 cup cilantro, loosely chopped
one lemon
In a large, thick-bottomed pot over medium-high heat, add the olive oil. When the oil is hot (but not smoking) add the garlic and onions and saute for a few minutes along with pinch of salt - just until they soften up a bit. Stir in the potatoes and zucchini. Add the stock. Bring to a simmer and cook until potatoes are soft throughout, roughly 10-15 minutes.
Stir in the spinach, and wait for it to wilt, just ten seconds or so. Now stir in the cilantro. Puree with a hand blender until smooth. Whisk in a big squeeze of lemon juice. Now taste, and add more salt if needed. Finish with a drizzle of olive oil and serve.
Serves about 6.