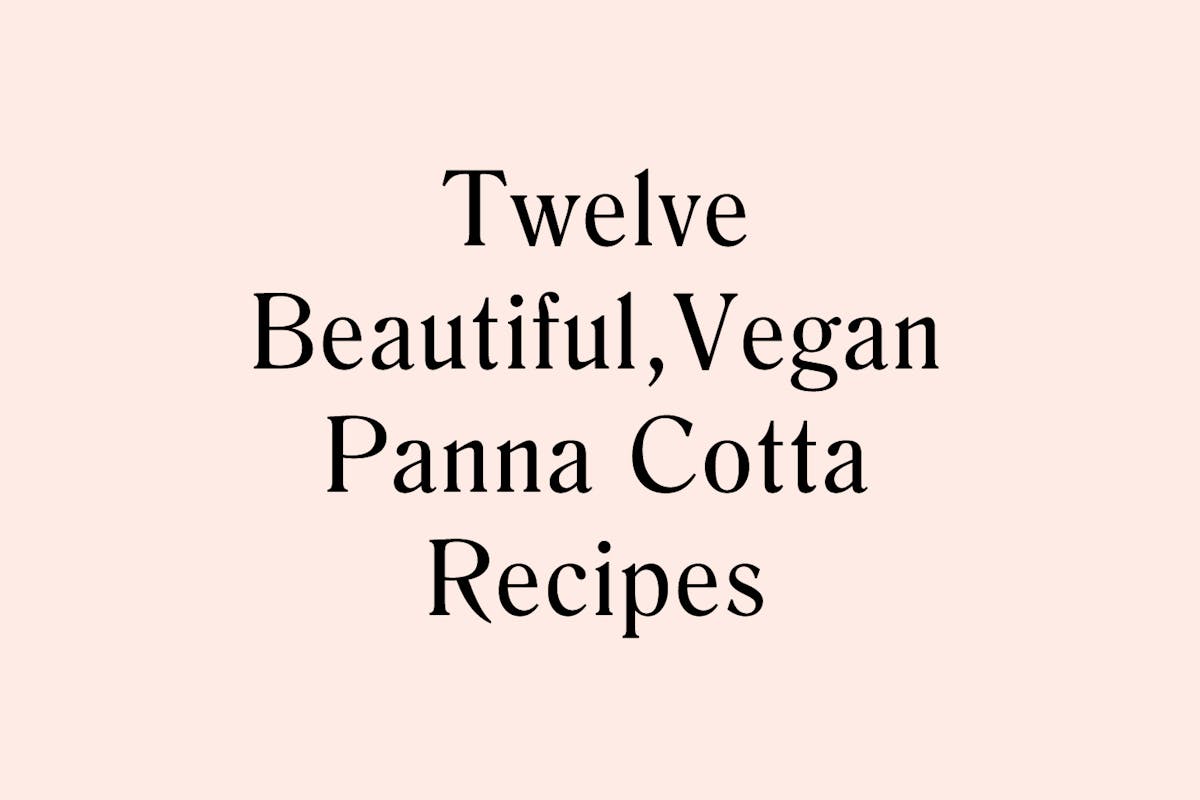 12 Beautiful Vegan Panna Cottas
Panna Cotta is a wonderful, versatile dessert any time of year. Swap in new flavors and fruits and it's seasonal. It can be lighter or richer, depending on what ingredients you use. Faith Durand wrote an excellent introduction to panna cotta at The Kitchn. The variation I want to focus on today is vegan panna cotta.
Panna cotta is often made vegan by using the gelatin substitute agar-agar (also referred to as "agar"). It closely simulates the texture of gelatin desserts and is a simple substitution. At first glance many vegan panna cotta recipes seem similar, but different nut milks, thickeners (some using tofu!) and of course flavor combinations, create a platform for experimentation. Enjoy these beautiful variations!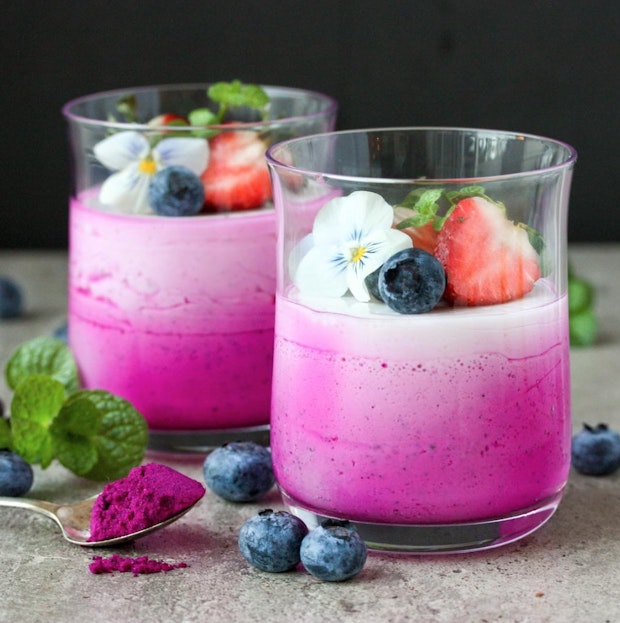 1. Dragonfruit Vanilla Coconut Panna Cotta (Jo Ross, @healthyeating_jo) Everyone can use more pink in their lives and this panna cotta provides a healthy dose. Jo Ross' panna cotta is quite simple to make once you have the ingredients - five ingredients - including dragonfruit powder which adds the burst of color.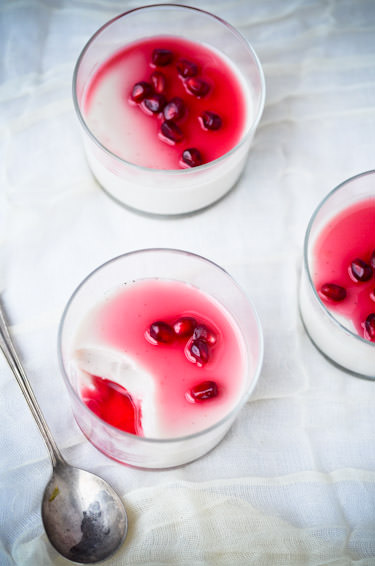 2. Coconut Panna Cotta (Scaling Back) Beautiful! Tina takes a relatively straightforward coconut panna cotta and elevates it with a pomegranate topping that adds a pop of color and flavor.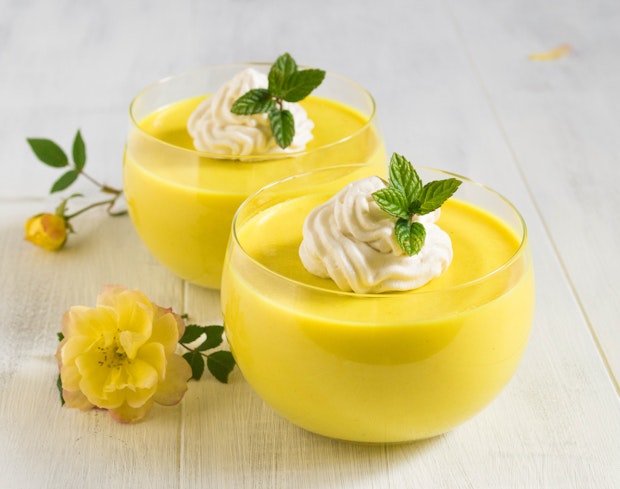 3. Coconut, Mango and Lemon Panna Cotta - (Rainbow in my Kitchen) This one features the unique combination of mango and lemon, and a touch of turmeric, resulting in a wonderful color overload. The base is a mix of tofu and coconut milk.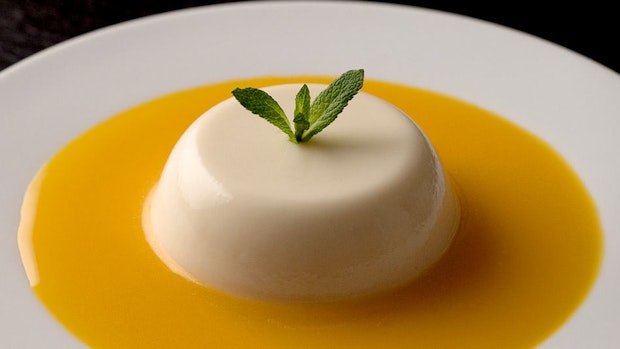 4. Mango Panna Cotta - (The Vegan Corner)
Mango! This would be perfect when the weather is warmer and the temperature climbs. There's a good cashew yogurt in stores that might be interesting to incorporate as the vegan yogurt.
5. Vegan Pumpkin Panna Cotta - (Lands and Flavors)  Perfect for fall or winter, or at a holiday table. The pumpkin seed brittle on top is a little extra effort, but a great touch.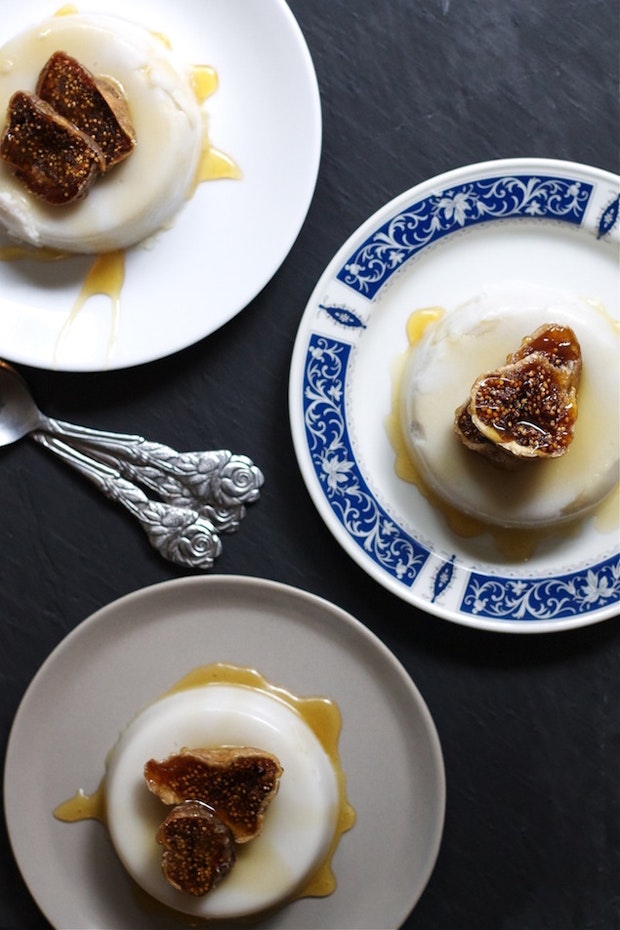 6. Vegan Panna Cotta with Coconut Milk and Dried Figs - (Honest Cooking) Switching gears from the previous recipe, this one is as simple as possible, four ingredients. Use beautiful figs and you're set.
7. Piña Colada Panna Cotta - (Avant Garde Vegan) Another tropical panna cotta, this Piña Colada panna cotta uses actual rum, which lends a special boost. Another difference here is the panna cotta base. It relies on corn starch, while agar is used to make a jelly topping. It's worth trying agar and corn starch-based recipes to see which texture you prefer. Bonus, this one has a video (if you haven't seen Gaz's Youtube channel, it's fun).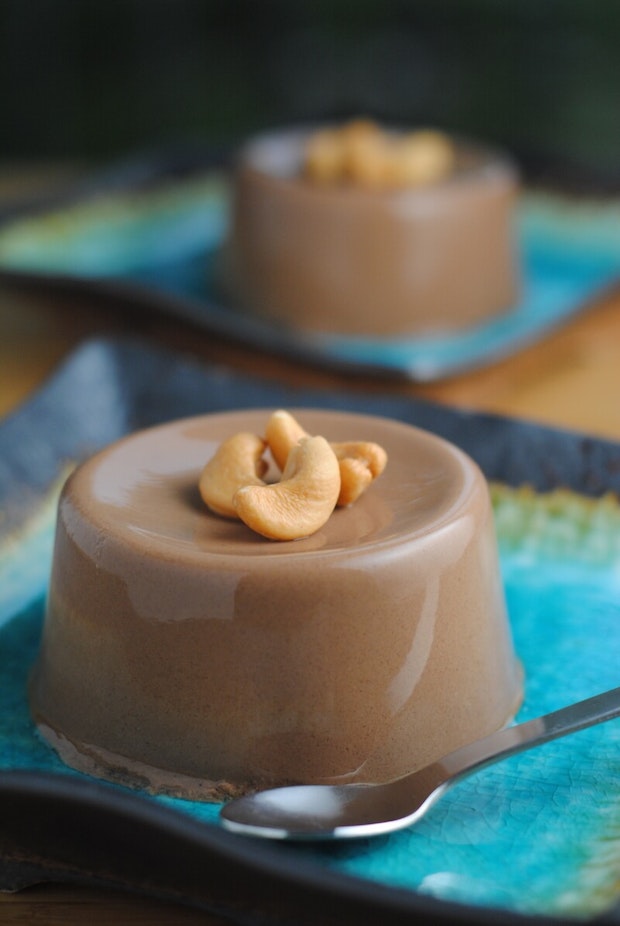 8. Vegan Chocolate Panna Cotta - (Jasmine @Black Food Blogger's Club) Nobody is going to refuse a chocolate panna cotta. This panna cotta is different from the rest because it is based on homemade cashew nut milk. If you have a powerful blender, a creamy cashew nut milk can be simple as 1 cup of cashews and 2 cups of water. No need to strain.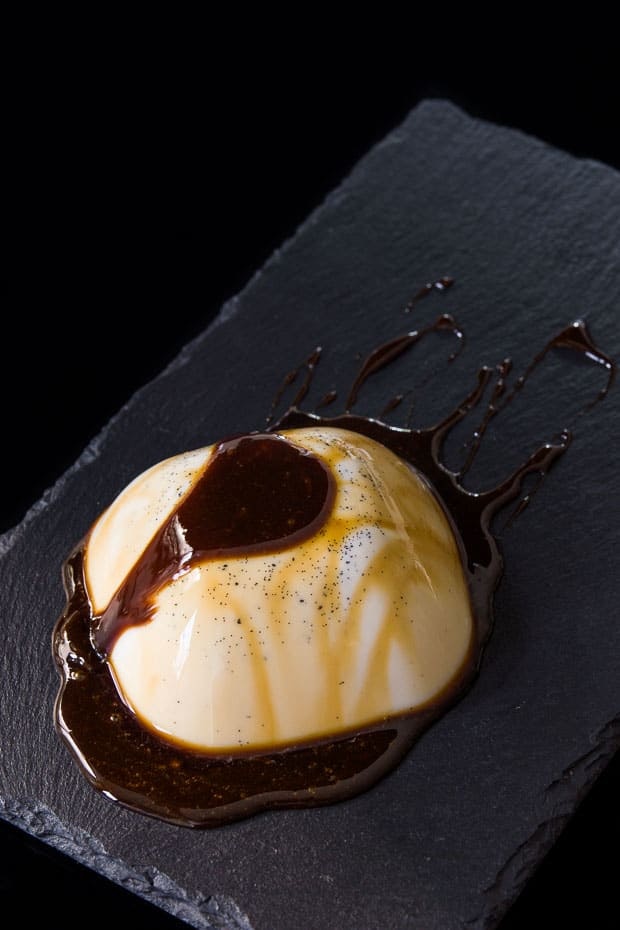 9. Vegan Vanilla Panna Cotta with Black Sugar Sauce - (No Recipes) This one is straight-forward, soy milk-based panna cotta. The twist? It features a black sugar sauce. Marc explains the difference between brown sugar and black sugar, and his recipe is inspiration to seek out muscavado or kokutou sugar.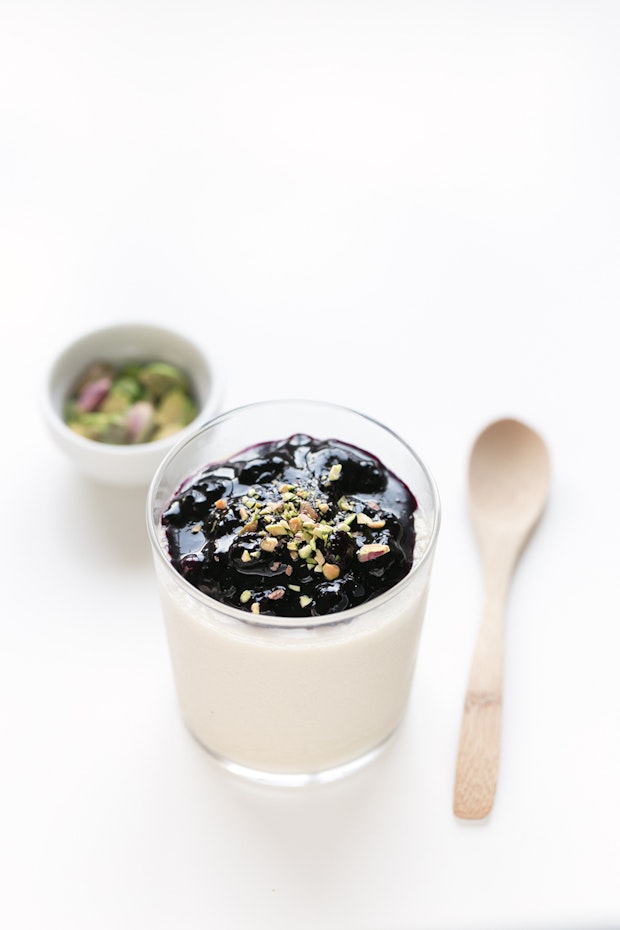 10. Vegan Panna Cotta - (Simple Vegan Blog) Another simple base, with a quick blueberry compote as the highlight. The recipe calls for frozen blueberries, but if they are in season that would make it that much more special!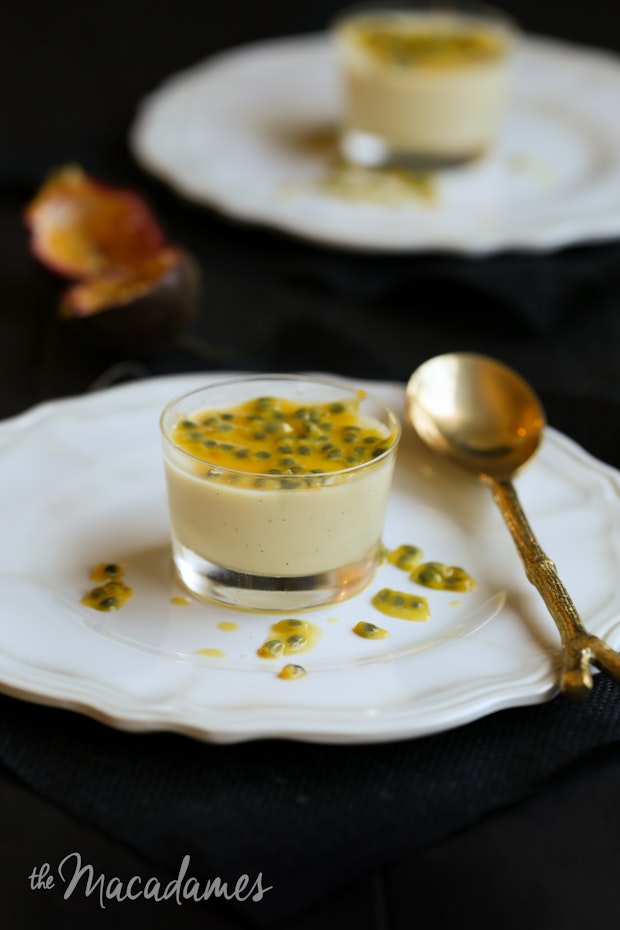 11. Passionfruit Pannacotta - (the Macadames) Another tropical take on panna cotta! Similar to the previous recipe, this starts with a simple panna cotta base, which highlights the fruit. When sourcing your passionfruit look for heavy dark shells that are slightly shriveled-looking, which indicates they are ripe.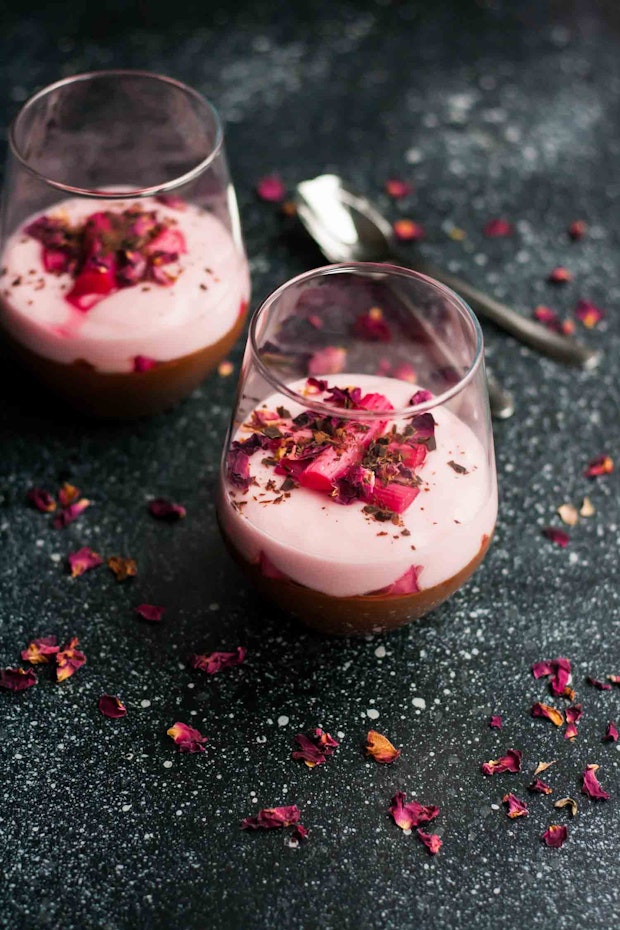 12. Rhubarb Rose Dark Chocolate Parfaits (Eat Love Eat) OK, I'm cheating a bit here, this is probably not technically a panna cotta. But, close enough! This is the only one in the round-up featuring rhubarb and the colors make it worth checking out.