Amaretto-spiked Chocolate Mousse Recipe
Simple-yet-decadent this dairy-free chocolate mousse recipe wins over non-vegans and vegans alike.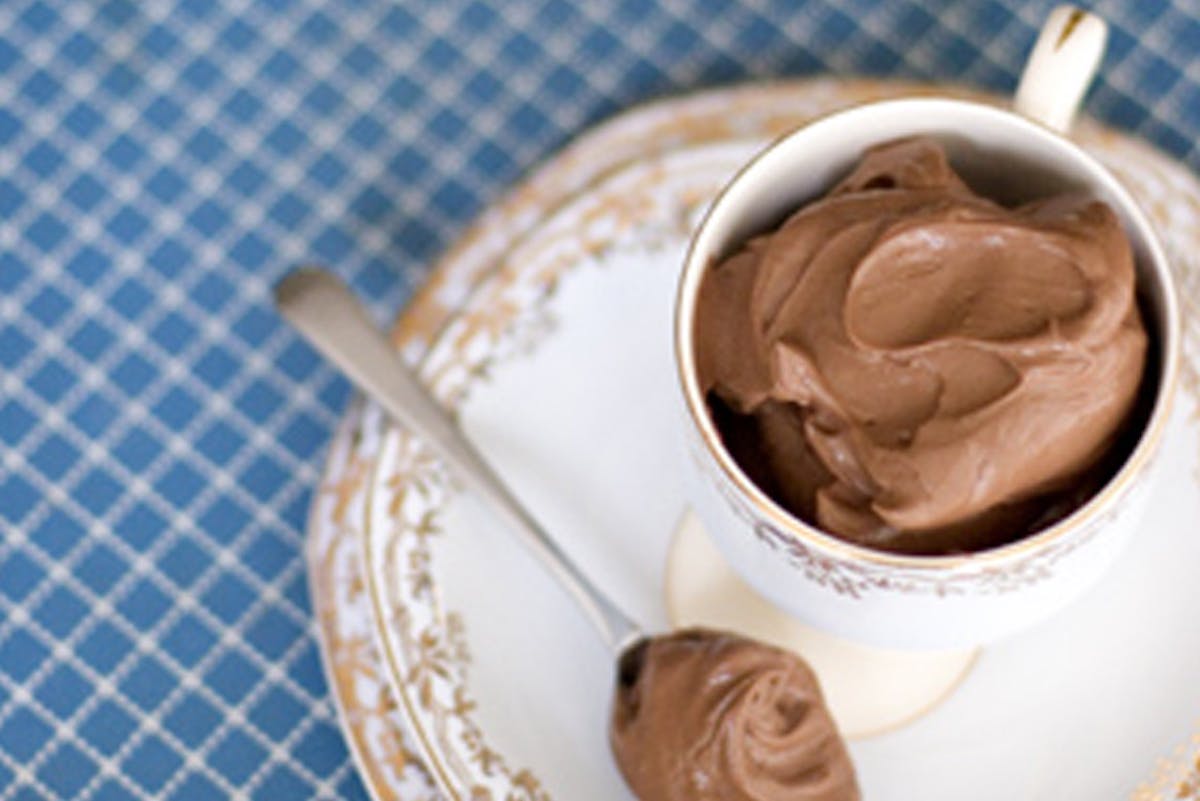 As if last weeks chocolate bender wasn't enough - here we go again. I have a couple classes coming up this fall (shockingly right around the corner), and this Amaretto-spiked chocolate mousse recipe will be pon the menu. In the Viking catalog I called it a pudding, but really - it is so rich, velvety, and decadent I think I will change my mind and call it a mousse from here on out.
Chocolate mousse reminds me of the 80s. My mom doesn't cook much, but there was an era in our household when the only recipe she would make was chocolate mousse - it was a big ordeal. Less of an ordeal than when she was going through her German Chocolate Cake period, but a monumental undertaking for her nonetheless. When she completed her mousse masterpieces they would slide into the refrigerator and chill on a tray in individual flute glasses until just the right moment. Ooohs and ahhs would fill the room when the flutes were finally permitted to make their appearance at the end of a meal. My mom would say something like "oh, those - I just threw those together, no big deal." My sister and I would snicker from the adjoining TV room.
Don't tell anybody, but this recipe is really easy to make. Oh, and it is dairy-free. Shhhh, it is also vegan, but don't tell the non-vegans. Hope you like it - let me know what you think.
Variations: If you want a more ploppy, pudding-like consistency, add another 1/4 or 1/3 cup chocolate soy milk to the recipe in the beginning. Want an even denser mousse? Start by scaling back to about 1/3 cup chocolate soy milk to start. I am spiking it with a couple layers of almond flavoring, but feel free to experiment with different infusions. Instead of almond flavors infuse the simmering milk with mint or a couple pinches of spicy chilies (strain before mixing into chips). Anything that goes well with chocolate will be a welcome infusion into this mousse.
Amaretto-Spiked Vegan Chocolate Mousse Recipe
1/2 cup organic chocolate soy milk (for this recipe I like to use Vitasoy Rich Chocolate Soy Milk)

9 or 10 ounce bag of semisweet vegan chocolate chips (I've had good success with Tropical Source or Sunspire Brand all-natural brands, NOT carob chips)

12 ounces silken tofu

1/4 cup Amaretto or almond-flavored liquor

1/4 teaspoon natural pure almond extract (I use the Flavorganics Almond Extract for this recipe)
Pour the chocolate milk into a small pot and bring to a simmer. Remove the milk from heat and let cool a bit while you melt down the chocolate chips. You can melt the chocolate chips in a double boiler or if you are like me, and don't own a double-boiler, you can cobble one together using a tiny saucepan set under a larger mixing bowl. Fill the tiny saucepan with an inch or two of water and bring barely to a simmer - place the big mixing bowl with the chocolate chips on top of the tiny saucepan and let the heat come up and gently warm the chips while you stir occasionally until completely melted. Remove from heat.
Add the soy milk and silken tofu to the melted chocolate chips. Process with a hand or regular blender until completely smooth. Stir in the Amaretto and almond extract. Taste and adjust for flavor, adding a bit more extract if needed.
Chill in the big bowl (or in individual bowls) for at least 1 1/2 hours, the longer the better. The pudding will set up nicely as it cools.
Makes 6 decadent servings.