Ten Minute Tasty Asparagus and Brown Rice Recipe
A big bowl of asparagus, sauteed garbanzos, chopped onions, toasted almonds, tossed with brown rice and drizzled with a bit of garlic-tahini dressing.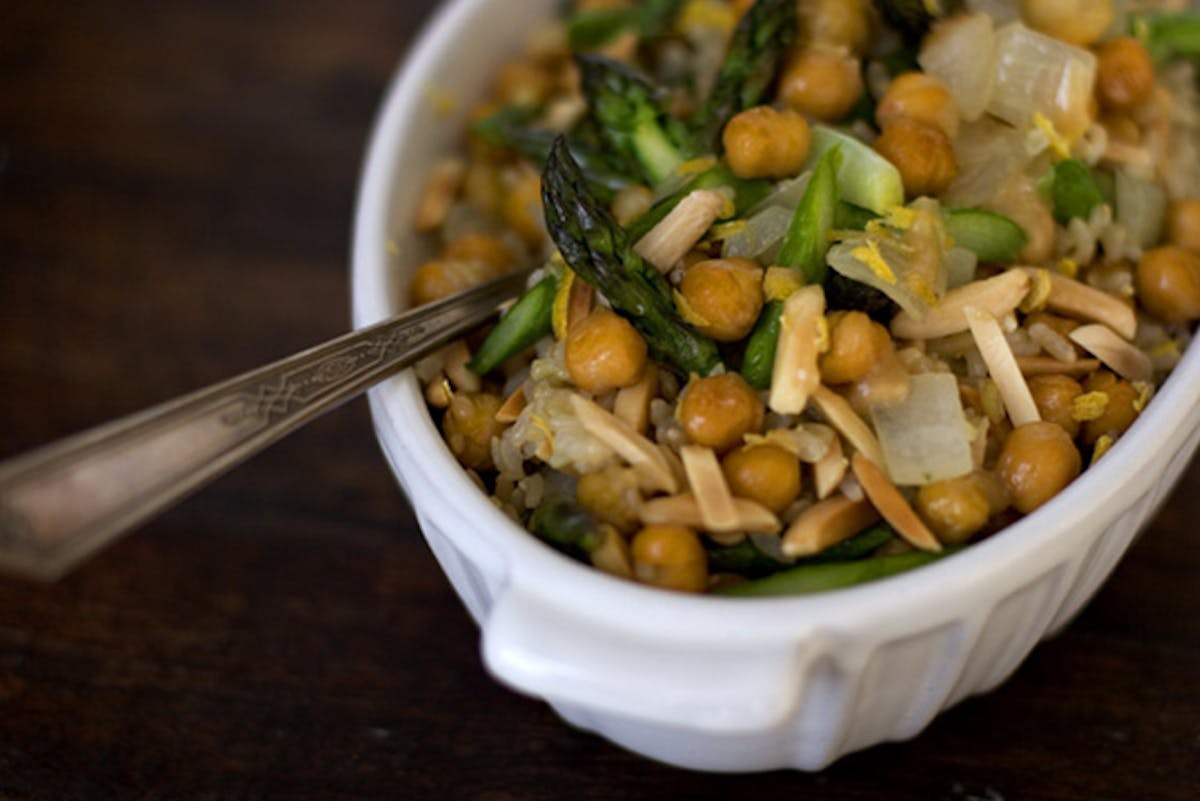 About a month ago I discovered the pre-cooked organic brown rice in the freezer section at Whole Foods Market. Plump, nutty-tasting grains grown in neighboring Sacramento Valley. This is no substitute for a fresh pot of my favorite fragrant, steaming Thai purple rice or a bowl of this earthy, rusty red -toned Bhutanese rice - except when it is. What I mean is this - in a perfect world, once or twice a week I get around to cooking up a big pot of beans, or a pot of quinoa, or lentils, or brown rice. I'll use whatever I make in bulk throughout the week in various preparations. All good in theory, but sometimes the rest of my life gets in the way. Over the past couple weeks when I'm in a pinch for time, don't want to eat out, and have a craving for a quick, tasty, home-cooked meal - I've increasingly been reaching for the freezer rice and whatever else I can forage from my cupboards and pantry. This leads to a string of both hits and misses, but luck for all involved, last night's endeavor was delicious...
I should warn you, today's brown rice recipe is a bit of a cultural hodge-podge - very tasty and filling, but clearly pulled from my 'global pantry' - a place where coconut milk regularly rubs shoulders with balsamic vinegar, soba noodles, mango blossom honey, and karigane kukicha tea. It's a big bowl of asparagus, sauteed garbanzos, chopped onions, toasted almonds, tossed with brown rice and drizzled with a bit of garlic-tahini dressing I had on hand. The tahini dressing went nicely with the nuttiness of the brown rice. I whipped this up in about ten minutes (this doesn't really take into account the five or ten minutes where I stand and stare blankly into my cupboards trying to figure out what to make)....Delicious the day after (hot or cold) for lunch.
Before we get to the recipe, a couple important things:
BOOK UPDATE: I want to thank all of you for your amazing support of my cookbook. By stocking it in your stores and libraries, writing about it on your websites, in your magazines and newspapers, and by purchasing copies for your friends and family, Super Natural Cooking is already going into its second printing! Also, a little bird told me that you will likely be seeing it this summer (nationwide) at Williams-Sonoma and Anthropologie.
I have to tell you, I had absolutely no idea what kind of reception a book like this would get. This one is a much more personal reflection of me than the first book on many fronts - the recipes, design, photography, etc. It also deals with a topic that can be hard to get people excited about - cooking with natural foods. I'm not kidding, my stomach used to hurt when I would think about the day it would hit the shelves and stand on its own. Those of you who know me in person know I'm not much of a hard-seller and have a hard time asking people to do things for me (see below) - so believe me when I say thank you for helping me out on so many fronts. Please know how much it is appreciated.
SPECIAL REQUEST: I know many of you have had a chance to spend some time with my book over the past month, and dozens of you have sent me unbelievably thoughtful and positive notes about it (thank you!). If you have time to log a quick Amazon review at some point that would be great. I think it might help people (particularly the ones who aren't familiar with my site) get over the natural foods stigma thing and give them a fresh perspective of what is possible.
Ten Minute Tasty Asparagus and Brown Rice
I made this with brown rice, but you could certainly substitute other grains. I suspect quinoa or millet would make nice substitutes (or even a short whole-grain pasta?). As I mentioned above, seeking out the pre-cooked brown rice in the freezer section helps shave quite a lot of time in this recipe. But feel free to go from scratch with your favorite rice. Use two cans of chickpeas/garbanzo beans if you love them like I do - one can if you're only a general enthusiast ;)...
3 tablespoons extra-virgin olive oil
1 or 2 14-ounce cans of chickpeas, drained
2 cloves garlic, minced
1 medium yellow onion, chopped
1 bunch asparagus, cut into 1-inch segments
3 cups pre-cooked brown rice
1 cup almond slivers, toasted
fine grain sea salt

Tahini Dressing:
1 garlic clove, smashed and chopped
1/4 cup tahini
zest of one lemon
scant 1/4 cup freshly squeezed lemon juice
2 tablespoons extra-virgin olive oil
2 tablespoons hot water
scant 1/2 teaspoon fine grain sea salt
If you're using frozen rice (did I just say that?), heat it on its own in a pot or per package instructions.
Make the dressing by whisking together the garlic, tahini, lemon zest and juice, and olive oil. Add the hot water to thin a bit and then the salt. Set aside.
Add a couple glugs of olive oil (roughly 3 tablespoons) to a big skillet over medium-high heat. Swirl the oil around to coat the pan, then add the chickpeas and sprinkling of salt. Let the beans saute there for a couple minutes (I like to try to get some crusty color on them). Be careful, they seem to hiss and pop more then other beans over high heat. Add the garlic and onions. Stir for a minute. Stir in the asparagus with another pinch or two of salt, cover with a lid for a minute or two to steam - just until the asparagus brightens and softens up just a bit. Uncover and stir in the rice and almond slivers, reserving a few almonds for garnish. Taste and add more salt if needed (likely). Serve family-style in a big bowl drizzled with a few tablespoons of the tahini dressing, let each person add more dressing to their tastes.
Serves 4-6.