Berry Beer Baked Beans Recipe
A simple yet over-the-top flavorful baked bean recipe dedicated to my dad. Beans are immersed in a decadent swamp of berry beer, dried berries, molasses, broth, and a few other flavorful accents.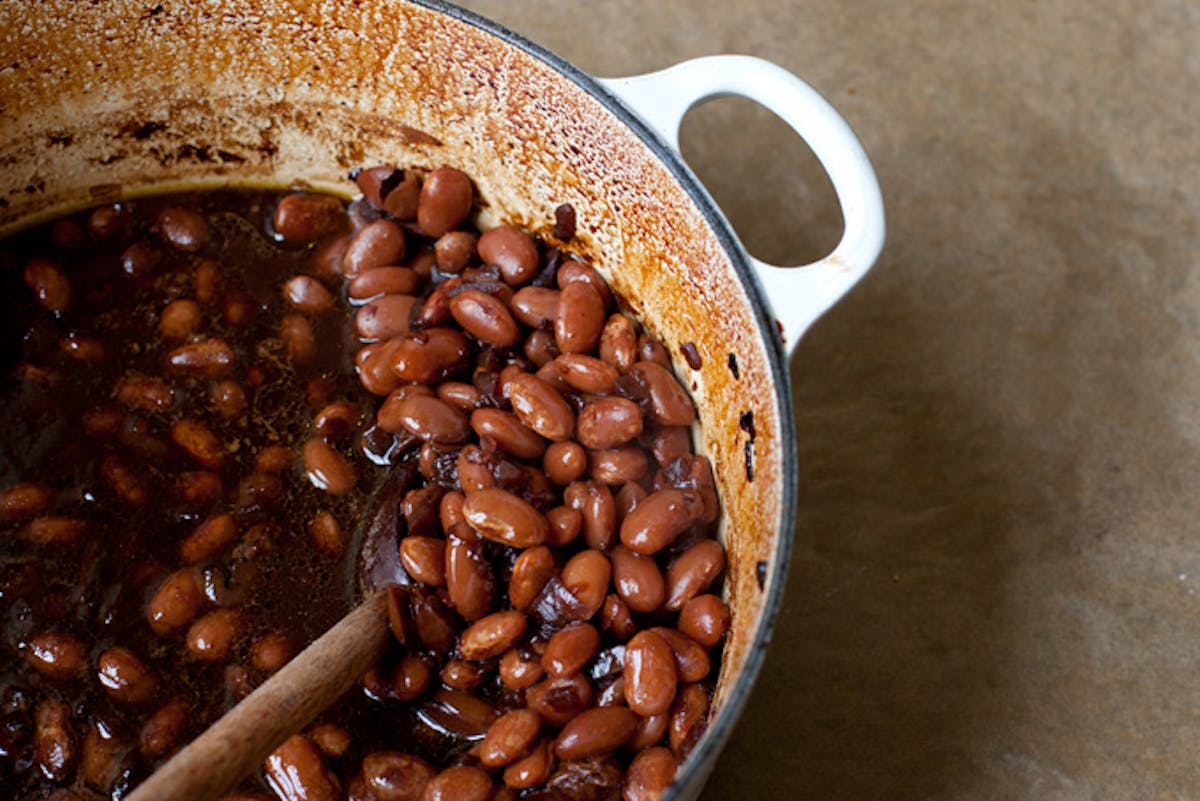 Dad, this recipe is for you. You know how you always used to have something going in the kitchen when Heather and I were growing up? Weekends, weeknights - it didn't matter. Usually the oven was in play, but other times you'd break out the crock-pot or even the pressure cooker. It was always something that would make the whole house smell delicious. This is the same sort of thing. It's a big, rich, hearty pot of beans that you could let bubble away for a couple hours while you go about your business. The beans are immersed in a decadent swamp of berry beer, dried berries, molasses, broth, and a few other flavorful accents. They get nice and plump, and the broth cooks waaay down and thickens. I think you'll like them.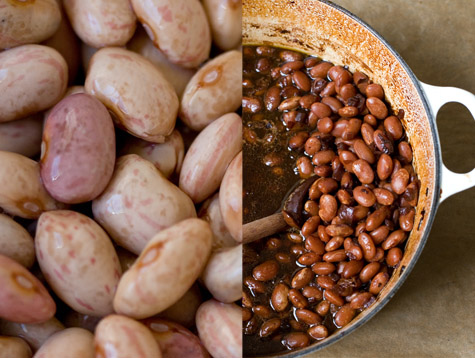 AND in the end, I promise you one epically stained, heavy pot - all yours to soak and scrub. Because as we all know, there's no pot you won't tackle, and no place you'd rather wind down from a good meal. xo -h
Berry Beer Baked Beans Recipe
I don't see why you couldn't do this recipe entirely on the stove top if you prefer. I use Lindeman's Frambois Lambic (Belgium-style raspberry beer) here, but experiment with whatever berry beer you like. Also, feel free to play around with the dried fruit component. You might try berry beer with dried berries, or cherry beer with dried cherries. Or a mix - I used a blend of dried cherries, dried raspberries, dried strawberries, and dried blueberries. There is always some confusion when it comes to molasses - I use Wholesome Sweeteners organic molasses. I also imagine ground chipotle powder would make a nice, smoked alternative to the smoked paprika called for here - whatever you have on hand.
2 cups dried cranberry, borlotti,or pinto beans, soaked over night

a splash of extra virgin olive oil
1 medium red onion, chopped
1/4 cup molasses
1 tablespoon Dijon-style mustard
1 teaspoon crushed red pepper flakes
3 cups berry beer
1/2 cup dried berries and/or cherries, loosely chopped
2 cups light vegetable broth

1/2 teaspoon smoked paprika (or more to taste)
fine-grain sea salt
Preheat oven to 350F degrees, and place rack in lower third.
In a large oven-proof casserole (I use my large Le Creuset Dutch oven), heat the olive oil and saute the red onion for a minute or so. Stir in the molasses, mustard, red pepper flakes, beans, beer, dried berries, and broth. Bring to a simmer, cover, and place in oven for roughly 1 1/2 - 2 hours, or until beans are tender. Every batch of beans is different, and they'll decide for themselves when they're done. After an hour or so, (carefully) check every 25 minutes to see how the beans are doing. When the beans are tender remove the pot from the oven. In the off chance they need more liquid during the baking process, add more broth (or water) 1/2 cup at a time. More likely, if the beans finish cooking before the cooking broth really thickens up, pull the pot back up onto the stove top, uncover, and bring the pot to a boil until the liquid has more body - usually 5 - 10 minutes.
Now it's time to season the pot. Stir in the smoked paprika and a few big, generous pinches of salt. Wait a minute and then taste, you definitely need enough salt and to make the flavors pop and to counter-balance the sweetness of the molasses and fruit - the smoked paprika helps balance in this regard as well.
A big pot - serves 8 - 10.