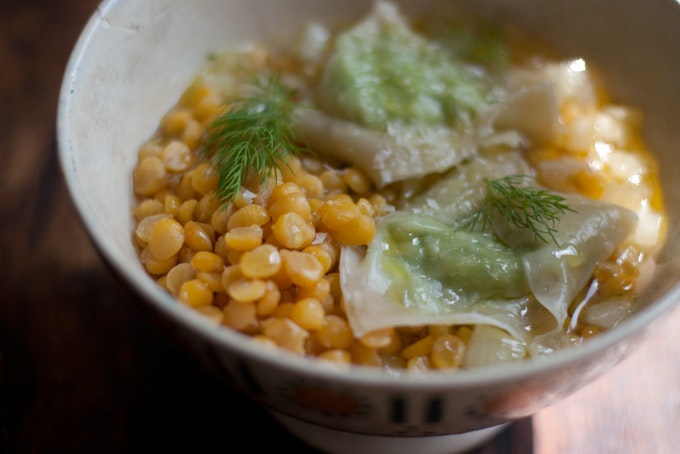 Big Slurp Dumpling Soup Recipe
Serve me this soup daily for lunch and you'll hear no complaints. Tender, translucent pasta pillows, pale green from their pea-stuffed bellies, are buoyed by yellow split peas in a simple clear broth. Golden puddles of olive oil are suspended across the surface, pooling in various cracks and crevices. Your lips will glisten after a few slurpy bites.
Remember the pea dumplings I posted not too long ago? I've been using them twenty different ways ever since. This soup was a quick thing I threw together for lunch the other day while trying to use the last of them. There was a bowl of cooked yellow split peas over-staying its welcome on shelf two of my refrigerator and all it took was a good broth to bring the two together.
Don't feel like you need to make dumplings from scratch to enjoy this soup, although that would make the soup extra special. Your favorite stuffed, fresh pasta will substitute nicely for homemade dumplings - ravioli, tortellini, tortelloni, etc.
Big Slurp Dumpling Soup Recipe
Although you can do the cooking of the dumplings in the soup broth, I don't. I cook the dumplings separately because if one of them explodes, your broth will go cloudy (which is still tasty, but unattractive). It's also better to cook them in a more generous amount of liquid. As far as the broth is concerned, if you have a favorite light (herby) broth that you'd prefer to use here, by all means do so. Just omit the veg. bouillon and substitute your stock for the water. The first time I made this soup I used a ton of chopped chives, the second time I ran outside and snipped some fresh dill from my patio - both were great. Also, keep in mind that some bouillion are saltier than others, you may need to adjust accordingly. Let your taste buds guide you - when it tastes good, you know you're done.
a splash of extra virgin olive oil, plus more to finish
1 large onion, chopped
1 vegetable bouillon cube, crushed
4 cups water
fine grain sea salt, to taste
4 cups cooked yellow split peas*
1/4 cup fresh herbs (chives or dill), see headnotes
16 dumplings (or stuffed fresh pasta equivalent)
1/4 cup freshly grated Parmesan cheese
Bring a large pot of water to a boil. This is the water you will cook the dumplings in. Salt the water generously, as you would pasta water.
In the meantime, add the olive oil, onion, and bouillon to a large pot over medium-high heat. Cook for a few minutes, just until the onions soften up a bit. Add the water and bring to a simmer. Taste, now salt if needed - you want to season the broth so it is delicious in its own right, if it tastes flat, try a bit more salt.
Just before serving, arrange four serving bowls across the counter. Add one cup of yellow peas to each bowl. Now place herbs on top of the split peas and ladle one cup of hot broth into each bowl. Cook the dumplings by giving them a swim in the pot of (gently) boiling water . Wait a minute or two until they float, then use a slotted spoon to remove from the water. Place four dumplings in each soup bowl and drizzle each bowl with olive oil. Sprinkle each bowl with a touch of grated Parmesan and enjoy.
Serves four.
*To cook dried yellow spilt peas: Bring 3 cups of water to a boil in a large saucepan, add 3/4 cup dried yellow split peas, and cook for 20 -30 minutes, or until tender. Drain, salt to taste and set aside.