Black-eyed Peas & Leeks Recipe
From a recipe in Put A Egg On It magazine, issue #2 - Black-eyed peas with lots of caramelized leeks, melted butter, marjoram, and tarragon.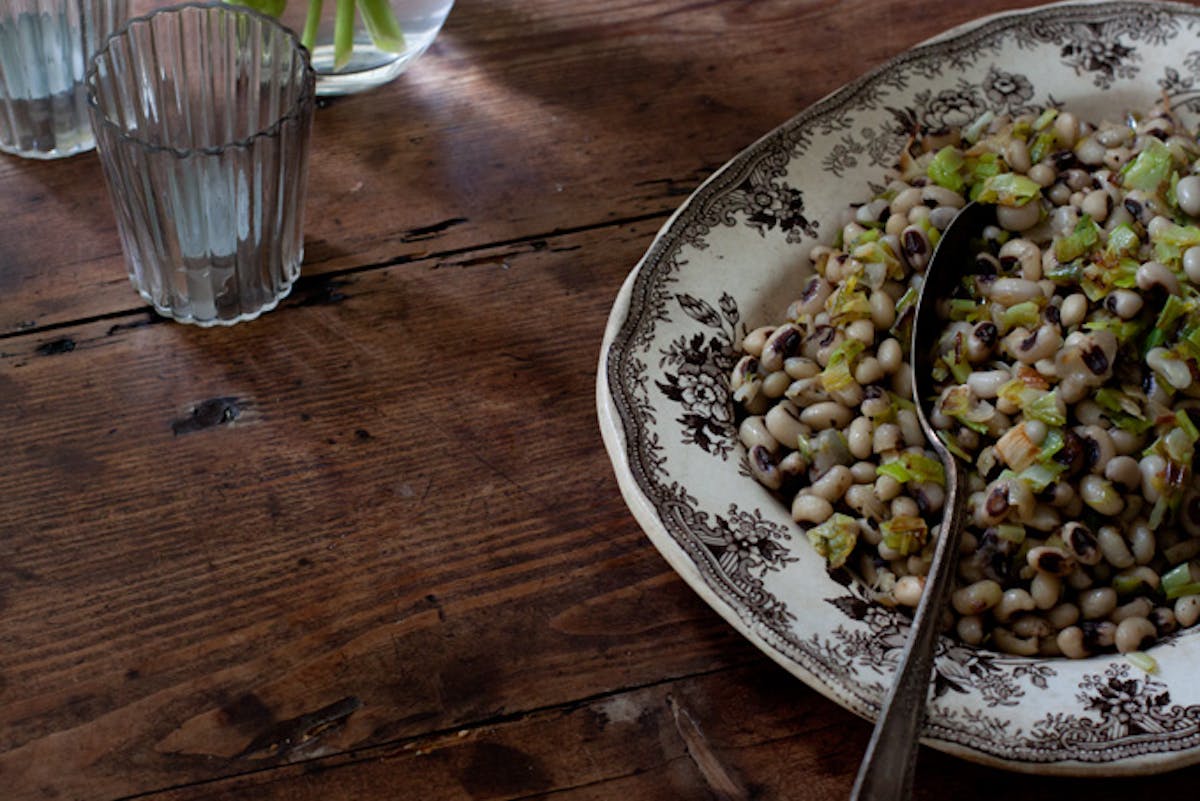 I have some cool friends. Friends who are far, far cooler than I'll ever be. One example? Sarah Keough. I met Sarah in San Francisco shortly after I graduated from college. I must have been 22, and she was a just a wee teen. Fifteen? Maybe. In addition to being one of the coolest people I know, she's also one of the nicest. As far as I'm concerned, nice beats out cool any day, and a genuine combination of the two is rare. Sarah lives in New York City now, but we've kept in touch over the years. She's one half of the art direction and design studio R&S MEDIA, along with Ralph McGinnis. In addition to that, her photography is always inspiring - this Dinners series is a favorite of mine. Today's recipe actually comes from a new print project from Sarah and Ralph. They've created a digest-sized magazine focused on food and cooking, Put A Egg On It.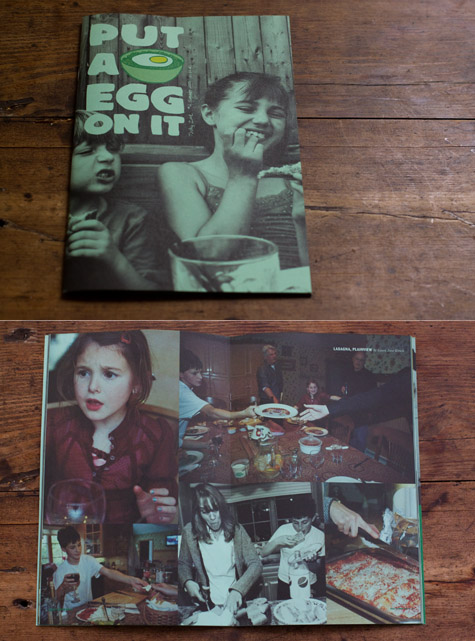 You can see a couple of the spreads up above. All in all, the little booklet is a mash-up of stories, photo essays, cooking tips, illustrations, funky fonts...a pet pic or two, all compiled from a quirk-tastic range of contributors. This is the second issue, summer 2010. It is 30-ish pages, and printed on pale green paper. The back section of the magazine is the recipe section, and in this issue, the theme was beans. My understanding is that each new issue will have a recipe section with a new theme. This time around Miriam Bale's black-eyed peas jumped out at me, so I thought I'd share them here.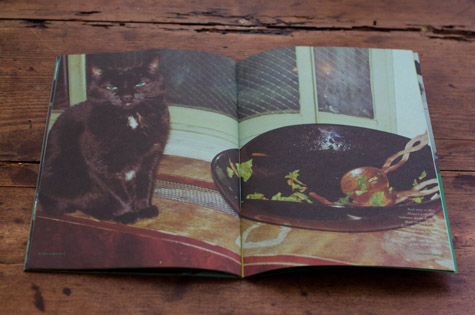 Miriam notes, "Black-eyed peas are often served with smoky-sweet ham, piquant red pepper and onions, but the best way to emphasize the peas own earthy sweet qualities is to serve them with leeks and tarragon. I first had something like this at the Organic Cafe in Oakland. This dish reminds me of a song by Marlena Shaw, "California Soul."
We really loved the salad. A perfect picnic or potluck salad for sure. The butter added at the end? Don't skimp. It melds everything together. And to be honest, this is one of those cases when more would be even better. Special occasion? Double up.
I made a few tweaks to Miriam's recipe, nothing major. I like caramelized leeks, so I let mine cook longer than she probably would. I also gave ballpark amounts of herbs in the recipe, her instructions where a bit looser and free-form than what I wrote up down below. Just know, if you feel like you want more tarragon or marjoram flavor, add more. Alternately, adding some chopped fresh tarragon and marjoram, might be pretty great. In a sense, doubling and layering flavors by using both dried and fresh forms of the same herb.
If you're interested in a video that flips through the pages of the magazine, you can click here. Put A Egg On It #2 is available here for $7. Congrats R&S, can't wait to see #3.
Black-eyed Peas & Leeks
Couple things...After slicing the leeks, you want to make sure you wash them well. Rinse and swish in a big bowl of water, to shake out any grit, then drain completely. Miriam also notes the importance of sourcing dried herbs that aren't past their prime, "please take a sniff of the dried tarragon to make sure it doesn't smell like twigs." If your dried herbs are sawdust, and a trip to the store isn't in order, swap in a mix of whatever chopped fresh herbs you have on hand. And/or a bit of lemon zest.
1 tablespoon extra virgin olive oil
3 tablespoons+ unsalted butter
fine grain sea salt

4 good-sized leeks, dark green parts trimmed, quartered lengthwise, then sliced every 1/2-inch

3 cups cooked black-eyed peas*
heaping 1/4 teaspoon dried marjoram
1 teaspoon dried tarragon
Heat the olive oil over medium heat with 1 tablespoon of the butter in your largest skillet. When hot, add a couple big pinches of salt, and stir in the leeks. Cook gently, stirring regularly until the leeks get nice and golden.
Add the drained beans to the skillet. Cook until heated through, then stir in the marjoram, tarragon, a couple big pinches of salt, and the remaining 2 tablespoons of butter. Stir well, taste, and adjust seasoning to your liking. You can add more salt, herbs, or butter at this point until it is to your liking. Serve family style in a medium bowl or platter.
Serves 6.
*To cook dried black-eyed peas. Start with 8 ounces / 225 g of black-eyed peas. Pick over well, looking for any dirt clots or pebbles. Cover with water and soak overnight, or for at least four hours. Drain, place in a large pot, and cover with water by about 3 inches. Simmer until the peas are cooked through, salting generously in the last ten minutes of cooking. Drain and you're ready to go.
Recipe slightly adapted from Miriam Bale's Black-eyed Peas with Leeks and Tarragon in Put a Egg on It #2.
Prep time: 5 minutes - Cook time: 15 minutes