Broccoli-Basil Mac and Cheese Recipe
While in London my friend Anna Jones gave me a copy of the terrific new book she worked on - this broccoli-basil crusted mac and cheese immediately caught my attention.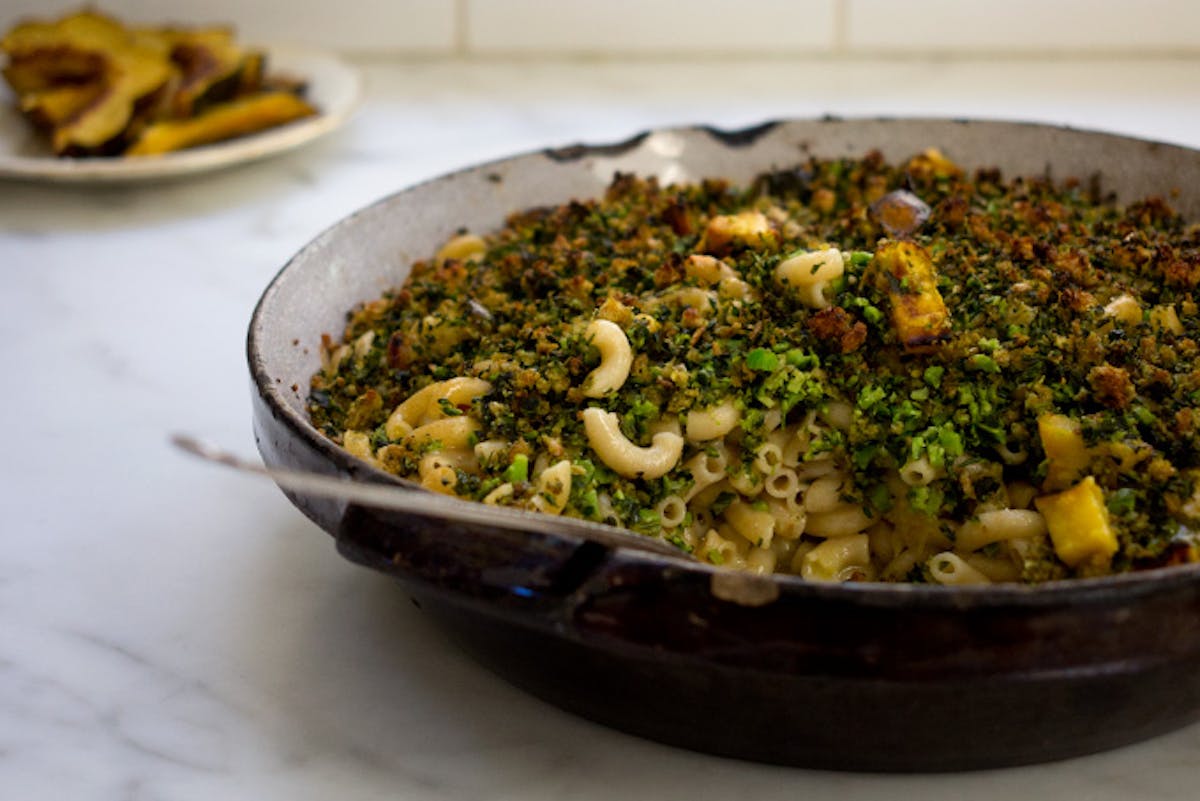 Whenever I'm away from home I keep a list of what I want to cook when I get back. Well, it actually becomes more of a nest than a list, and there's a pocket in my suitcase dedicated to keeping it somewhat contained. Unzip the pocket and you'll find menus folded in two, notes scribble on the backs of receipts, pages ripped from far-flung magazines, that sort of thing. Now that I'm home, the nest is sitting a few inches tall, smack in the middle of the dining room table. Top of the pile, a note to self to make this broccoli-basil crusted mac and cheese.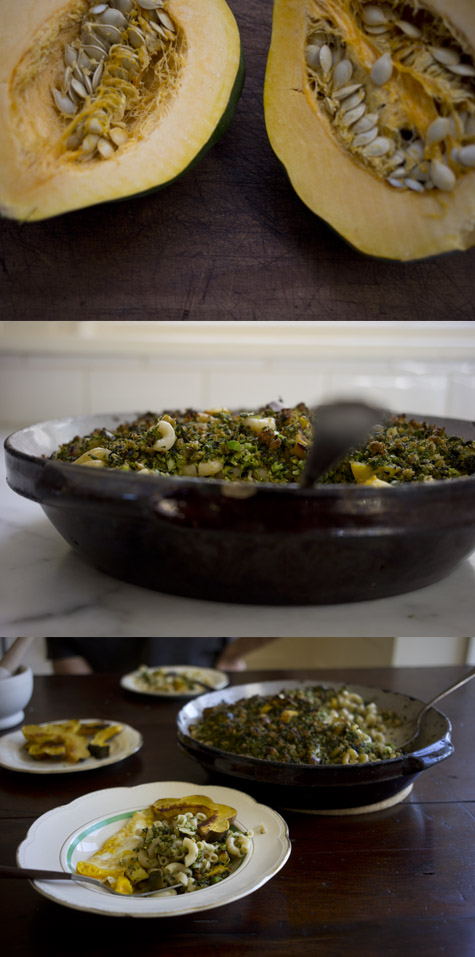 It's from a new book my girl Anna Jones wrote in conjunction with innocent recently. She gave me a copy in London, and it's filled with sass, and laughs, and brilliant, nutritious, family-friendly recipes. You can have a peek here, note it hasn't been published (yet) in the U.S. Those of you who read Jamie Magazine likely know Anna's work - she writes, she styles, she develops recipes in London. She's fantastic, and it's a shame she doesn't live closer.
The recipe! Like most casseroles, it's a bit of a project. But, the sort that pays off. You end up with a huge pan of mac and cheese, unlike any I've ever tasted. Plenty for leftovers. And there are a couple of notable things that make this version unique. First off, Anna has you puree basil with a handful of cherry tomatoes, and a dollop of creme fraiche. You combine this mixture with grated cheeses to create the melty magic that envelops the macaroni. And then there's the crunchy top crust, it's made from whole wheat bread, broccoli, and more basil blitzed in a processor with a touch of olive oil. It's brilliant.
Give this a go - in the meantime, I'm working on a London round-up with more pictures. And a new favorites list, and (!) I have a stack of new cookbooks brimming with recipes flagged to try.
Broccoli-Basil Mac and Cheese
I'd consider make this with delicate squash (skin on) next time, to cut the prep-time on the squash. Play around with the cheese blend if it's more convenient for you -Anna's recipe calls for Cheddar and Manchego, but I always have gruyere on hand, so I swapped that in.
1 small butternut, acorn, or other winter squash, peeled, seeded and cut into tiny chunks

olive oil
1 bunch of basil, stems removed
2 slices good brown bread, stale or dried out in the oven
1/2 a small head of broccoli (100 g / 3.5 oz), roughly chopped
4 tablespoons creme fraiche or sour cream
~ 1 3/4 cups / 3.5 oz / 100 g grated white cheddar cheese
~ 1 3/4 cups / 3.5 oz / 100 g grated gruyere cheese
a large handful of (yellow) cherry tomatoes
3 cups / 300 g dried (whole wheat) macaroni elbows
Preheat your oven to 400F / 200C with a rack in the middle. Put a large pot of water on to boil.
Place the squash on a large baking sheet, drizzle with a bit of olive oil, sprinkle with salt and pepper, and bake for about 20-25 minutes, or until golden.
In the meantime, pulse half the basil, all of the bread, the broccoli and a lug of olive oil in a food processor until you've got a fine crumb. It'll be a bit damp - that's o.k. Transfer to a small bowl and give the processor a rinse.
In a separate bowl, combine the creme fraiche and grated cheeses.
Place the cherry tomatoes in the food processor with the remaining basil. Pulse a couple times to break things up, then add to the creme fraiche mixture and stir well.
Boil the pasta in well-salted water for a bit less time than the package suggests - you want it ever so slightly undercooked. Drain, reserving a big cup of the hot pasta water for later use. Return the hot pasta to the pan and add the cheese mixture to it. Add the squash and give it a good stir. Add pasta water to thin the sauce to the consistency of cream. It can be a bit runny as the pasta will soak it up in the oven.
Transfer everything to a large baking dish or casserole. Sprinkle the green breadcrumbs evenly across the top and bake for 20 -25 minutes or until the topping is crunchy. Remove from the oven, and wait 10 minutes before serving.
Serves 8 - 10.
Adapted from Hungry? The innocent recipe book for filling your family with good stuff by Anna Jones, Vanessa Hattersley, and innocent

Prep time: 35 minutes - Cook time: 25 minutes