Brown Sugar Sandwich Cookies Recipe
Chocolate stuffed sandwich cookie recipe made with a poppy-flecked brown sugar dough.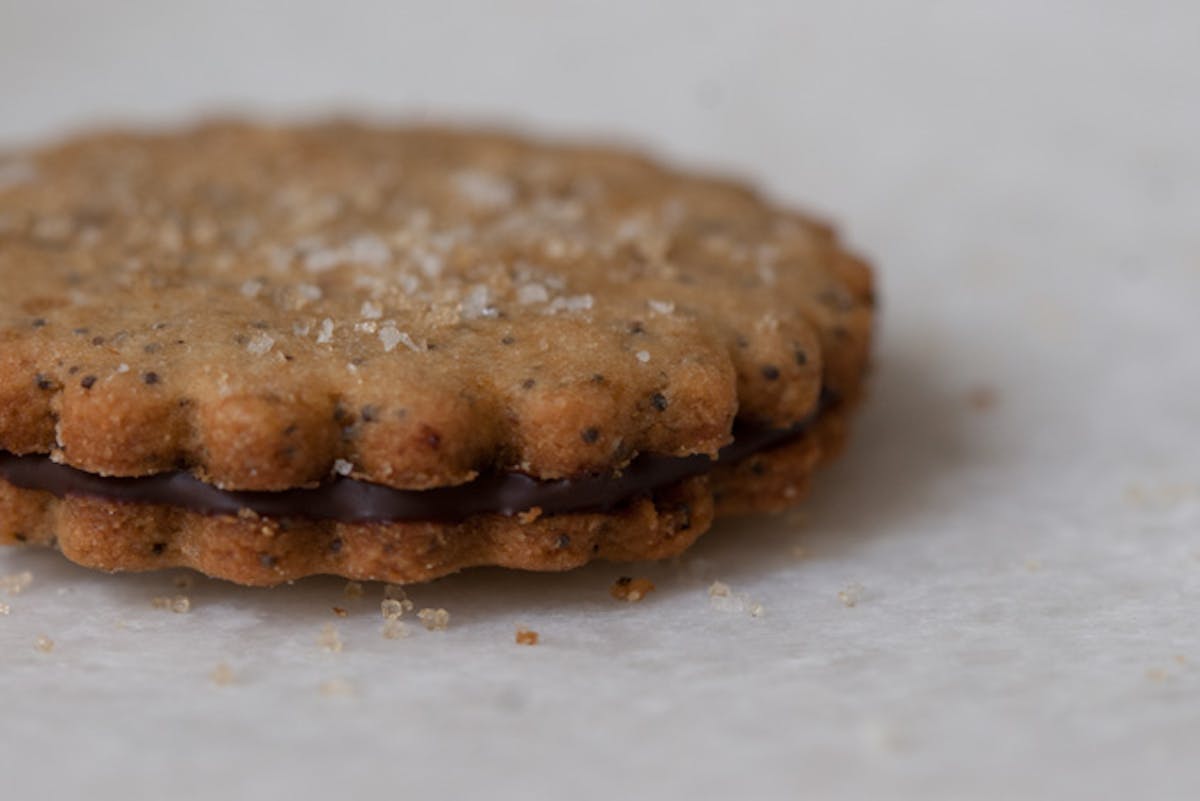 My intention was to bring a little baggie of these snappy, chocolate-stuffed sandwich cookies on the plane to Philadelphia last week. Unfortunately, I ran out of time (having clean clothes trumped having cookies this time around) and had to wait until after my trip to bake them off. That being said, they are an effective travel tool, perfect for establishing goodwill with the stranger(s) sitting next to you. The poppy-flecked, brown sugar dough has a mellow sweetness, and it is my feeling that the butter browns just enough in the oven to bring the flavors together full circle. The chocolate functions as binding bridge between two wafer-thin coins.
There are a couple tricks to making these cookies extra good. The first is simple - roll the dough out very, very thin. Not parchment thin, but certainly Saltine cracker thin. The resulting cookies will be crisp, elegant, and lovely to look at. You want just a bit of chocolate sandwiched between just a bit of cookie. Too much cookie and the ratio gets thrown off.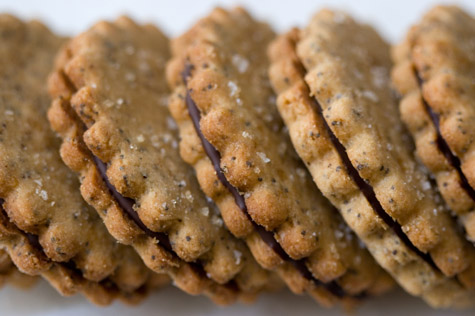 The second important thing to be (particularly) mindful of is the baking time. You want the cookies to bake until they are beautifully golden, particularly on the bottom edges where the cookies meet the baking sheet. Don't turn your back, cookies this thin will go from blond to burned in a heartbeat.

Brown Sugar Sandwich Cookie Recipe
Feel free to substitute unbleached all-purpose flour, spelt flour might work as well although I haven't tested it in this recipe. I also think these cookies might be great with some sort of spice infusion, but haven't played around with that angle yet either. I like to use this sugar - but you can substitute whatever fine-grain brown sugar you have on hand.
2 1/2 cups whole wheat pastry flour
1 teaspoon baking powder
scant 1 teaspoon salt
2 tablespoons + 1 teaspoon poppy seeds
6 ounces (1 1/2 sticks) unsalted butter, room temperature
2/3 cup good-quality brown sugar / natural cane sugar
2 large egg yolks
1 tablespoon vanilla extract
2-3 tablespoons milk

1 tablespoon big flaky sea salt (optional)
1 tablespoon turbinado sugar (optional)
6-7 ounces dark chocolate, chopped

special equipment: a 1 1/2-inch cookie cutter
Preheat oven to 350 - racks in the top 1/3 of the oven.
In a medium bowl whisk together the flour, baking powder, salt and poppy seeds. Set aside. In a separate bowl, either by hand or with an electric mixer, beat the butter until it is fluffy and creamy. Add the sugar and mix some more, scraping the sides of the bowl once along the way. Mix in the egg yolks and vanilla extract, scraping the sides again if needed. Being careful not to over-mix, stir in the flour mixture by hand. If the dough is on the dry side stir in the milk as well. Turn the dough out onto the counter-top, kneed it once or twice (just so it comes together) and form one large ball. Cut the dough into four quarters, then shape each piece into a ball. Flatten each of the four balls into 1/2-inch thick pancakes, and wrap each piece individually in plastic before chilling in the refrigerator for at least a half an hour.
Roll out the dough thin as can be on a lightly floured surface - wafer thin, about 1/8-inch, and stamp out using the cookie cutter. Arrange cookies 1-inch apart on prepared baking sheets before sprinkling with a small pinch of salt and sugar. Bake for about seven minutes on a parchment-lined baking sheet or until the cookie edges are golden brown. Remove from oven and cool completely on a rack.
When you are ready to assemble the cookies, place the chocolate in a double boiler (or a bowl placed over a bit of simmering water) to melt. Spread about 1/2 teaspoon of melted chocolate onto the center of the flat side of one cookie. Top with another cookie - matching flat side to flat side. Repeat with the remaining cookies, setting them aside to let the chocolate set.
Makes 2 dozen 1 1/2-inch sandwich cookies.