David Lebovitz's Great Chocolate Chip Cookies
If you like a serious chocolate chip cookie with classic vibes, this is the recipe. A high chip to dough ratio guarantees lots of chocolate in every bite. Toasted walnuts add crunch, density and a delicious flavor to the overall mix. So good!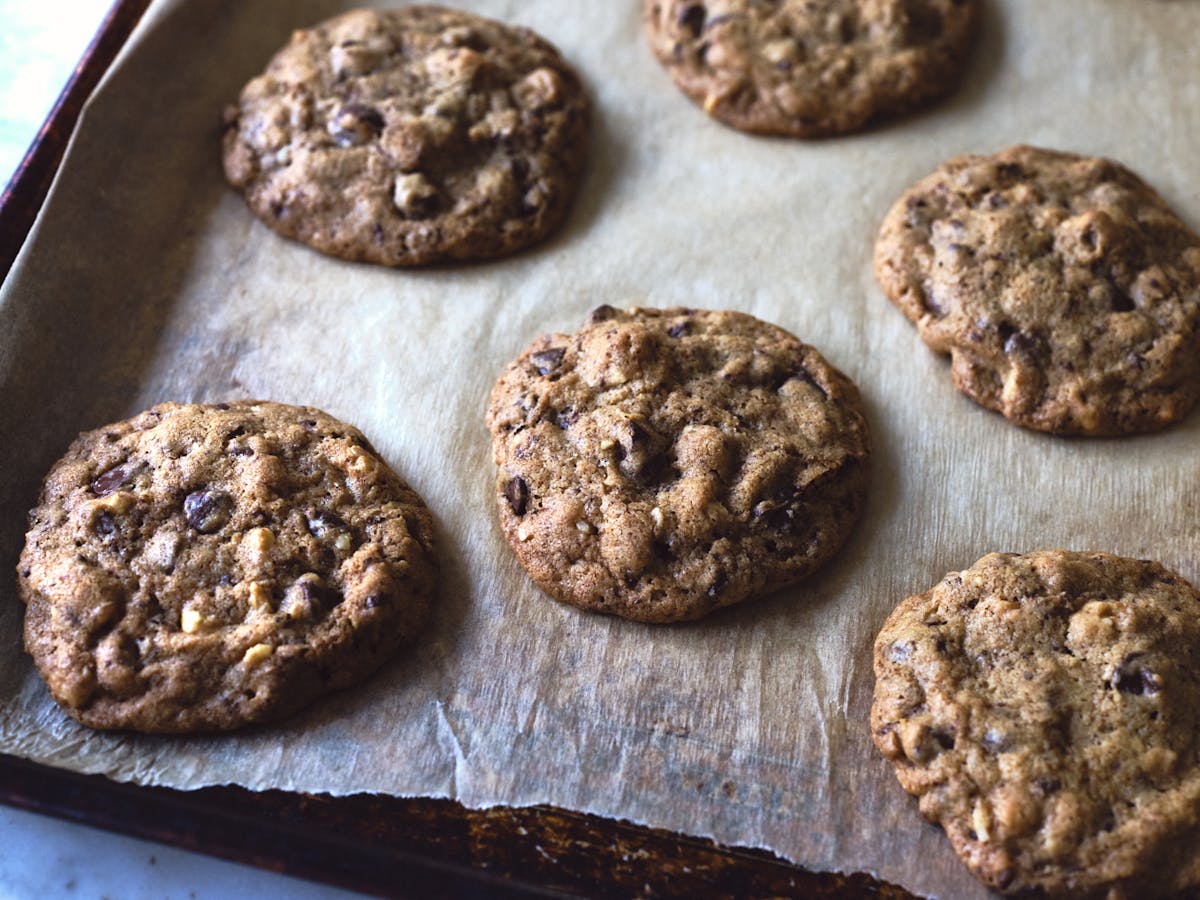 The chocolate chip cookie recipe in David Lebovitz's Great Book of Chocolate is really good. Just look at them. They're absolutely crammed with chocolate and toasted walnuts. I'm always surprised the dough can hold so many goodies. These beauties were one of the first cookies I highlighted on this site (in early 2005!) and they've been a steady part of my repertoire in the nearly twenty years since. This is even in the midst of SO many other chocolate chip recipes I've loved and shared over the years. Here's why they're wildly popular…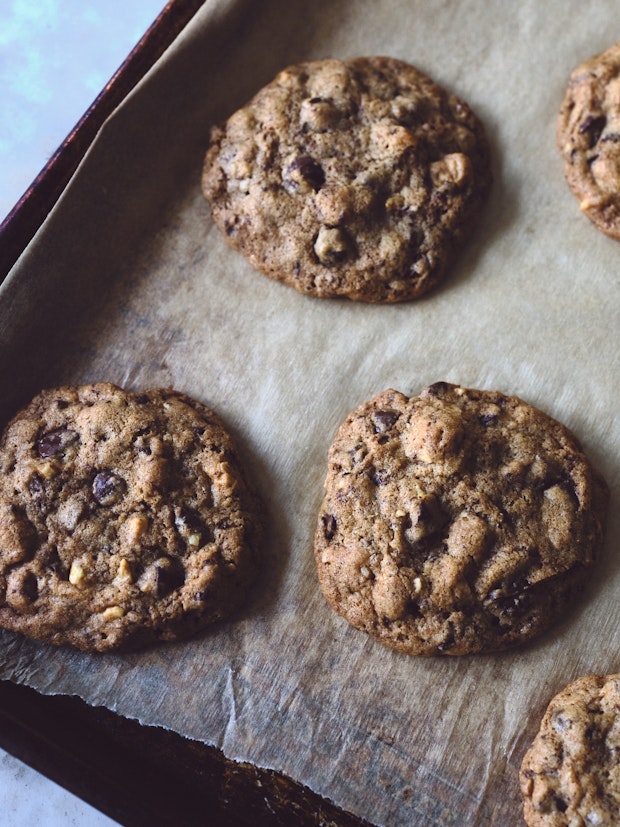 A high chip to dough ratio guarantees so much chocolate in every bite. So. Much. Walnuts add crunch, density, dimension and delicious flavor to the overall mix. If you like a thin and crispy chocolate chip cookie, try this one. If you like your chocolate chip cookies substantial, rich, structured, chunky, gooey and decadent - take this recipe for a spin.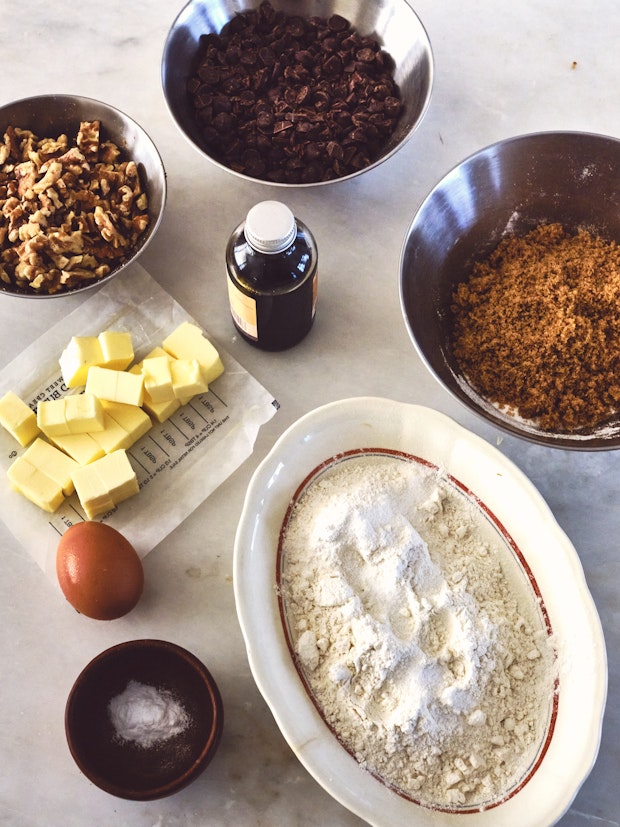 The Ingredients
The ingredient list here is short. This means it is important to splurge on good ingredients if you can. Use good-quality, real vanilla extract, great-tasting chocolate and fresh nuts and you'll be on the road to the perfect cookies. 
The Chocolate 
These cookies really shine when you use premium bittersweet or semi-sweet chocolate. You can use a knife to chop a chocolate bar into chunks. Or you can use traditional chocolate chips. If using the later I like to chop up the chips a bit so they aren't completely uniform. The chocolate pictured in this batch was 74% organic bittersweet chocolate chips.

The Nuts
Ok, here's the deal. You have a lot of latitude when chopping the nuts in these cookies. This impacts the overall texture of your cookie. One approach, you barely chop them resulting in big, nutty chunks in your cookies. On the other end of the spectrum, you can chop them into something more like a powder. Or, aim straight up the middle chopping the nuts into pebble-sized chunks.
On the nut front, the main step you can't skip is toasting. By introducing generously toasted nuts (I nearly always use walnuts) into this chocolate chip cookie dough you're adding an assertive, wonderful nutty flavor component. It's the secret component that makes these cookies extra special.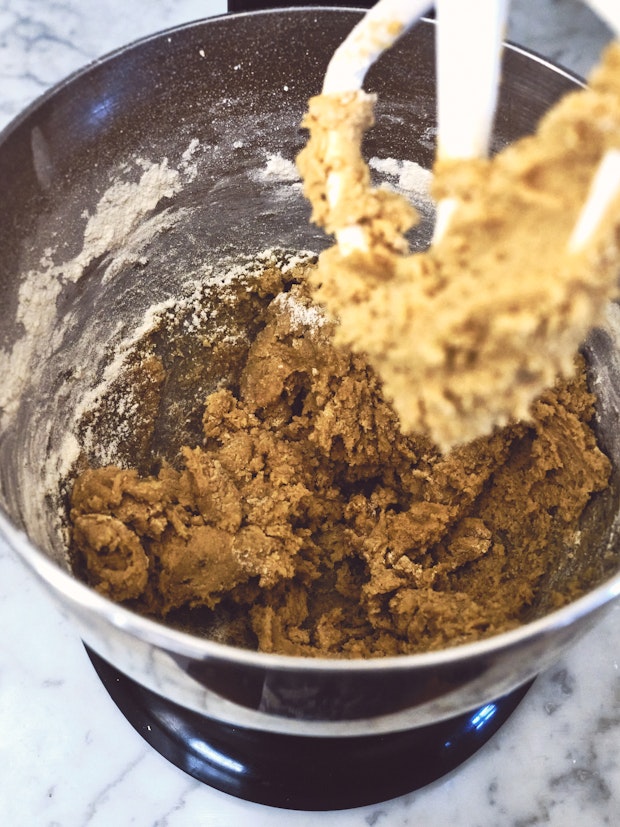 Make The Chocolate Chip Cookie Dough
You can see in the video below, these cookies come together in a flash. Cream the butter and sugars first. Then you work in the egg, vanilla and baking soda. Last, the dry ingredients (flour and salt) are added before folding in of a heavy load of chocolate chunks and toasted nuts. Scoop onto a cookie sheet, chill and you're ready to bake!
Video: How To Make Great Chocolate Chip Cookies
Chocolate Chip Cookie Variations
- Ice-box Chocolate Chip Cookies: The recipe below is for traditional chocolate chip drop cookies. But there is no reason you can't do a sliceable refrigerator or icebox version. To take this approach divide the cookie dough into 2-3 pieces, roll into logs and wrap in parchment paper. You can now refrigerate (up to a week) or freeze the logs of dough (a month or so). Slice roughly 1/2-inch thick and bake per the recipe instructions. Tack on a few extra minutes of baking.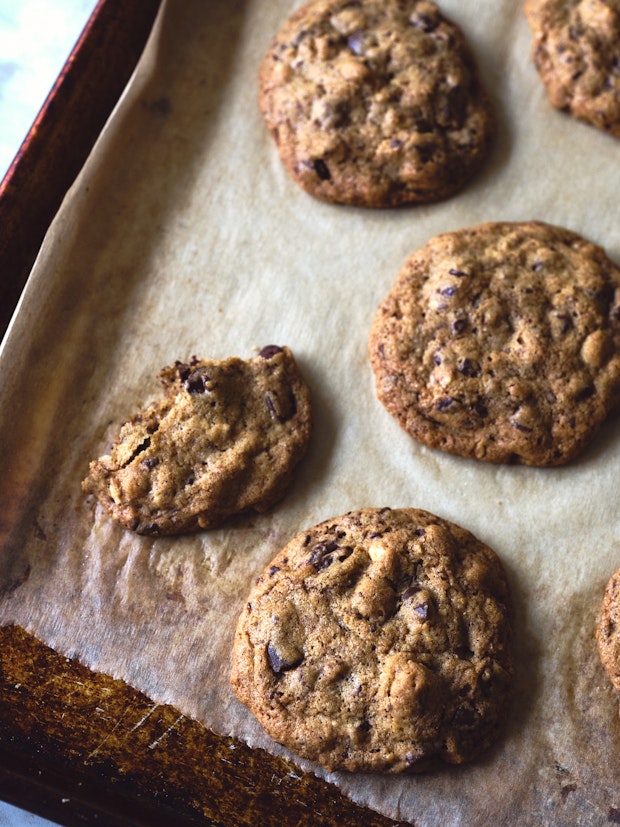 Make Ahead & Storage
Along the lines of the icebox variation I talk about above, you can scoop and freeze dough for easy baking anytime. Scoop cookie dough balls onto a parchment-lined plate with a spoon or cookie scoop. Freeze for an hour and then transfer to an air-tight container. Bake within a month or so adding a few minutes to the baking time.

Related Links!
Let me know how you like these! The walnuts really bring something to the party. Even if they're for people who don't think they like nuts in their chocolate chip cookies. If I know I've got one of these people on my hands, I simply chop the nuts powder-fine. They bring such wonderful flavor I rarely leave them out.
Follow David Lebovitz: books / website / Instagram
More Chocolate Chip Cookie Recipes
Or explore more favorite cookie recipes - I especially love the classics like these shortbread cookies, these limoncello macaroons, these ginger cookies, or these special snickerdoodles.
Great Chocolate Chip Cookies
I've made a couple minor tweaks to this recipe over many years I've been baking these and they are reflected in the recipe here. I bump the salt to 3/4 teaspoon and I use my 3 tablespoon dough scoop for sizing. David uses cold butter, but I use butter that is closer to room temperature for the creaming step and then chill the dough a bit in a refrigerator or freezer before baking to cut back on spread.
Ingredients
1/2

cup

(100 grams) granulated sugar

1/2

cup

(120 grams) firmly packed light brown sugar

8

tablespoons

(1 stick) (115 grams) unsalted butter, room temp, cut into 1/2-inch (1cm) pieces

1

large egg

1

teaspoon

vanilla extract

1/2

teaspoon

baking soda

1 1/4

cups

(175 grams) all-purpose flour

3/4

teaspoon

salt

1 1/2

cups

(200 grams) semisweet chocolate chips

1

cup

(130 grams) walnuts or pecans, toasted and chopped
Instructions
Adjust the oven rack to the top 1/3 of the oven and preheat to 300F (150C). Line three baking sheets with parchment paper.

Beat the sugars and butters together until smooth by hand or mixer. Mix in the egg, vanilla, and baking soda. Stir together the flour and salt, then mix the flour mixture into the batter. Mix in the chocolate chips and nuts.

Scoop the cookie dough into 3-tablespoon (5cm) balls and place balls, spaced 4 inches (10cm) apart, on each pan. Chill for 20 minutes.

Bake cookies for 20 minutes or so, or until pale golden brown. Remove from the oven and cool on a wire rack.

Store at room temperature in an airtight container for up to 3 days.
Related Recipes
More Recipes
Popular Ingredients