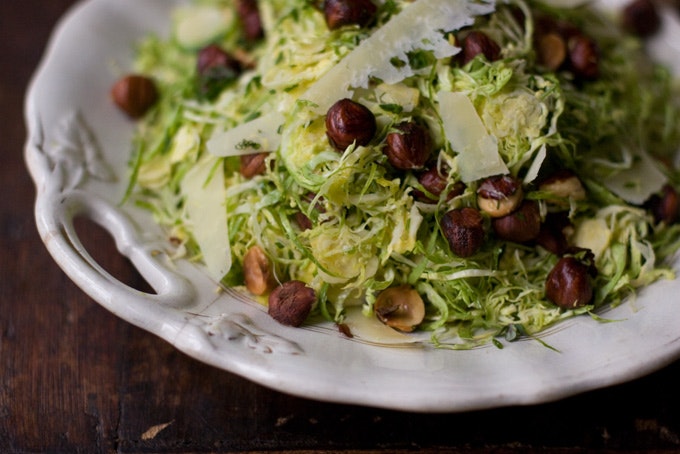 Brussels Sprout Salad Recipe
Because you've been such good sports when it comes to brussels sprouts, I thought I might attempt to take it up a notch or two. And by this I mean, I'm going to share one of my favorite ways to use raw brussels sprouts. I make a simple salad of sprouts shredded whisper thin. It is slaw-like in spirit, accompanied by lots of toasted hazelnuts and shard after shard of aged jack cheese - or whatever hard, salty cheese you have around. The dressing? A few glugs of olive oil and a big squeeze of fresh, fragrant lemon juice. It's the kind of thing you should make only when you come across perfectly fresh, tiny, bright green brussels sprouts - the ones that don't appreciate being cooked to death.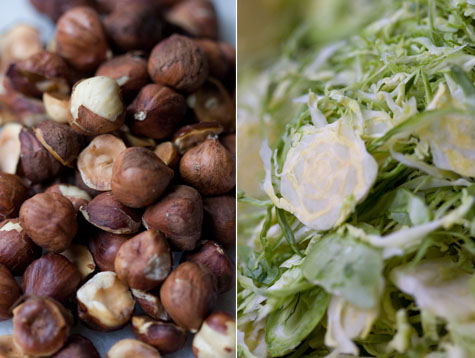 Maybe you're not quite ready to embrace raw brussels sprouts, that's completely fine, you can try this salad with shredded romaine lettuce or cabbage instead - or even a blend if you like. If you're not sure about it as a salad, try it as a taco filling, leaving out the hazelnuts. Sometimes I top the salad with chopped leeks that have been deeply browned in a pan. I also do a version with aged cheddar, apples, pecans, and apple cider vinaigrette. Play around, the key is sourcing good sprouts, and cutting them so they're light and feathery (see photo).
For those of you who still need a bit of convincing when it comes to eating or cooking brussels sprouts, here are a couple of my favorite sprout-centric recipes: Golden-crusted Brussels Sprouts, and Shredded Brussels Sprouts and Apples.
Brussels Sprout Salad Recipe
Shredding the sprouts on a mandoline gives them a wispiness that is harder to achieve with a knife.
1 1/2 pound brussels sprouts, freshest you can find
3 tablespoons extra-virgin olive oil
2 - 3 tablespoons fresh lemon juice
1 teaspoon fresh thyme leaves
1/3 cup fresh chives, minced
2-3 big pinches of salt
1 1/3 cups hazelnuts, smashed just a bit and toasted
2 ounces hard, salty, aged cheese, shaved (pecorino, dry aged jack, Parmesan, etc)
Shred the brussels sprouts whisper thin using a mandoline, or alternately, a knife. Five minutes before serving, place the shredded sprouts in a large mixing bowl and toss gently with the olive oil, lemon juice, thyme, chives, salt, and hazelnuts. Taste and adjust the seasoning, adding more lemon juice if needed, keeping in mind the cheese will bring a salty element to the salad. Add the cheese and toss once or twice to distribute it evenly throughout the salad.
Serves 4 - 6.