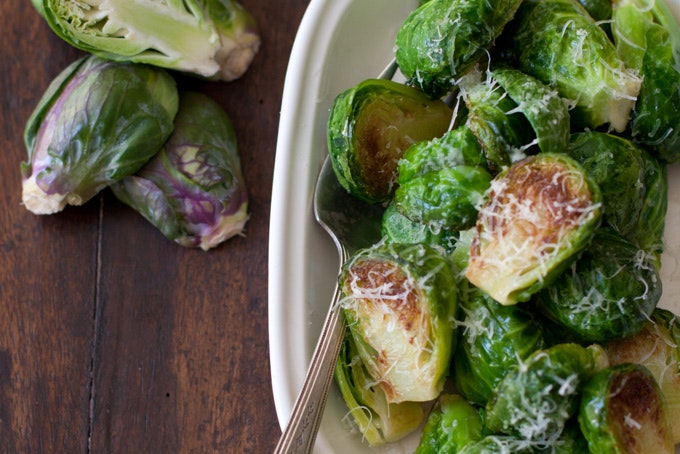 Golden-Crusted Brussels Sprouts Recipe
I thought I'd share my all-time favorite brussels sprouts recipe with you. It's a slightly extended version of the one I included in Super Natural Cooking, but to be honest, calling it a recipe is a bit of a stretch. It involves a skillet, less than five ingredients, about ten minutes of your time, and minimal culinary skills. You end up with vibrant green, tender brussels sprouts that become deeply golden and crusty where they touch the pan. I then lightly dust the whole pan with cheese and serve. This time of year it's not unusual for us to cook them like this two or three times a week.
I was a brussels sprout hater for most of my life. Boiled brussels sprouts? No thanks. This is a different beast entirely. And I feel confident saying this golden-crusted version has the ability to turn even the most vigilant brussels sprout haters around.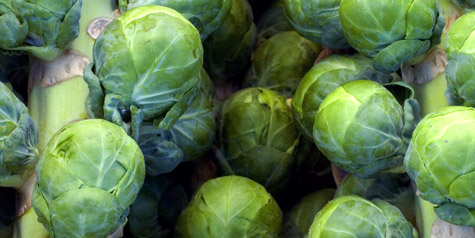 A couple shopping tips before you get started, look for brussels sprouts that are on the small size and tightly closed. The tiny ones cook through quickly, whereas larger ones tend to brown on the outside long before the insides are done. When the weather is mild, I finish them with a lighter, salty cheese, like Parmesan, but if it's stormy and cold, I opt for a heavier, more melty cheese, like a regular or smoked Gouda (or gruyere).
Try not to overcook them, and eat them as soon as they come of the stove if at all possible.
I also wanted to take a minute to thank the many of you who have recently taken the time to send me such nice letters about my site and my book. I love reading them and hearing about how some of the recipes and ideas I highlight make it into your own kitchen. Because I've been travelling so much lately I'm even more behind in responding than usual (but doing my best), just know I really do appreciate each note you send.
Golden-Crusted Brussels Sprouts Recipe
This is the only way to eat brussels sprouts: cut in half and cooked until deliciously tender inside and perfectly brown and crusted on the outside.
Use brussels sprouts that are on the small size and tightly closed. You can finish these with many different types of cheese but I tend to go for Parmesan when the weather is good. I trade that in for heavier cheeses like gruyere or Gouda in colder weather. I finished them off with some toasted hazelnuts the other night - delicious!
24 small brussels sprouts
1 tablespoon extra-virgin olive oil, plus more for rubbing
fine-grain sea salt and freshly ground black pepper
1/4 cup grated cheese of your choice
Wash the brussels sprouts well. Trim the stem ends and remove any raggy outer leaves. Cut in half from stem to top and gently rub each half with olive oil, keeping it intact (or if you are lazy just toss them in a bowl with a glug of olive oil).
Heat 1 tablespoon of olive oil in your largest skillet over medium heat. Don't overheat the skillet, or the outsides of the brussels sprouts will cook too quickly. Place the brussels sprouts in the pan flat side down (single-layer), sprinkle with a couple pinches of salt, cover, and cook for roughly 5 minutes; the bottoms of the sprouts should only show a hint of browning. Cut into or taste one of the sprouts to gauge whether they're tender throughout. If not, cover and cook for a few more minutes.
Once just tender, uncover, turn up the heat, and cook until the flat sides are deep brown and caramelized. Use a metal spatula to toss them once or twice to get some browning on the rounded side. Season with more salt, a few grinds of pepper, and a dusting of grated cheese. While you might be able to get away with keeping a platter of these warm in the oven for a few minutes, they are exponentially tastier if popped in your mouth immediately.
Serves 4.
Related Recipes
Comments
Post Your Comment
More Recipes
Popular Ingredients