Buttermilk Summer Squash Soup Recipe
This is a simple soup I made the other night with the summer squash left over from the gratin we talked about last week. Nothing fancy, just a pureed summer squash soup with a buttermilk twist. I used a hint of red pepper because, quite honestly, I often prefer it over black pepper. I used a bit of rosemary for depth, some potato for body, garlic, shallots - and aside from the buttermilk, nothing too far beyond the usual suspects. And I have to say, while I heartily enjoyed the soup as a main component of our dinner, I enjoyed the leftovers even more the following day.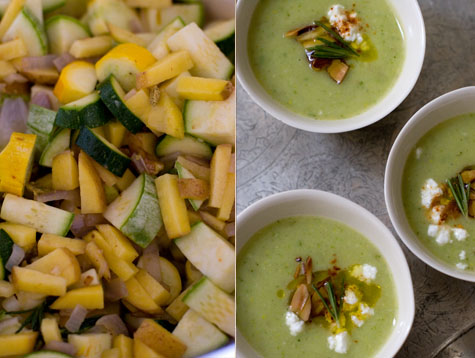 There was plenty of soup leftover, so when Wayne and I decided to throw our cameras in the car and head toward Pt. Reyes for an impromptu photo excursion, I decided to pack a picnic lunch for us. The leftover soup was poured into a large Mason jar, and it ended up being the ideal companion for a day-old chunk of walnut bread that we brought along as well. We found ourselves a shady picnic table in the heart of the little town of Tomales, and the nice ladies at the Tomales Bakery donated a couple of spoons to our cause.
I have to say, it was a near perfect California lunch - wildflowers in bloom everywhere, clear skies, good food, breezes coming off the ocean a few miles west, a vintage cornflower blue Karmann Ghia parked in the grass on the corner, neighbors chatting as they picked up their mail from the post office. And I think it must be little moments like these that keep me from straying too far from the place I've called home (nearly) my entire life.
Buttermilk Summer Squash Soup Recipe
I happened to have a bit of buttermilk to use up here, and I like the creamy tang it brings to the soup, but feel free to add a splash of creme, or half & half, or a swirl of creme fraiche instead if that's what you have. If you like a deeper green soup (and some bonus nutrition), add a handful of chopped spinach toward the very end - a minute or so before pureeing.
a generous splash of olive oil or (3T.) knob of butter
3 large shallots, chopped
a couple pinches of fine-grain sea salt
pinch of crushed red pepper flakes
3-inch sprig of rosemary
1 1/2 pounds yellow or green summer squash, cut into 1/2-inch thick slices/chunks
3/4 pound potatoes, un-peeled, cut into 1/4-inch thick pieces
3 medium cloves garlic, chopped
3 cups lightly flavored vegetable stock or water
2/3 cup buttermilk

garnish with: fresh herbs, toasted almonds, a generous drizzle of olive oil/ melted butter, and/or some crumbled feta
Heat olive oil/butter in large thick-bottomed pan over medium heat. Stir in the shallots, salt, red pepper flakes, and rosemary. Saute until shallots are tender - a couple minutes. Stir in the squash and potatoes, and cook until the squash starts to get a bit tender - a few minutes. Stir in the garlic, remove the sprig of rosemary, and then add the stock (or water) to the pot. Bring to a boil and then reduce the heat to a simmer, stirring occasionally until potatoes are tender, about 15 minutes.
Puree with a hand blender. If you like a silkier soup feel free to pour the soup through a strainer. Slowly whisk in the buttermilk, taste, and adjust the seasoning - adding more salt if needed. I like this soup topped with a bit of crumbled feta, some toasted almonds, a drizzle of olive oil, and a small pinch of red pepper - but it's perfectly good straight with no fuss on top.
Serves 6 - 8.