Carrot Almond Salad Recipe
This particular salad came together on a whim - slender, barely-cooked asparagus and carrots alongside lots of deeply toasted almond slices, tossed with a jalapeno-cilantro drizzle.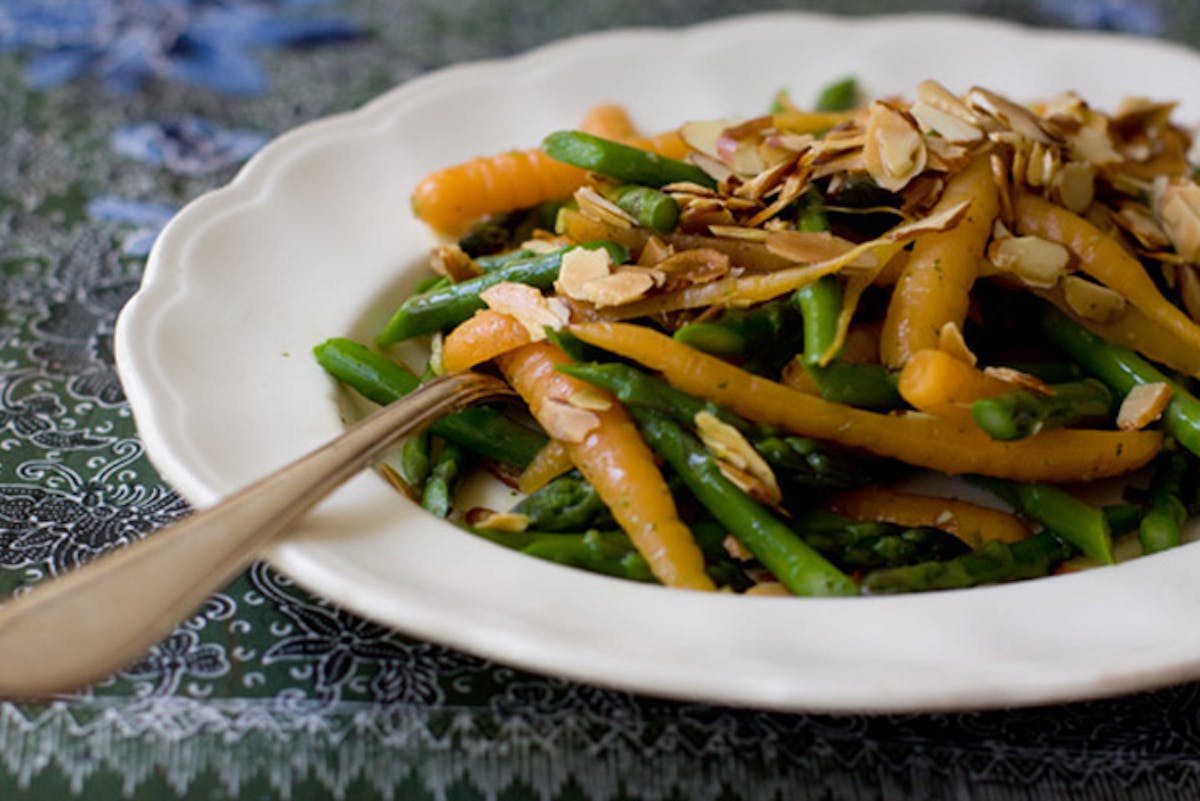 This is the sort of salad to make when you come across the tiniest of baby carrots. Carrots that fall somewhere between a chopstick and a pencil in thickness, certainly no thicker than a Sharpie pen. You typically find these carrots at farmers' markets, bushy-topped and tied in bunches. I'm the person picking through the table to find the bundles with the most little guys.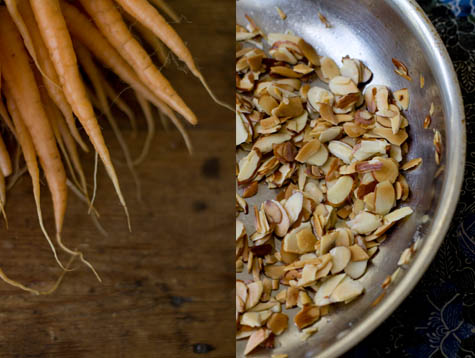 This particular salad came together on a whim. A friend was visiting from New Zealand, and we decided to make savory crepes one night. I felt like we needed something vegetable-centric to go along side, and after a few minutes of grabbing for this-and-that, we ended up with slender, barely-cooked asparagus and carrots alongside lots of deeply toasted almond slices. All tossed with a jalapeno-cilantro drizzle.
A few tips...Don't overcook the carrots or asparagus, you want them to remain bright and vibrant with a bit of crunch. Also, do your best to get all the carrot and asparagus pieces roughly the same size - both length and thickness. Carrots seem to take a tad bit longer to cook then asparagus, so keep that in mind. Also, in the instructions I recommend spinning the vegetables in a salad spinner after they cook to get as much water as possible off before tossing with the dressing. It's an annoying step, but really does make a difference - the dressing ends up clinging to the vegetables better and the dressing doesn't become diluted.
This is the simple version, and I genuinely don't think it needs anything extra, but we were saying that a bit of crumbled goat or feta cheese could be good. I was also thinking a good dose of lemon zest thrown into the almond/olive oil pan after toasting would be nice.
Carrot Almond Salad
If you don't like cilantro, you might try substituting something like basil, or parsley in place of it. Also, I included a few tips in relation to making this salad in the main entry up above, so have a glance before you jump in here. Also, my friend Nikki in Kennett Square, Pennsylvania did a roasted version of this salad with the produce from her CSA box, it's posted here.
extra virgin olive oil
1 cup / 3 oz / 85g sliced almonds

a small handful cilantro, about 1/2 cup
1 medium clove garlic, peeled
1/2 jalapeno pepper, seeded and de-veined
1/4+ teaspoon fine grain sea salt
1/3 cup / 80 ml extra virgin olive oil

1 bunch / 8 oz / 225 g baby carrots, scrubbed and sliced in half lengthwise

1 bunch / 16 oz / 450 g pencil-thin asparagus, stalks trimmed, cut into 2-inch segments

squeeze of lemon, optional
Bring a large pot of water to a boil. In the meantime, toast the almonds in a large skillet over medium heat in a splash of olive oil along with a big pinch of salt. Let them get deeply golden, remove from heat, and set aside.
Make the dressing by combining the cilantro, garlic, jalapeno, and salt in a food processor - or alternately, in a blender or with a hand blender. Drizzle the olive oil in while pulsing, continuing until the dressing is a creamy, vibrant green. Taste, and adjust to your liking with more salt, garlic, jalapeno, etc.
Salt the boiling water generously, then add the carrots, wait 15 seconds and add the asparagus. Depending on the actual thickness of your carrots/asparagus, cook for about 30 - 60 more seconds, you want the vegetables to retain some structure and bite. Drain and immediately run under cold water to stop the cooking. Spin dry in a salad spinner.
In a large bowl toss the vegetables with a generous splash of the dressing. Toss well, add 2/3 of the toasted almonds and gently toss again. Taste and adjust for seasoning. You might want to add a quick squeeze of lemon juice at this point, but it's optional. Serve family-style topped with the remaining almonds.
Serves 4-6 as a side.
Prep time: 25 minutes - Cook time: 5 minutes