Sunburst Carrot Salad Recipe
A favorite carrot salad recipe - carrot ribbons sauteed in a bit of salt and olive oil and finished off with lemon zest, finely chopped serrano chiles, a quick squeeze of lemon juice, and lots of cilantro.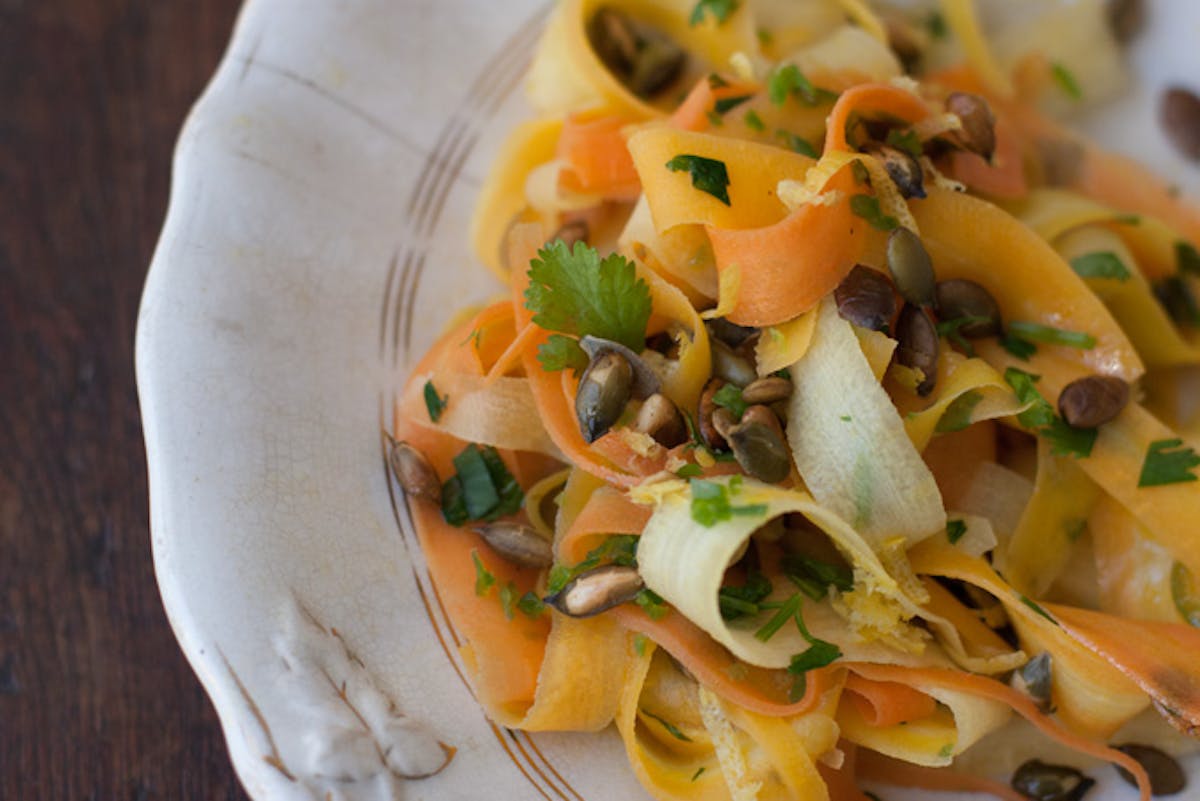 What you see up above is a vibrant, flavorful, shaved carrot salad. I intended to serve it under thick slabs of cumin-spiked tofu. Sounds simple enough, right? It actually took a few tries on my part to get the carrot salad right. My failures were by no means spectacular, but they are notable. This is a long-winded way of saying that after spending exponentially more time on the carrot portion of the recipe (the tofu was a breeze), I realized the carrot salad warranted it's own write-up. The tofu recipe will follow on Monday.
As I worked toward the ideal carrot salad, I tried a bunch of things that didn't work very well - culinary dead ends. Each time I'd back up, rethink my approach, and try something different. For example, I thought it might make sense to barely blanch the the carrot ribbons in a pot of boiling salted water, just long enough to take the raw edge off. Not the best idea. The carrots ended up limp and lifeless, and they all stuck together. Thinking that I might be able to salvage the attempt, I gave them a spin in the salad spinner - didn't help. Swinging the pendulum in the opposite direction I tried a raw approach - uncooked carrots softened up by the acid in the citrus juice (I tried both lemon and lime juices). Not quite what I was after either. In the end I preferred the melding of flavors that came from zapping the carrot ribbons in a hot skillet w/ a bit of salt and olive oil. I finished them off with lemon zest, finely chopped serrano chiles, a quick squeeze of lemon juice, and lots of cilantro.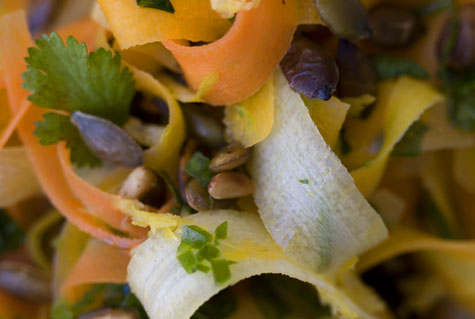 I sidelined my favorite deep magenta and red carrots in this carrot salad. They stain everything around them. You could do a version just using the more saturated carrots and be fine. I also realize they are harder to come by for many people, so I went for more forgiving hues of spring carrots.
Sunburst Carrot Salad Recipe
Generally speaking, I don't buy the huge woody-textured carrots you find in many produce departments. I seek out bunches of seasonal carrots this time of year from various farmers, farmers markets, etc.
2 bunches carrots, preferably spring carrots
extra virgin olive oil
fine grain sea salt
1 green chile (serrano), deveined and minced
1 lemon, zest and juice
1 cup cilantro, chopped
1 cup green pumpkin seeds (pepitas), toasted
Start by washing the carrots. Use a vegetable peeler to shave each carrot into wide ribbons. If your carrots have beat up, dirty skins, peel them first before making ribbons.
Heat a big splash of olive oil in a skillet over medium-high heat. Add a big pinch of salt and stir in the carrot ribbons. Saute for just 20 seconds or so - barely long enough to take the raw edge and a bit of crunch off the carrots. Quickly stir in the chiles and lemon zest. Remove from heat and stir in the cilantro, about one tablespoon of lemon juice, and then most of the pepitas. Taste. Add more salt and/or lemon juice if needed. Garnish with remaining pepitas.
Serves 4 to 6.