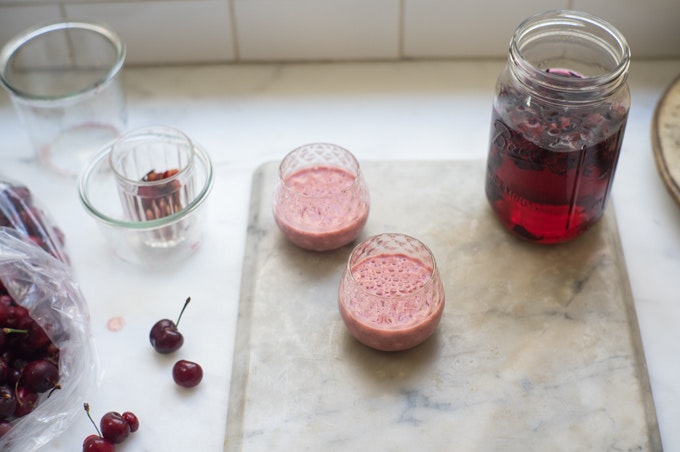 Two days from now I'll be en route to Hong Kong. It's a quick trip to one of the world's great cities, and I'm excited to have quite an adventure planned. We'll be in Hong Kong, before driving to see Near & Far at the printer. It's a part of the bookmaking process I don't know as much about, and I'm excited to better understand some of the related minutiae. I'm not sure what sort of internet connection I'll have outside the city, but I'll try to post a few pics to my Instagram account while I'm there, and publish a couple more comprehensive posts when I get back (favorite places, visiting the printer, etc). In the meantime, please enjoy this cherry smoothie. You've caught me in the middle of a cherry bender, and in this case I've tripled-down on all things red - cold-brewed hibiscus water (easy to make), blood oranges, and plump, sweet cherries. I've caught terrible colds on the last couple of long flights I've been on, so I'm hoping that if bolster my vitamin C intake with the cherries, orange and hibiscus. xo -h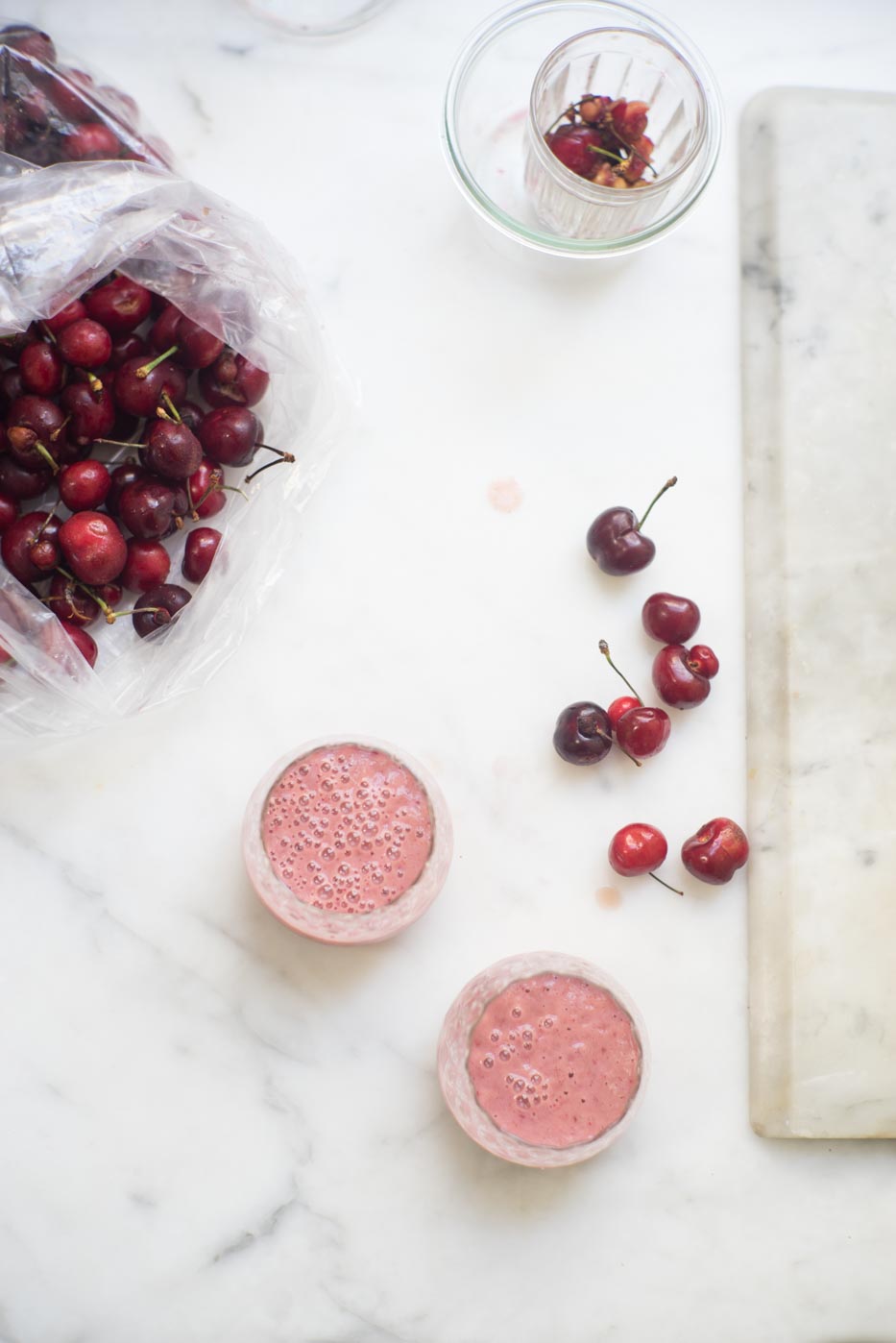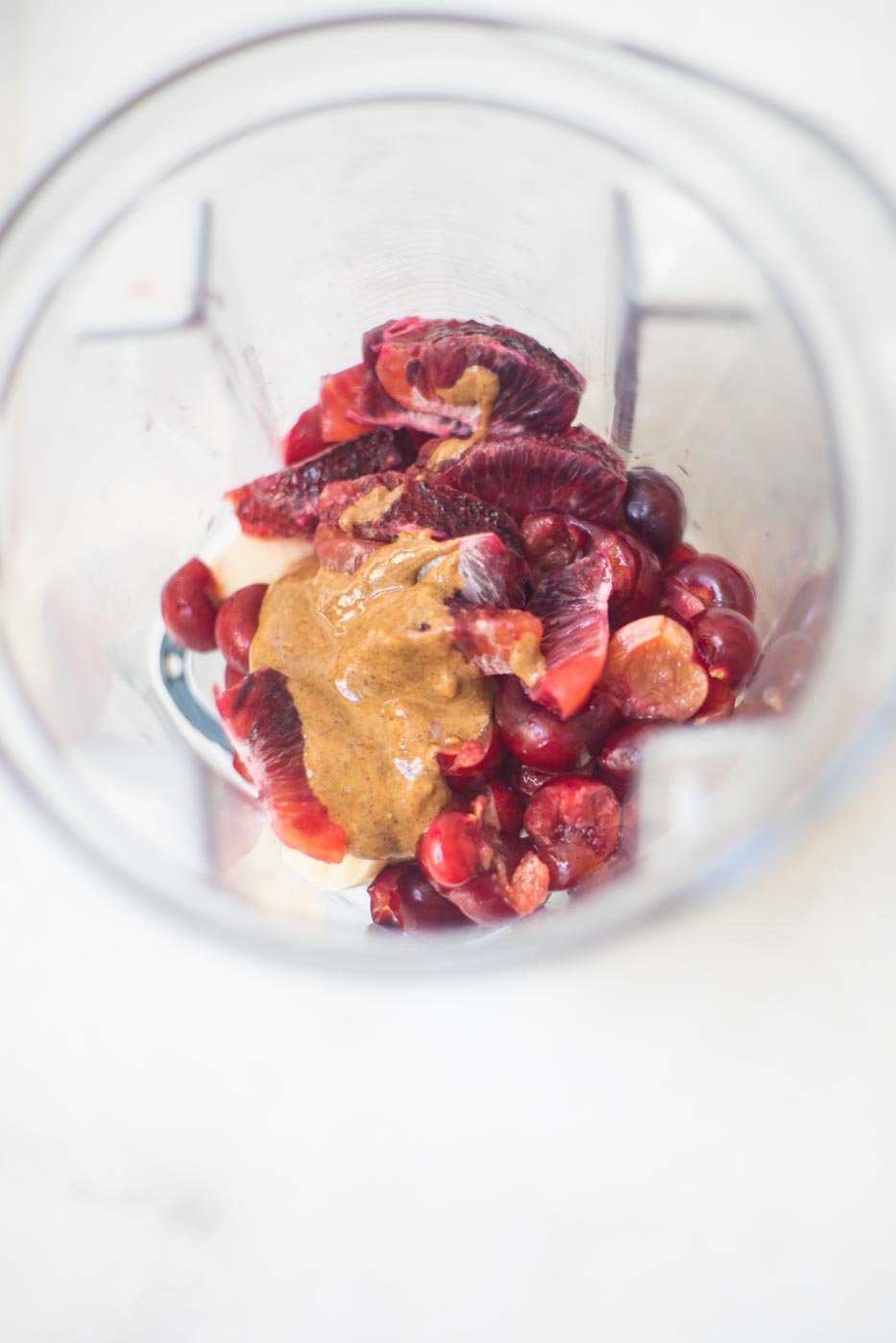 Cherry Smoothie Recipe
Cherry season is fleeting, this smoothie is also delicious if you need to swap in alternative fruit - strawberries, raspberries, or a blend of red fruit/berries is delicious.
1 1/2 cups sweet cherries, pitted
1/2 cup hibiscus water* or water
1 banana, peeled
1/3 cup almond or coconut milk (or other nut milk)
1 (blood) orange
1 heaping tablespoon almond (or nut) butter
1 cup cubed pineapple
Combine all the ingredients in an upright blender and process until uniform. If the smoothie is too thick, carefully incorporate more hibiscus water, slowly, through the feed hole on the lid with the motor running. Pour into glasses and enjoy.
Serves 2-3.
*I cold brew hibiscus water quite a lot. Place 1/4 cup dried hibiscus leaves (also called jamaica) in a container with 4 - 6 cups of cold water. Let steep until the water is sufficiently hibiscus flavored 2 - 6 hours depending on your preference. Sweeten if you like, and enjoy - or use as a vibrant, tart component in other recipes.