Curried Bean Salad Recipe
This bean salad recipe salad features pretty heirloom beans along with a few black lentils, splashed with a brightly-flavored ginger-curry vinaigrette.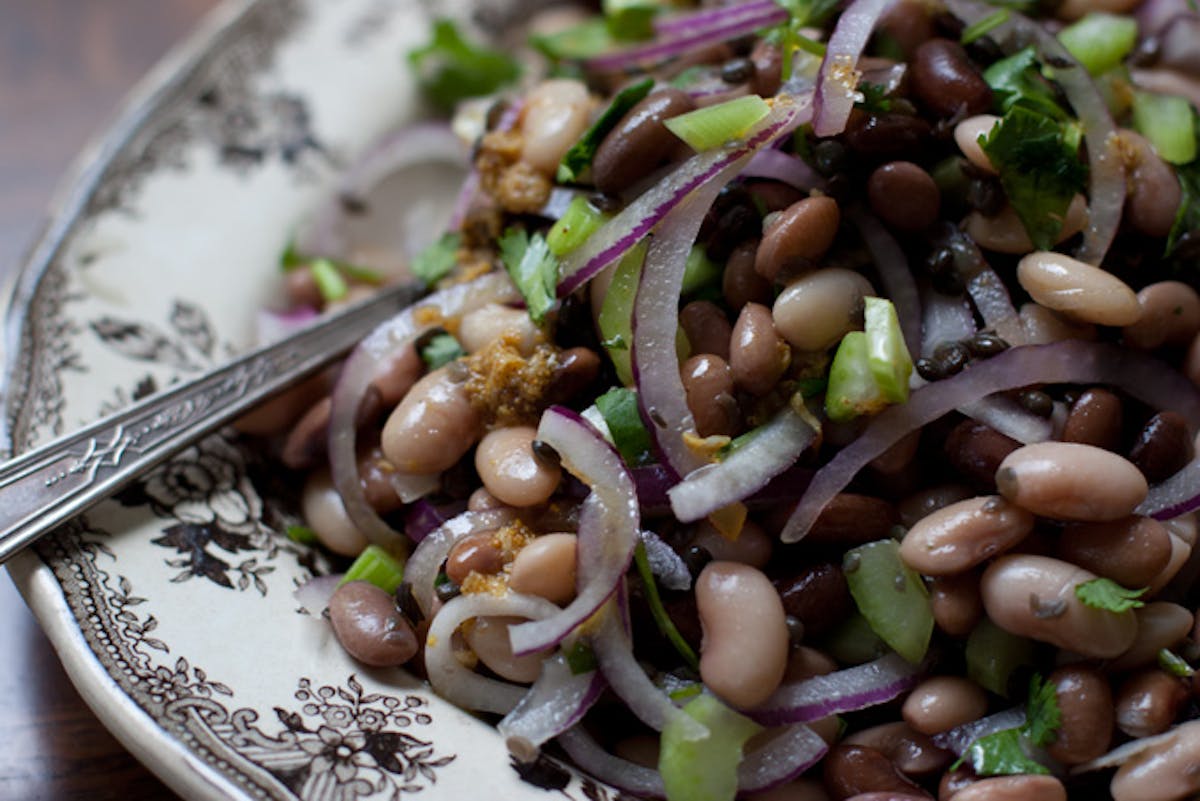 A bean salad will be as ordinary or extraordinary as the beans you start with. There's nothing wrong with using canned beans, but if good quality dried beans are parked just next door (and you get more beans for the money), it might be time to trade up. Trust me, it's like going from driving a Hyundai to a BMW. This salad features pretty Pebble beans alongside thinner-skinned Mayacoba and a few black lentils, all splashed with a brightly-flavored ginger-curry vinaigrette. You can certainly play around with the types of beans you use, I had two types of beans cooked up, and some black lentils in the freezer. With a minimal amount of chopping and a touch of whisking the salad came together in just a few minutes.
The Pebble beans are delightful to look at, a lot of fun to cook with, and although their colors and marks fade a bit during the cooking process in the end they still retain a nice amount of visual flair. The beans (from a single bush - not a blend) range in color from ivory to pale mustard, fleshy-pinks to cocoa colored. The second bean I used was the Mayacoba, a seductive pale mustard color when dried, they lose most of that in the hot water. This Peruvian bean works well in a salad like this because it's a cameleon of sorts, quite adaptable, nice texture, and it tends to take on the flavors around it - in this case the curry dressing.
More often than not the beans I use are from Rancho Gordo. Steve and his crew sell at my local market and I've cooked my way through many of his beans (which are also available via mail order). Steve's latest Rancho Gordo endeavor is an heirloom bean cookbook published by Chronicle Books - and it looks like it is shipping any day now. I'll feature a recipe from it as soon as I get my hands on a copy.
Curried Bean Salad Recipe
The key to cooking beans from scratch for a salad like this, is to cook them until tender, but not until they are falling apart. Feel free to make the curry vinaigrette a day or two in advance. If you like a creamier dressing, toss a big dollop of Greek yogurt into the curried vinaigrette, taste, and go from there. I use black lentils here because they hold their shape quite well, you definitely don't want to use a bean or lentil that goes to mush.
3 cups cooked beans - I used equal amounts Pebble beans and Mayacoba beans, but you could certainly use white beans, black beans, black eyed beans, whatever - I bet edamame would be great in this salad. And while I like to cook my beans from their dried state, this is a forgiving salad and canned beans that have been well rinsed will work too. You can serve this salad hot or at room temperature, whatever your preference.

1 cup cooked black lentils*
1/2 medium red onion, thinly sliced into crescents
3/4 cup celery, chopped

1 clove garlic
1/2 teaspoon of fine-grain sea salt
1 1/2 teaspoons of your favorite curry powder
1-2 teaspoons freshly grated ginger (from 1-inch cube of fresh ginger, peeled)
juice of 1/2 a lemon
1/3 cup olive oil
2 tablespoons cilantro, chopped
In a large bowl toss the beans, black lentils, red onion, and celery. Make the curry vinaigrette by mashing the garlic clove with the salt into a thick paste. In a bowl or jar whisk together this garlic paste, the curry powder, fresh ginger, lemon juice, and olive oil. Whisk well, taste, and add adjust flavors/salt if needed. Pour about half of the dressing over the beans and give it all a toss. Add more dressing a bit at a time until it is to your liking. Taste, make sure the salad has enough salt or the the beans will taste flat and the rest of the flavors won't pop. I like to serve this salad family style in a big bowl or on a platter with a big spoon all sprinkled with cilantro.
Serves about 4 - 6 as a side.
*Wash and pick over the lentils. Place them in a large saucepan and cover with water using 2-3x the quantity of lentils. Bring to a boil, scale back the heat a bit and simmer for 15-20 minutes. Taste along the way, when done the lentils should be tender but not splitting apart. Salt to taste at this point. Remove from heat and drain any remaining liquid.