Curried Sheet Pan Broccoli with Peanuts and Tahini Recipe
While the rest of the internet was baking Alison Roman's cookies, I somehow got stuck on a different recipe from Dining In - and, it's all about the sheet pan dinner.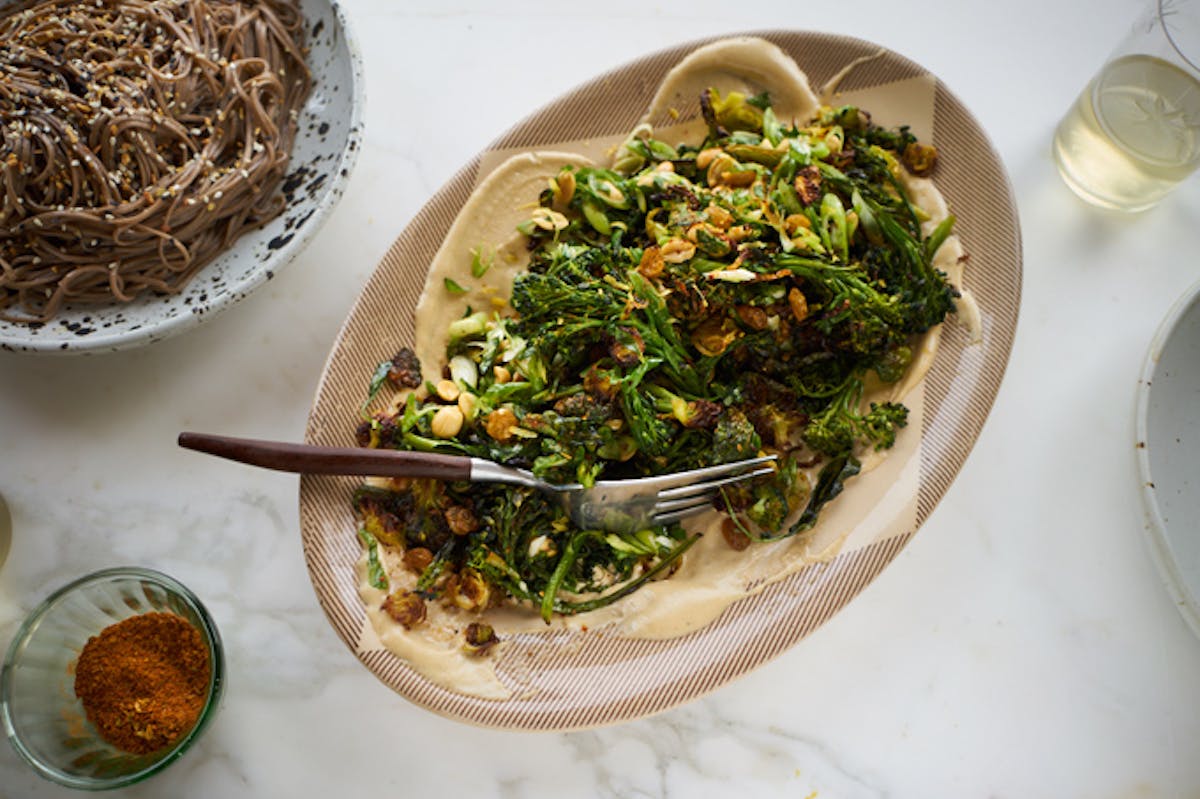 This sheet pan dinner is all about adaptability. Caramelized and deeply-roasted broccoli is my favorite base, but don't limit yourself. Feathery leaves of Brussels sprouts make a great substitute, or(!) tiny cauliflower florets. Even better, do a mix of vegetables (the blend in the photo is mostly broccolini with a few handfuls of shredded brussels sprouts). The creamy, under-dressing is tahini based, but almond butter or sunflower seed butter work nicely as well - all in the spirit of using whatever you have on hand.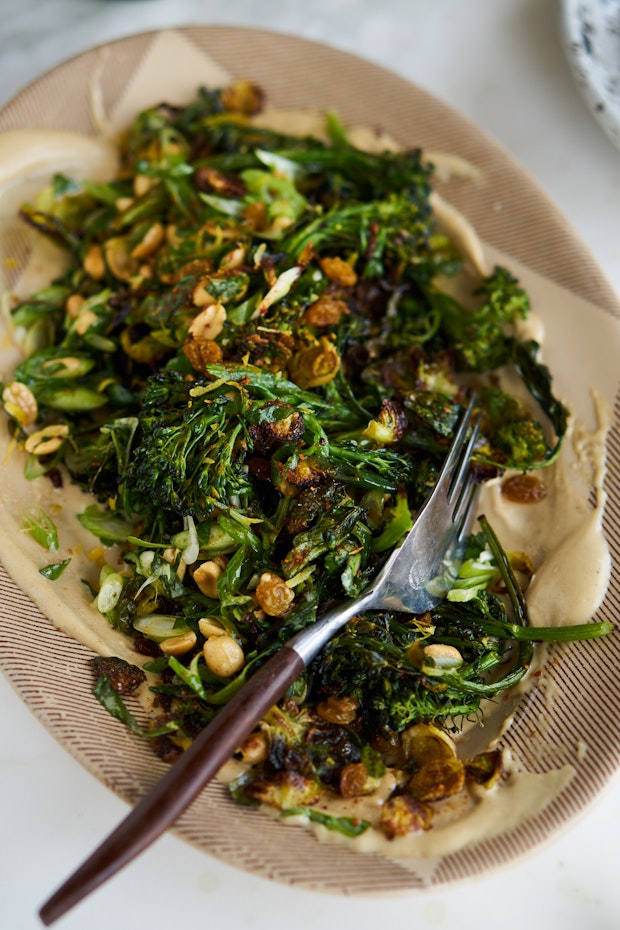 One of the magic elements of this recipe is the pop of sweetness you get from using a bit of roasted dried fruit, don't skip, seriously. I like using golden raisins because they plump up, ooze a bit of sugary juice, and then caramelize where the juice hits the baking sheet. But if sourcing them is a challenge, just go for chopped dried apricots, or chopped dates. It all comes off one sheet pan, plated on a single, family-style platter.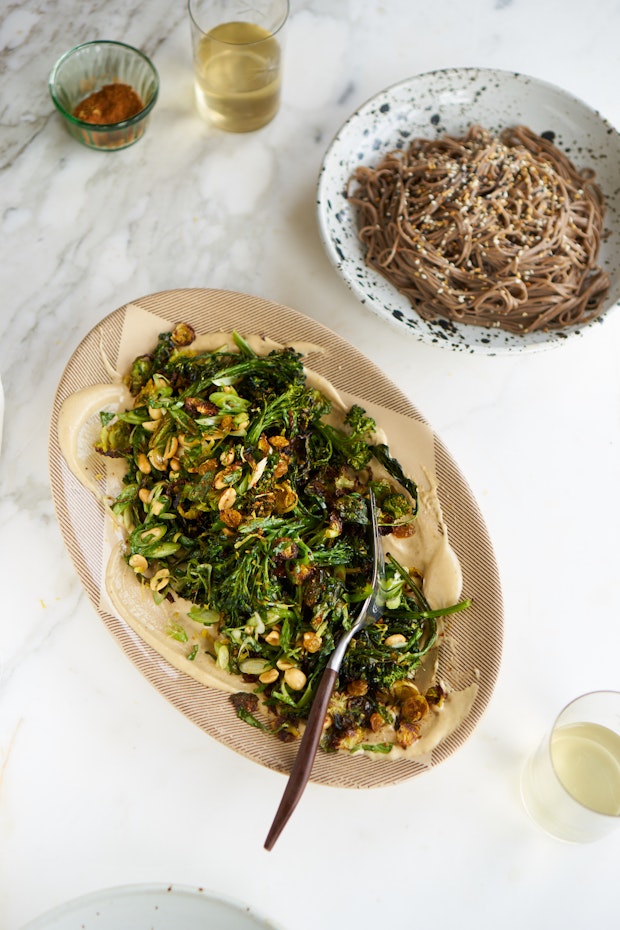 Alison Roman has a brilliant version in her Dining In cookbook using cauliflower florets and dates. That was my starting point months ago, and this is where we ended up. A greened up third cousin of sorts.
You can see (above) I serve the broccoli platter alongside simple soba noodles tossed with a splash of olive oil, seasoned with a pinch of salt, and sprinkled with a mix of seeds. I boil the soba noodles while the vegetables are roasting, and it makes for a nice meal.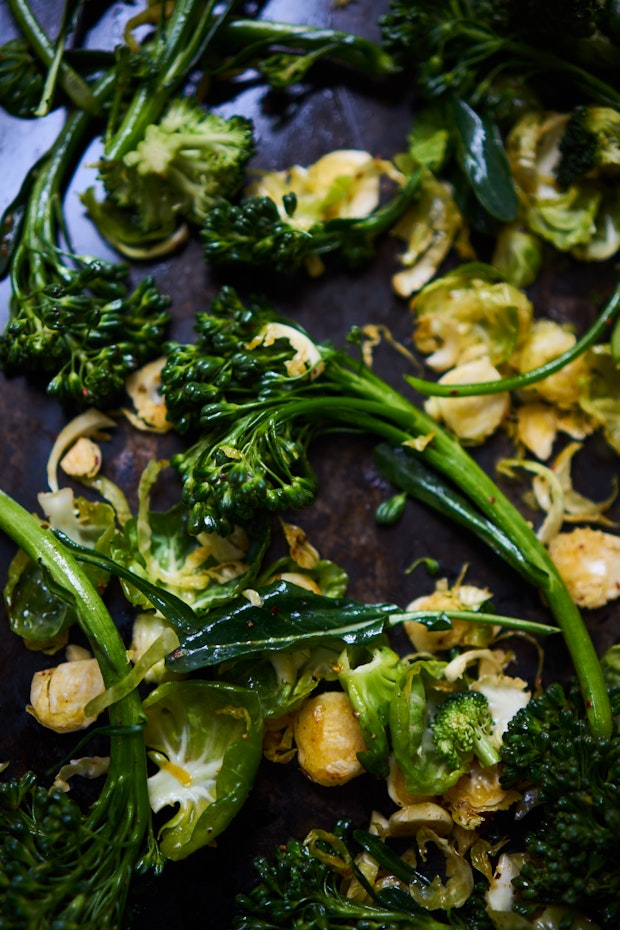 Curried Sheet Pan Broccoli with Peanuts and Tahini
HS: As I note in the opening paragraph, the potential for adaptation here is nearly endless. Make it this way once, and then play around with the curry/spice blend, the types of vegetables you roast. The nut or seed butter you use is also up for experimentation, as is the types of herbs!
1 teaspoon curry powder
3 tablespoons olive oil
1 lemon, (Meyer lemon if you have one)
1 large head of broccoli or broccolini, cut into bite-sized florets
salt and pepper
1/4 cup golden raisins,
1/2 cup toasted peanuts
4 scallions, thinly sliced
1 cup coarsely chopped basil
1/4 cup tahini, almond butter, or peanut butter
Preheat the oven to 450°F. Combine the spice blend with 2 tablespoons of the olive oil in a large bowl. Add the zest of the lemon and the broccoli, and toss well. Season with salt and pepper, arrange the florets on a baking sheet in a single layer, and roast for 7-10 minutes, or until the broccoli starts to take on a bit of color. Add the raisins, toss with a spatula, and continue roasting until the broccoli is deeply golden and the fruit has plumped, another 5-10 minutes or so.
In a small bowl combine the peanuts, scallions, basil, 1 tablespoon of juice from the lemon, and the remaining 1 tablespoon of olive oil. Season with salt and pepper, and set aside.
Lastly, in a small bowl whisk 4-5 tablespoons of warm water into the tahini. Season with plenty of salt and pepper, and spoon directly onto whatever serving platter you plan on using. Transfer the roasted broccoli mixture to the serving platter, on top of the tahini. Spoon the basil mixture over the broccoli and enjoy.
Serves 4.
Third cousin to the Cumin-Roasted Cauliflower and Dates with Tahini and Pine Nuts in Alison Roman's Dining In.
Prep time: 10 minutes - Cook time: 15 minutes