The Ultimate Vegan Nachos
Oozy, cheesy, loaded vegan nachos everyone loves. When you need a nacho fix, this is how you should roll. At least once. Nachos are always a crowd pleaser, and this is no exception.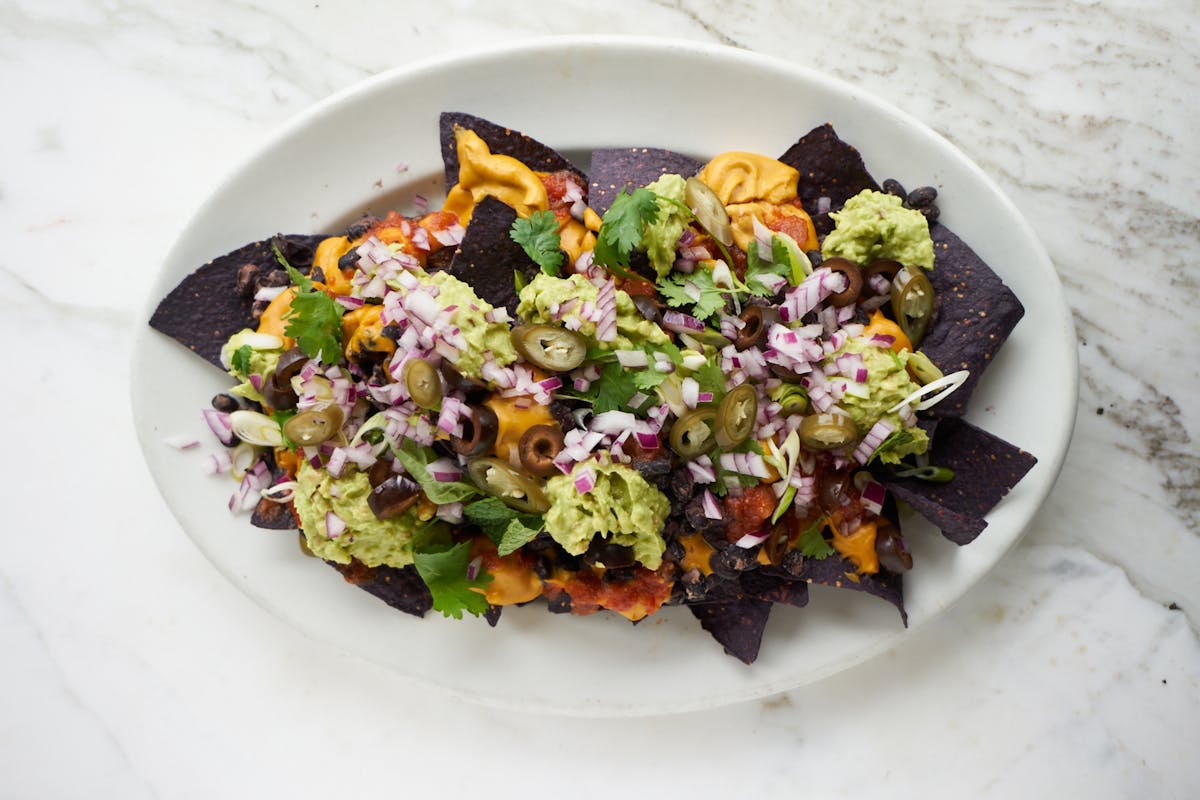 Let's do nachos today. I know the title says vegan nachos, but whether you're vegan or not, when you need a nacho fix, this is how you should roll. At least once. Just to see if you like them. I mean, nachos are always a crowd pleaser, and this is no exception, I promise. Chances are, you won't even miss the classic cheese bomb version. On the flip side, your body will thank you because the "cheese" in this version is non-dairy, vegan, packed with beneficial spices, cashews, garlic, and grated sweet potatoes, and lasts up to a week refrigerated.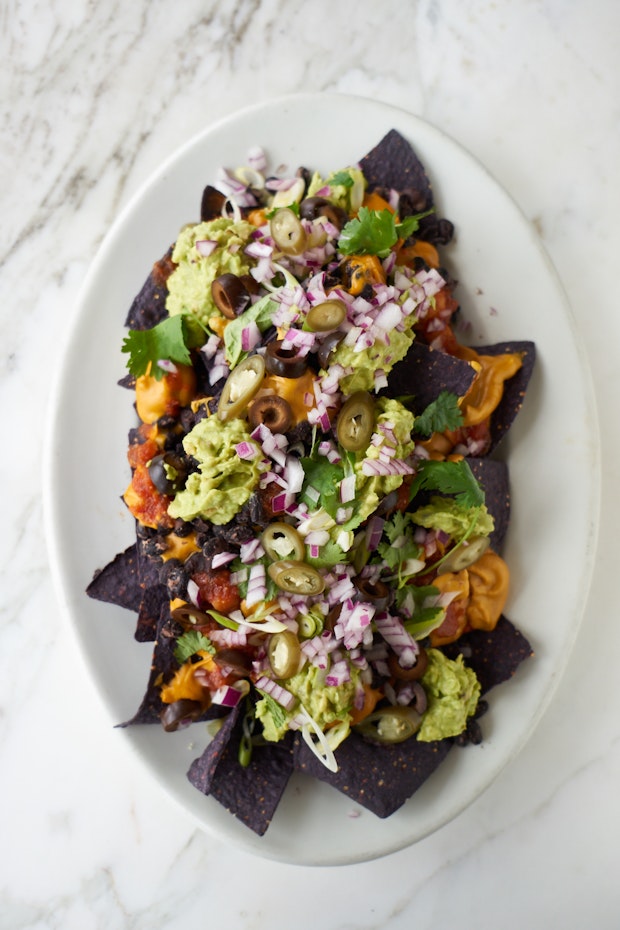 All About the Cheese
Sweet potato nacho cheese is a thing for good reason, it behaves a lot like a classic nacho cheese, it's the right color even, but(!) it's arguably more delicious, and made from natural ingredients. I incorporate a bunch of short-cuts in my version to speed things along, like grating the sweet potato. Also, if you make the sauce a day or two ahead of time, you can have a pan of nachos ready to go in a flash. Ready? Let's do this.
How to Get the Toppings Right
I'm including two different versions here. Option one is your typical pile-it-on semi-classic approach (pictured above): baked tortilla chips, black beans, sweet potato nacho cheese, olives, salsa, guacamole, chiles, etc. The other? Option two (pictured below) is what I like to think of as my hippie version: baked tortilla chips, sweet potato nacho cheese, chickpeas, roasted broccoli, guacamole, hemp seeds, pickled serrano chiles. The only things that would make it more hippie-ish would be to sprinkle it with nutritional yeast, and perhaps do a green version of the cheese (which I've considered ;)...
Make Them Substantial
If you're trying to make a meal out of the nachos, a good approach is to pile them high with an added sheet pan of simple, roasted vegetables. Broccoli and cheese is a classic combo (that even a lot of kids like), so I tend to go that route, but experiment! Roast a pan of vegetables while you're making the cheese. Easy.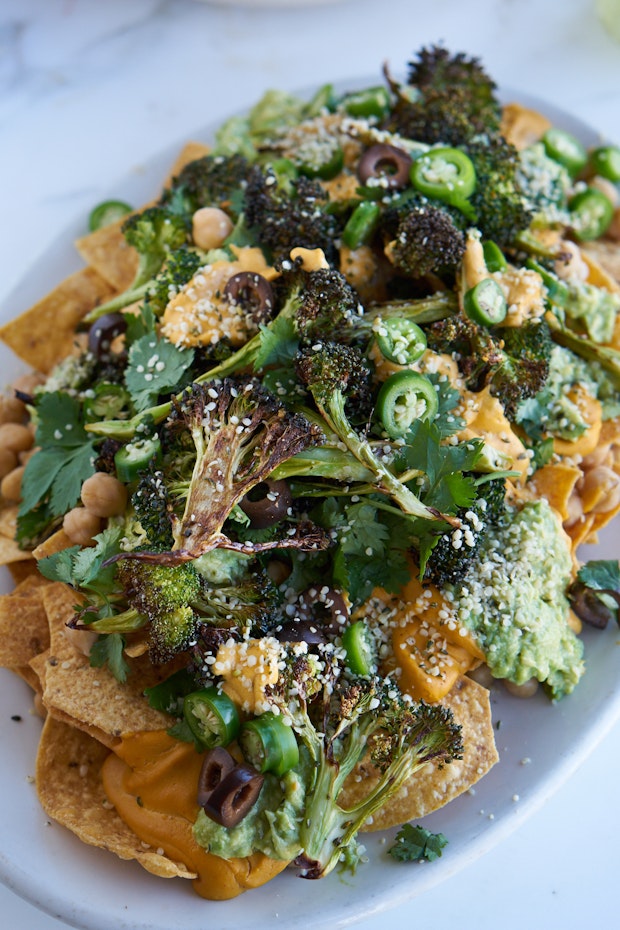 Choosing Your Chips
Is it me, or are baked tortilla chips increasingly hard to find? I look for baked chips (and sometimes fail). And/or ones with added heirloom corn, added quinoa, maca, or made from greens, etc. I also look for lightly-salted (some are SO salty!).
Uses for Your Extra Nacho Cheese
Any extra cheese is also tops as a sandwich spread, crudité dip, or keep it on hand anytime you're grilling or roasting.
Oven to Table Convenience
Bake and serve your nachos on the same plate (or pan). I use an oven-proof platter here. A baking sheet or sheet pan also works. It makes it simple to go from oven to table. Pile as many chips as you like on your platter/pan, top with beans, top with cheesy dollops, and bake for a few minutes. Don't worry that they don't look particularly nice, everything changes when you add your finishing toppings! No need to dirty another plate.
More Vegan Recipes
The Ultimate Vegan Nachos
Ingredients
5-6

big handfuls of baked tortilla chips

1

can black beans

drained

1

cup

sweet potato vegan nacho cheese

(recipe below)

1

ripe avocado
Variation #1 toppings (classic-ish):
any/all of the following - sliced olives, chopped scallions, cilantro, chopped red onions, pickled serranos chiles*, favorite salsa
Variation #2 toppings (hippie-ish):
swap chickpeas for the black beans, roasted broccoli, guacamole, cilantro, hemp seeds, pickled serrano chiles*
Instructions
Preheat oven to 350F, arrange the chips on an oven-proof baking sheet or platter. Top with the beans and dollops of the cheese (you'll have leftover). Bake for ten minutes or so, until the beans and cheese are heated through. In the meantime, in a small bowl, smash the avocado with a fork and a pinch of salt. When warm, remove the chips from the oven, top with the avocado, and any other toppings you like.
Sweet Potato Vegan Nacho Cheese
You can skip soaking the cashews if you have a high-speed blender. Use a box grater to grate the sweet potatoes.
Ingredients
2

tablespoons

extra virgin olive oil

1

medium onion,

thinly sliced

2

cloves

garlic,

peeled and smashed

1/2

teaspoon

fine grain sea salt

1

teaspoon

sweet paprika

1

teaspoon

garlic powder

1

chipotle pepper in adobo sauce,

chopped

1

cup

grated orange-fleshed sweet potato

1

cup

cashews,

soaked for an hour

1

cup

water,

if needed

2

tablespoons

fresh lemon juice,

or to taste
Instructions
In a medium saucepan over medium-high heat combine the olive oil, onion, garlic, and salt. Cook, stirring regularly, until the onions soften, 3-5 minutes. Add the paprika, garlic powder, and chipotle, and cook for another minute. Stir in the sweet potatoes, cashews, and water, and bring to a simmer. Cook for 5 minutes or so, until the sweet potatoes are tender.

Transfer the mixture to a high-speed blender, add the lemon juice, and blend until completely smooth, 2-3 minutes. Add water a splash at a time to thin consistency if needed. Taste, and adjust seasoning if needed.
Notes
*Pickled Serrano Chiles: I keep these on hand at all times! Slice 8 (or more!) Serrano chiles 1/8th-inch thick and place in 2 cups of white vinegar in a Mason jar. Use the chiles w/in a week or two. You can use the vinegar for weeks after that in dressings, on lettuce wraps, and rice bowls.
Related Recipes
More Recipes
Popular Ingredients