Elderflower and Coriander Vodka Recipe
The flowers of the elderberry plant - Sambucus nigra - are tiny pale stars. Thousands of the blossoms form intensely aromatic galaxies this time of year, and if you're lucky (and in the right region), you'll come across them. Cordials are a common use for the flowers, although, I opted to diligently pluck flowers from stem to infuse a couple of jars of vodka. As I was pulling the elder flowers from my market bag, they were tangled in a bouquet of vibrant, fragrant, fresh coriander, and I thought, why not? The green citrus notes of the coriander would be a welcome addition to the sweet heady elderflower, and into the jars it went as well.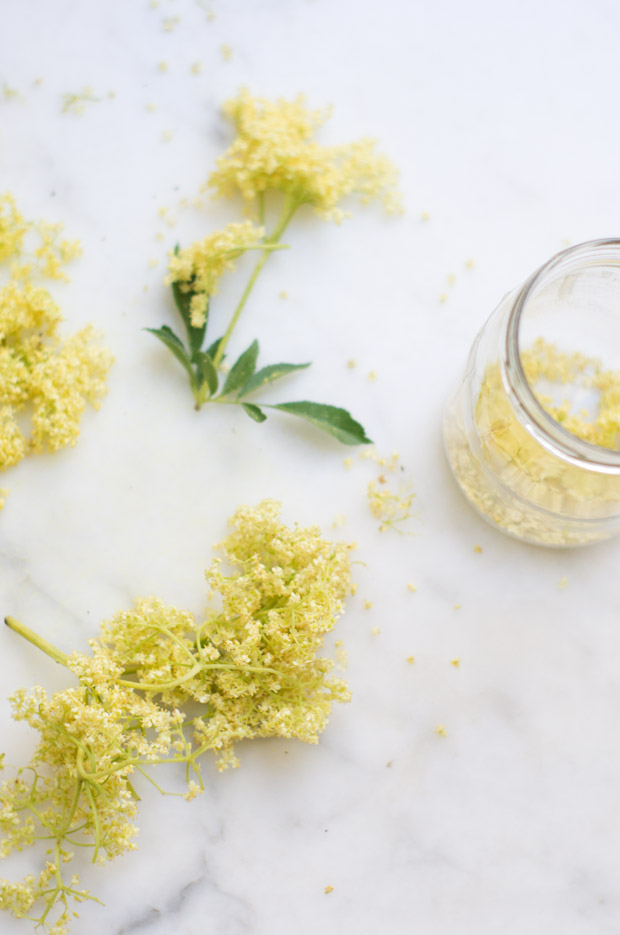 Some uses; to spike lemonade or orange juice; in vodka and soda or vodka tonic; or a splash in a glass with sparkling wine. In all cases you can sweeten to taste with a simple honey syrup or common simple syrup - or not.
I've seen beautiful celebrations of the tiny flowers in other places too. Have a look. If vodka isn't your thing, a cordial is a fantastic alternative. Although, please remember, when it comes to elderflower blossoms, you need to take the time to remove as much of the green part of the plant as possible. The stems and branches and roots are not edible.
- How to Make Elderflower Cordial (The Wednesday Chef)
- Strawberries & Elderflower (Cannelle et Vanille)
- Elderflower Cordial (The River Cottage)
- Elderflower Lemonade (Golubka)
Let me know if you have other ideas, elder blossom inspiration, or experience! -h
Elderflower and Coriander Vodka
You are going to have to take care to pluck just the blossoms from the stems and branches. All green parts of the plant and the roots are to be avoided. They are inedible.
1 bottle of vodka
a lot of fresh elderflower blossoms
a small handful of fresh coriander seeds and blossoms
Set whichever glass jars you aim to fill on the counter and fill with as few or many elderflower blossoms as possible. The more, the better. Be sure you're only placing the blossoms in the jars, not any stems, stalks, roots, or green parts of the plant. Add a small handful of fresh coriander seeds and blossoms to each container. Fill to the absolute top with vodka. It there is any air remaining at the top of the container the blossoms will brown more quickly than they would otherwise. Place in a dark place - the darker the better, for at least four days. Strain the vodka through a fine strainer (I find ~8 days to be my preference) - when it is fragrant, and flavorful. If you keep the flowers in the vodka, the flavor will change day after day, you can strain it when you like, really. It will keep, refrigerated, after straining, for a good stretch.