Blood Orange Gin Sparkler
The citrus gin cocktail you want to be drinking. It's bright and beautiful - perfect for winter holidays and New Years Eve.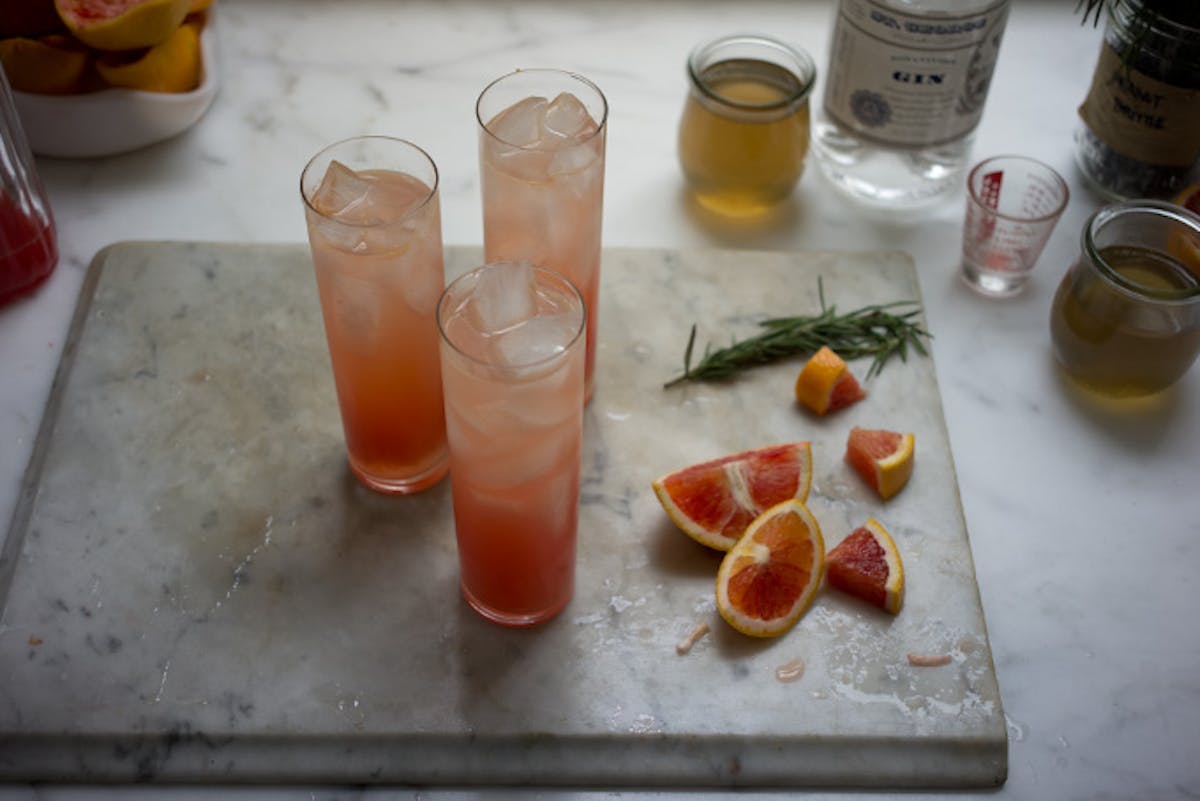 For a good part of the year I have rosemary floating about the kitchen. It's typically crowded in a wide-mouth jar, standing stick-straight, quietly waiting to be called upon. Sometimes it sits on the windowsill here, other times it migrates to the island, or, on rare occasions, the dinner table. I tend to buy a bunch, then work my way through it little by little (you've likely seen it in the background of photos on previous posts). Said another way - rosemary is often in my line of sight, and I'm always looking for ways to use it. This cocktail caught my attention a couple weeks back, and I've been making my own citrus-spiked riff on it in the days since.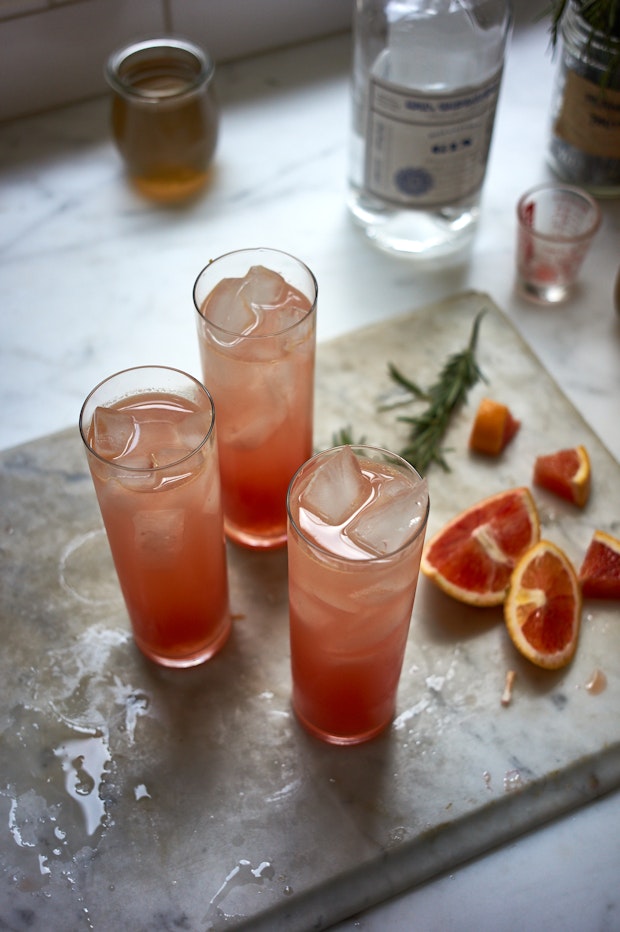 So...my initial idea was that I'd do a winter citrus version using freshly-squeezed pink grapefruit juice, gin, and tonic water or sparkling water. I thought the evergreen notes in the gin would blend nicely with the tart pucker of grapefruit, and I'd take the edge off with a hint of rosemary syrup.
Not meant to be.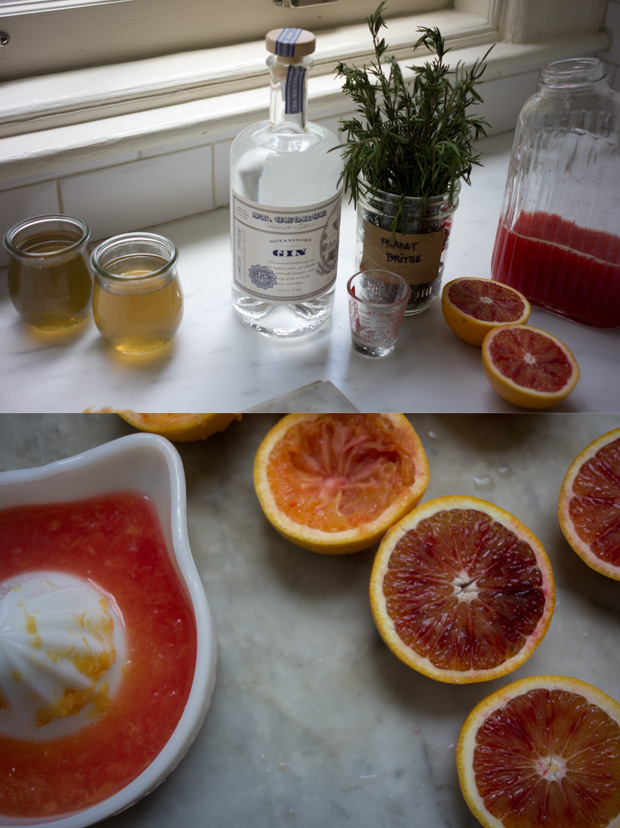 I walked into a box of beautiful Moro blood oranges at the store, and here we are. The blood orange juice worked beautifully, it added a lovely burst of color, and generally lent itself agreeably to what ended up being a long, bright, winter-time quencher. One that goes down a bit too easily, in fact. As I mention down below, if blood oranges are hard for you to come by, this drink is great with navel oranges as well. I mean it when I say, I hope you like this one as much as I do.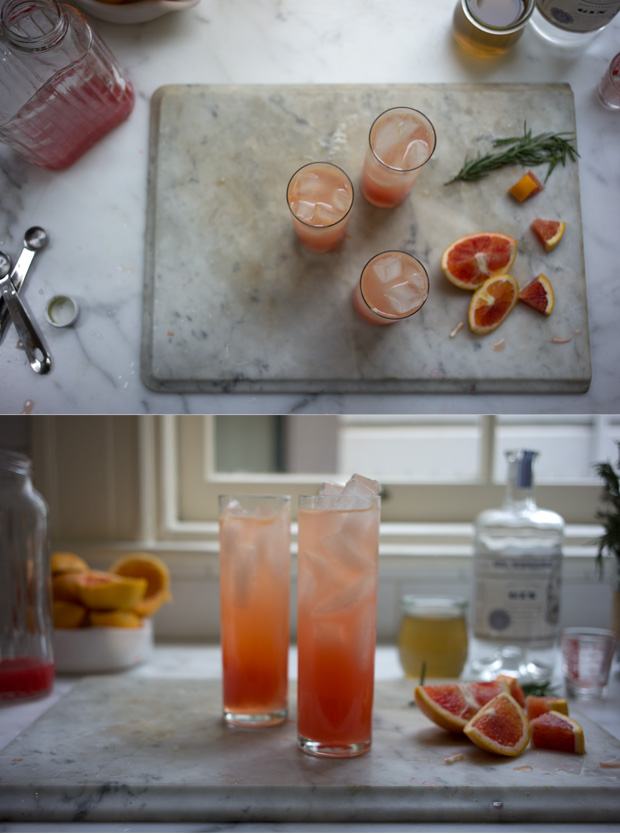 I kept thinking the gin / citrus combo would make for a striking DIY cocktail set-up at a holiday party, or New Year's brunch /gathering. Particularly if you offered a selection of juice mixers. I'm imagining small glass pitchers of blood orange juice, pink grapefruit juice, orange juice, oro blanco grapefruit juice, and or sweet lime juice? It would be a beautiful spectrum. Let me know if you give it a go.
Blood Orange Gin Sparkler
You can keep the rosemary simple syrup in the refrigerator for a week or so. You can do this ahead of time. Also, if blood oranges are hard for you to come by - navel oranges are also delicious.
Ingredients
2

cups

/ 480 ml water

1

cup

/ 6.5 oz / 185 g sugar

4

tablespoons

(~2 sprigs-worth) fresh rosemary leaves

1

bay leaf (optional)

blood oranges

gin

ice cubes

tonic water (or sparkling water)
Instructions
Combine the water, sugar, rosemary, and bay in a small saucepan over medium heat. Bring to a simmer for 3-5 minutes, or long enough for the sugar to dissolve, stirring occasionally. Remove from the heat and let infuse for 10 minutes. Strain into a jar to cool completely.

In the meantime, juice and strain your oranges, you'll need 3 tablespoons / 1.5 ounces of juice for each drink.

To make each drink you're going to combine equal parts gin, juice, and tonic water with a bit of syrup and ice. So, its 3 tablespoons / 1 1/2 oz gin, 3 tablespoons / 1 1/2 oz freshly squeezed blood orange juice, and 1-2 teaspoons of the rosemary syrup in each tall glass (I used kolsch glasses here). Stir to combine, fill each glass 2/3 full with ice and top off with 3 tablespoons / 1 1/2 oz tonic water. Stir again and you're set.
Related Recipes
More Recipes
Popular Ingredients