Favorite Cookbooks: Andrea Nguyen Recipe
Cookbook author, freelance writer, and cooking teacher Andrea Nguyen, shares her favorite cookbooks with us.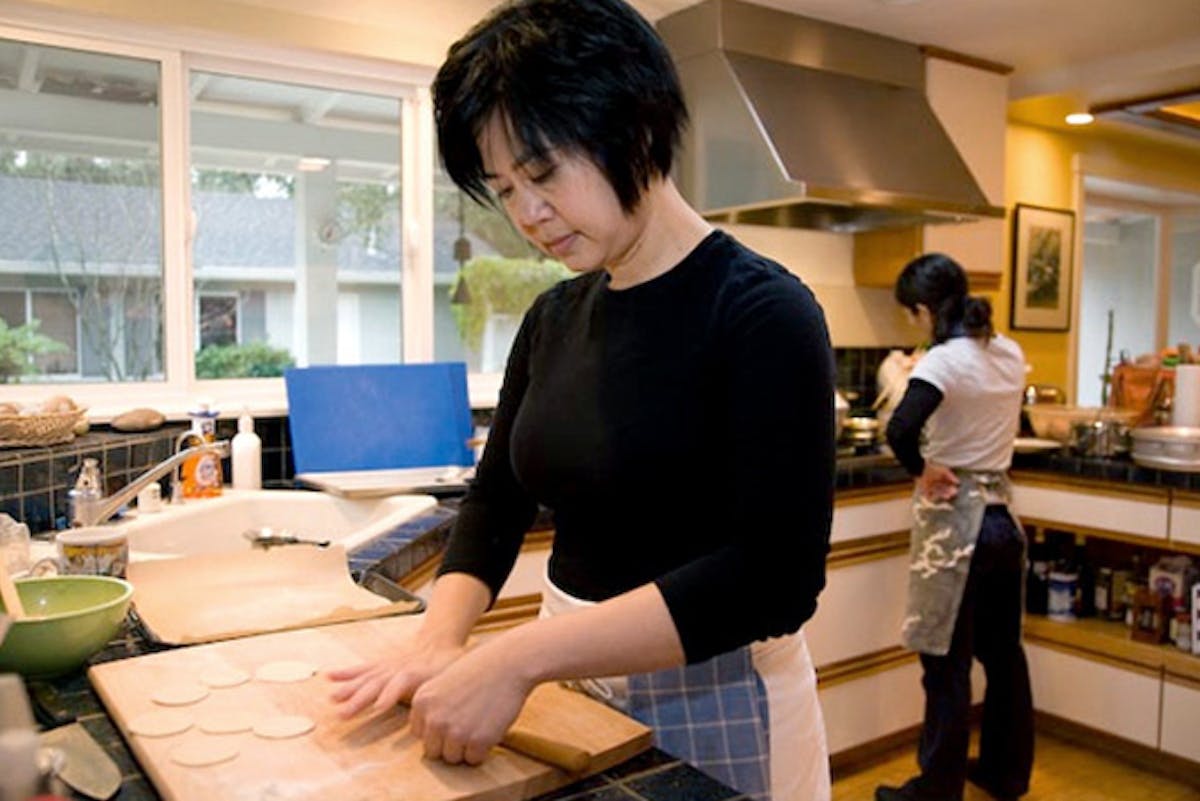 Andrea and I have been friends for a few years now. She writes inspiring articles about people and their deep connections with food. And she writes books that dive head-first into the topic at hand, while remaining wonderfully accessible. Truth be told, when I first met her I was a bit intimidated. But that feeling didn't last long. She's light, with an easy smile, and a sense of humor that had me at go. On the culinary front, she up for anything. We got together for drinks at a friend's house recently and she showed up with jars of homemade Maraschino cherries, one jar made using one technique, the other jar using a different approach -an impromptu tasting ensued. Not long after that, I saw on her site she was reverse engineering her own Sriracha chile sauce (!). I don't see her as often as I'd like to, and I regret that she doesn't live just a little bit closer to me.
I'm sure many of you are familiar with her debut cookbook, Into the Vietnamese Kitchen. It was among the finalists for a James Beard Foundation award (best Asian cookbook) and two International Association of Culinary Professionals awards (best first book and best international book). For all you dumpling fans out there, her second book, Asian Dumplings, tackles the subject spanning samosas, lumpia, pot stickers, momo, gyōza, wontons, bāo, and then some. She's a contributing editor to Saveur magazine, writes for newspapers like the Los Angeles Times and San Jose Mercury News, and teaches cooking classes regularly. When I asked Andrea to share some of her favorite cookbooks, she replied with the following...
A woman I know lost her entire cookbook collection in one of the recent Santa Barbara fires. I winced when I heard about it as I've often wondered what I'd grab or miss the most should disaster strike. My collection of cookbooks fills several seven-foot-tall bookshelves in my dining room and office. It is comprised of my mother's notebook of handwritten recipes that she carried from Vietnam when we fled, works that I perused during my youth, gems discovered overseas or hunted down at used bookstores, and many acquired online during late night shopping forays. I'd be heartbroken if I no longer had certain ones as they are special, irreplaceable artifacts of time and place. However, if my entire library of cookbooks were to vanish, I would find my bearing and seed a new collection with these works:
Eastern
Irene Kuo's The Key to Chinese Cooking (Knopf, 1977) was my first Chinese cookbook. After my family arrived in the U.S. in 1975, we started going to our local library to checkout cookbooks and then eventually joined Book-of-the-Month clubs to start our own cookbook collection. My three sisters and I read all the fine print and took turns joining so we could get multiple deals on cookbooks. Kuo's was among our family's favorites. She was spot on back in '77 and still is today. I own two copies, one with a broken spine and the other has hardly been cracked open as it waits for the first one to completely fall apart.
If I lost those copies, I'd track down a third copy. But I'd supplement Kuo's Chinese recipes with those by Grace Young in The Wisdom of the Chinese Kitchen and The Breath of a Wok (Simon & Schuster, 1999 and 2004). All the recipes work in Grace's books, and she has a great palate.
For dreaming about and cooking the flavors of South and Southeast Asia, I'd get Jeffrey Alford and Naomi Duguid's Hot Sour Salty Sweet and Beyond the Great Wall (Artisan, 2000 and 2008). Their books have fed my creativity, piqued my curiosity, and satisfied my hunger for Asian food and culture for years. The over-sized tomes are not merely for coffee table décor. They are books to cook and learn from.
Latin
I've lived in California for most of my life and Mexican food is a necessity. Rick Bayless has never failed me with his recipes for making uncommonly delicious Mexican Food. I can easily spend a day cooking from his books, especially Rick Bayless's Mexican Kitchen (Scribner, 1996). For the ultimate from-scratch cooking experience, I'd also pick up Diana Kennedy's From My Mexican Kitchen (Clarkson Potter, 2003).
Western
Julia Child's Mastering the Art of French Cooking is getting lots of press these days but frankly, I don't often use those volumes. If I want well-honed instructions on classic French and American dishes, I make a beeline for The Way to Cook (Knopf, 1993). She very clearly, and with her signature humor, tells you how to make terrific pate, meatloaf, and pumpkin pie. There's work involved but it's neither nervous making nor laborious seeming. Along with J.C. (and I'm not talking Jesus here), I'd pick up James Beard's American Cookery (Little Brown and Co., 1980). For Italian recipes, Marcella Hazan's Essentials of Classic Italian Cooking (Knopf, 1992) has been my kitchen companion since it came out in 1992 and I'd surely bring her back.
These cookbooks by Child, Beard, and Hazan all have an authoritative voice that is friendly, not motherly. (Who wants their mom hovering over them as they cook?) Their thoughtful and straight-ahead approach to home cooking inspires my writing and informs my understanding of American and European fare.
Reference
I'm a geek who LOVES reading cookbook glossaries. Alan Davidson's Oxford Companion to Food is one of the books that I grab to look something up as I research and develop recipes; either the first or second edition would do. For Asian ingredients, Charmaine Solomon's Encyclopedia of Asian Food (Tuttle, 2008) and Bruce Cost's Asian Ingredients (William Morrow, 2000) are my requisite reference works.

Finally, I would be disingenuous if I didn't say that I'd be quick to replenish copies of my own cookbooks. Truth be told, I regularly cook from them and follow my own instructions. The results are surprisingly good!
Cooking is a craft that I regularly practice and these are among the works that I cherish most. My personal and professional life would be incomplete without cookbooks around.
Here's where you can find Andrea:
- Andrea's newest book: Asian Dumplings
- Andrea's first book: Into the Vietnamese Kitchen
- Viet World Kitchen
- Asian Dumpling Tips
- Follow Andrea on Twitter
Photo by: Penny De Los Santos. You can follow Penny's blog here, or her twitter stream. My hope is that I can convince her to share her favorite cookbooks with us at some point too!