Favorite Cookbooks: Emi Guner Recipe
Some of you might know Emi Guner from her Letters to Marc Jacobs website, or Letters from the End Consumer - Emi shares her favorite cookbooks with us today.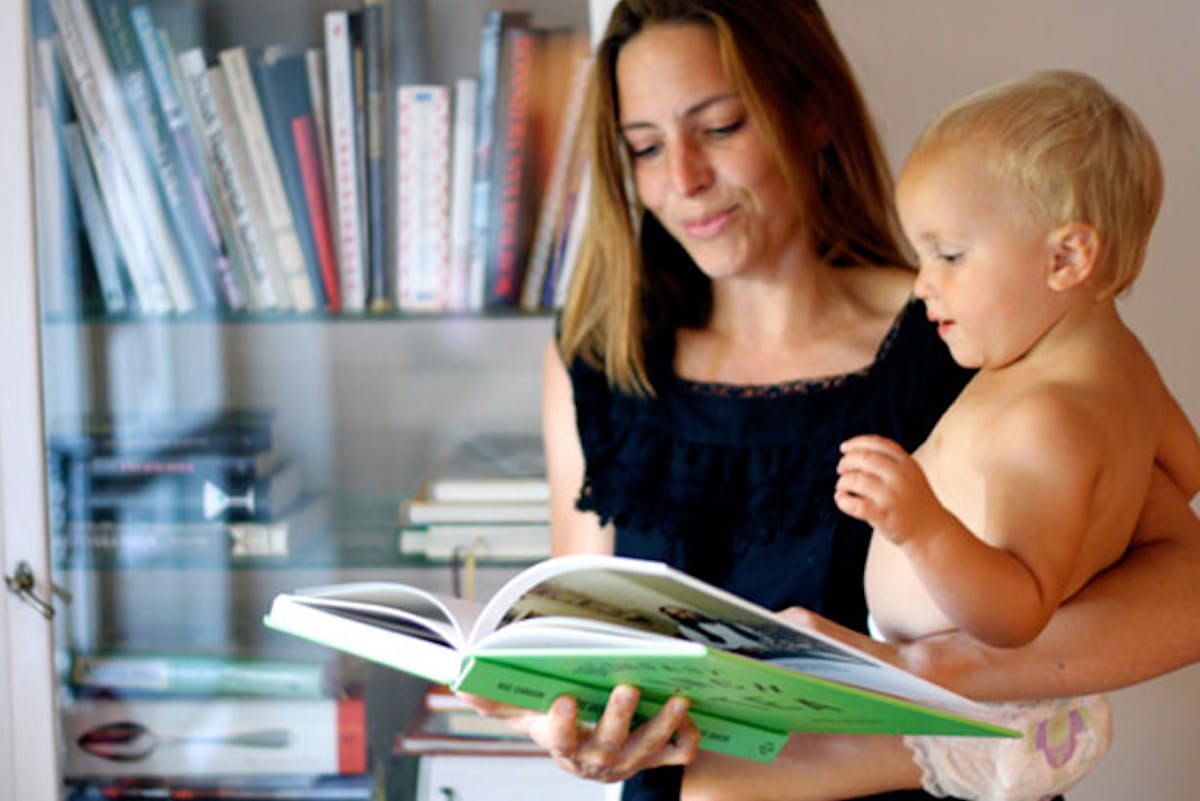 Emi Guner is my Swedish internet friend. We've never met in person, but we have friends in common, common interests, and I've been a fan of her writing and websites for years. I started reading Letters to Marc Jacobs early on, moved on to Letters from the End Consumer, and now I even Run with E on occasion (when my Nike+ sensor isn't broken). Emi is smart and funny, and in the photos on her site she often has adorable, small children crawling all over her. Her photos make me smile and I particularly love the ones featuring her son clothed in head-to-toe Spiderman.
When I asked Emi to share a bit about herself she said,"I write for money. I write in Swedish or English, I've written about everything and nothing. I used to write letters to Marc Jacobs. I wrote 400 of them before it finally got to me that perhaps he wasn't reading. I love writing, reading and eating, kids, fall, red wine, Scrabble and mummies."
EMI'S COOKING STYLE (in her own words):
I don't really know how it happened, but I've almost quit cooking altogether. Instead I've turned into a female version of a 50's man who comes home and asks "what's for dinner, honey?" Luckily for me, my man cooks great meals. He's a dedicated runner and needs to eat well so I get to savor lots of vegetables, fish, seeds and an incredible variety of bulgur, quinoa and whole grain rice. I cook for the kids, but it's not very passionate. I've lost interest in cooking, but not in eating. I often have a bowl of yogurt while I read about fantastic food and amazing meals. It sounds sad, but it's 100% pleasure. I may be a lousy cook, but I'm a voracious reader. I have a big collection of loved cookbooks that I keep in a special cabinet in the kitchen. I'm a happy eater and will gratefully eat whatever you serve me. Once, a potential mother-in-law served me kidney and very little else. It was the first time I ate at her house, and it felt like a test. I think I passed, because I ate it all and held conversation going. Unfortunately her son didn't pass my own test, but that's a different story.
FAVORITE COOKBOOKS (the ones Emi turns to most often for inspiration):
I use cookbooks to dream, not really to cook, but if you want to dream with me I can recommend Susur-A culinary life by Susur Lee because the level of his cooking is so advanced it's like art.
I also often look to my grandma's vintage Betty Crocker to travel back in time - I'm so happy I'm not the one who has to stand there in her apron serving up casseroles to a man whose profession and pay I'm jealous of. Likewise, I turn to The Fine Arts Cookbook II cause I love the introductions to the dishes. Blizzard Soup "First made during blizzard of '78; make it when you have pork shoulder and put away for the next snowstorm." Thank you Mrs. Marsden P. Earle of the Ladies Committee, the next time I have pork shoulder, I will! And because it offers so much more than just recipes, I love reading Claudia Roden's The Book of Jewish Food: An Odyssey from Samarkand to New York. It has history, anecdotes, food and a few great jokes thrown it. I also like The Farmhouse Cookbook because the author seems so pleasant and her travels across the states to find great produce gives you the nice opportunity to read about a kind of farming that you wouldn't think existed anymore.
Other times, I buy and judge books by their covers. That's the reason I bought Breakfast, Lunch, Tea: The Many Little Meals of Rose Bakery by Rose Carrarini. It's the fastest and easiest trip to Paris I've heard of. Prettiness is also the reason I bought the tempting Made in Italy, a purchase I've never regretted. It stands next to Silver Spoon which I hear is THE book if you're about to cook yourself a great Italian meal, which I hope someone I know will do for me soon!
I sometimes buy books on food just because of their titles. I mean, who can resist a book called Alone in the Kitchen with an Eggplant - Confessions of Cooking for One and Dining Alone?
And since I'm more interested in the enjoyment of food (and the kind of social interactions that go so well with food), I love books on food that go beyond mere preparation. If you're like me in that aspect, dive into The Alice B. Toklas Cookbook, any of Ruth Reichl's foodie memoirs, or Alan Richman's book Fork It Over: The Intrepid Adventures of a Professional Eater.
Related links:
- Like to jog? Click here if you also want to Run with E. It's a lot of fun, Emi sets up challenges, does interviews - people from all over the world run with Emi.
- Emi's site: Letters from the End Consumer