Favorite Cookbooks: Harris Salat Recipe
My friend Harris Salat, freelance journalist and cookbook author, shares a list of his favorite cookbooks with us.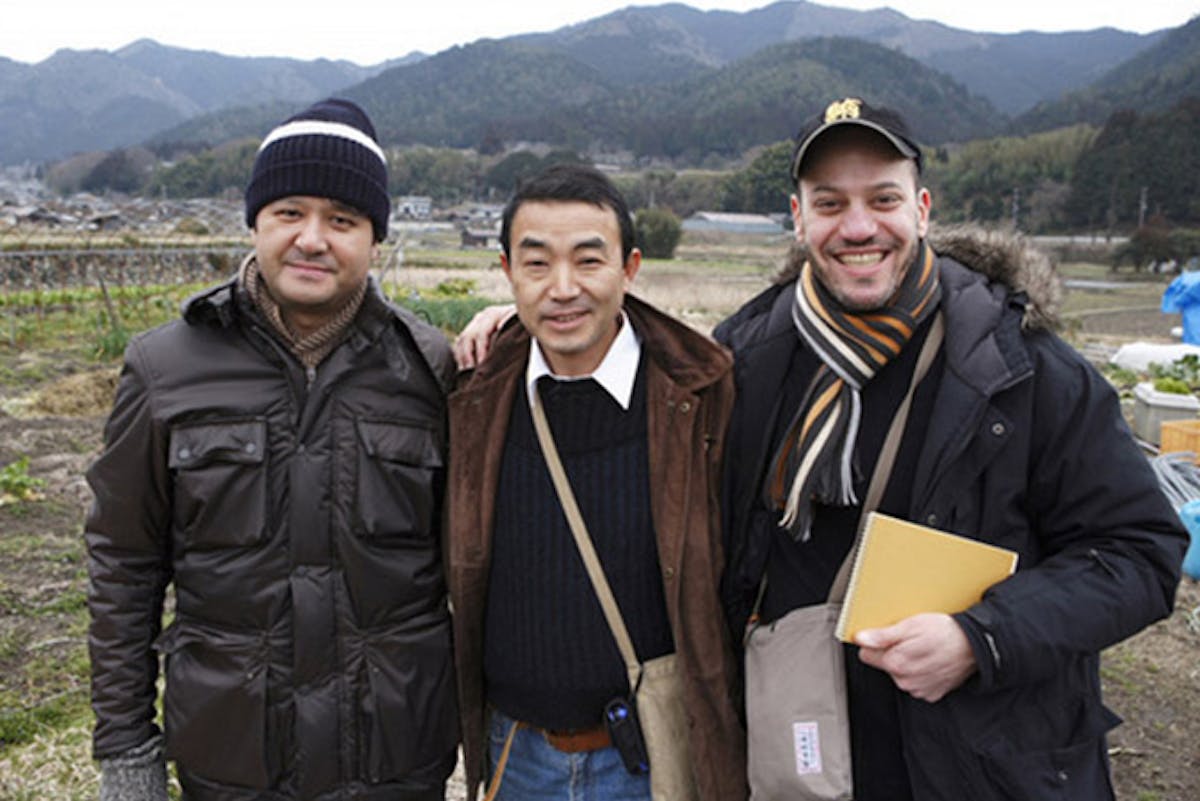 I met Harris Salat on an Oldways trip to Puglia, Italy in 2006. He's a straight-up New Yorker, and the east coast yin, to my west coast yang. Which, come to think of it, might be why we get along so well.
I suspect many of you have read articles written by Harris, he writes for some of the big guns -- The New York Times, Saveur, Gourmet until recently, and Salon. One of his beats is Japanese cuisine. He travels there regularly and has trained in Japanese restaurant kitchens in New York and Tokyo. On top of his freelance writing, he also co-authored both Takashi's Noodles and Japanese Hot Pots. You can see him in that photo up above, to the right of Chef Tadashi Ono and Chef Hisao Nakahigashi of Kyoto (center). I'm excited he has agreed to share a few of his favorite cookbooks with us.
HARRIS'S COOKING STYLE:
I love clean, simple cooking, one that relies on the natural flavor of ingredients, doesn't stray too far from a food's natural state, and is anything but fussy. Hmm, sounds familiar--oh yeah, that's what Japanese cuisine is all about, the subject of my writing for the past several years. I was so surprised by this chow when I first traveled to Japan a decade ago. Up to then, all I knew was sushi and ramen. But on that trip, I discovered in the cooking an intense seasonality, an incredible variety of dishes and a delightful spontaneity. From rarified to down-home, I found the food was more about subtraction then addition, that is, more about getting to the intrinsic sense of something rather than building it up with fats, herbs and spices. I loved that in the cuisine, and was hooked. Since that first foray to Japan, I've been working to perfect my Japanese cooking. But I appreciate other ingredient-driven cuisines, too, especially Southern Mediterranean and Middle Eastern food, and prepare them, too. Here are some of the cookbooks that have influenced me:
- A Return to Cooking, by Eric Ripert and Michael Ruhlman. Sadly the hardback is out of print, this beautiful cookbook was designed by the incredibly talented Cliff Morgan, a dear friend who tragically passed away a few years ago. I remember Cliff, a fabulous cook, telling me how much he learned from this book, and when I picked it up, I understood what he meant. With disquisitions into things like poaching, shallots and ambient heat, it taught me fundamental concepts that helped me understand how to really cook, not just follow recipes. (update 11/12: There is a recently released paperback of A Return to Cooking available.
- The Zuni Café Cookbook by Judy Rogers is another hefty culinary education. Judy taught me a ton about how to buy ingredients, tasting, finding flavor and salting. I think about her words on "salting early" whenever I cook Japanese cuisine, which, like Judy's Mediterranean food, often relies on the incredible curing power of the only rock humans regularly digest. Her recipes are amazing, too.
- I can't remember where I found Moro: The Cookbook, considering it was never released in America (the companion Casa Moro was, you can now find both online). It's the cookbook of a restaurant in London called Moro that takes inspiration from the Muslim Mediterranean (Morocco, Tunisia, Algeria) and Moorish-influenced Spanish cooking. I really enjoy cooking from this book, full of simple, beautiful recipes, especially for vegetables, with dishes like eggplant and red pepper salad, beet soup with black cumin and broad bean and dill pilaf. My copy is delightfully stained and water-logged from so much service in the kitchen.
- The Book of Jewish Food covers the Jewish diaspora of Europe, North Africa and the Middle East but in its heart of hearts it's a book about Sephardic cooking--food of the Jews outside Europe (the author, Claudia Roden was born in Cairo). I dig the flavors Roden introduces in this book, dishes infused with pomegranate, sumac, tamarind and saffron, and her forays into the distinct food culture of various Jewish communities is fascinating.
- So what about Japanese cuisine? For me, my schooling in Japanese food has been mostly hands-on, but I often turn to Elizabeth Andoh's Washoku. Elizabeth is an incredible authority on Japanese food who has taught me so much. Her book is an accessible reference that demystifies Japanese ingredients and techniques and introduces lots of great home cooking recipes. I also found a book published in England called Dashi and Umami that really helped me understand underlying principles of Japanese cooking, especially its reliance on umami, or a sense of savoriness. And finally, I discovered Traditional Japanese Recipe Book with English Translation this spring in a bookstore in Tokyo and it rocks! The translation can be shaky at times but book offers a trove of classic dishes and also gets into practical theory, too, offering insights into knives and knife skills, stocks, Japanese seasonings, how to use salt and much more. Try to get your hands on it, if you can.
More Harris:
- Harris's Books: Japanese Hot Pots with Chef Tadashi Ono of Matsuri restaurant in New York, and Takashi's Noodles with Chef Takashi Yagihashi of Chicago.
- Harris's blog: The Japanese Food Report
- Japanese Food Report on Facebook, and Harris on Twitter. If you follow him on Twitter, he'll notify you when/where he is teaching his next workshop, publishing new articles, etc .
Lead photo by Tokyo-based photographer Jun Takagi.