Favorite Cookbooks: Sara Foster Recipe
Book author and market owner Sara Foster shares her list of favorite cookbooks with us.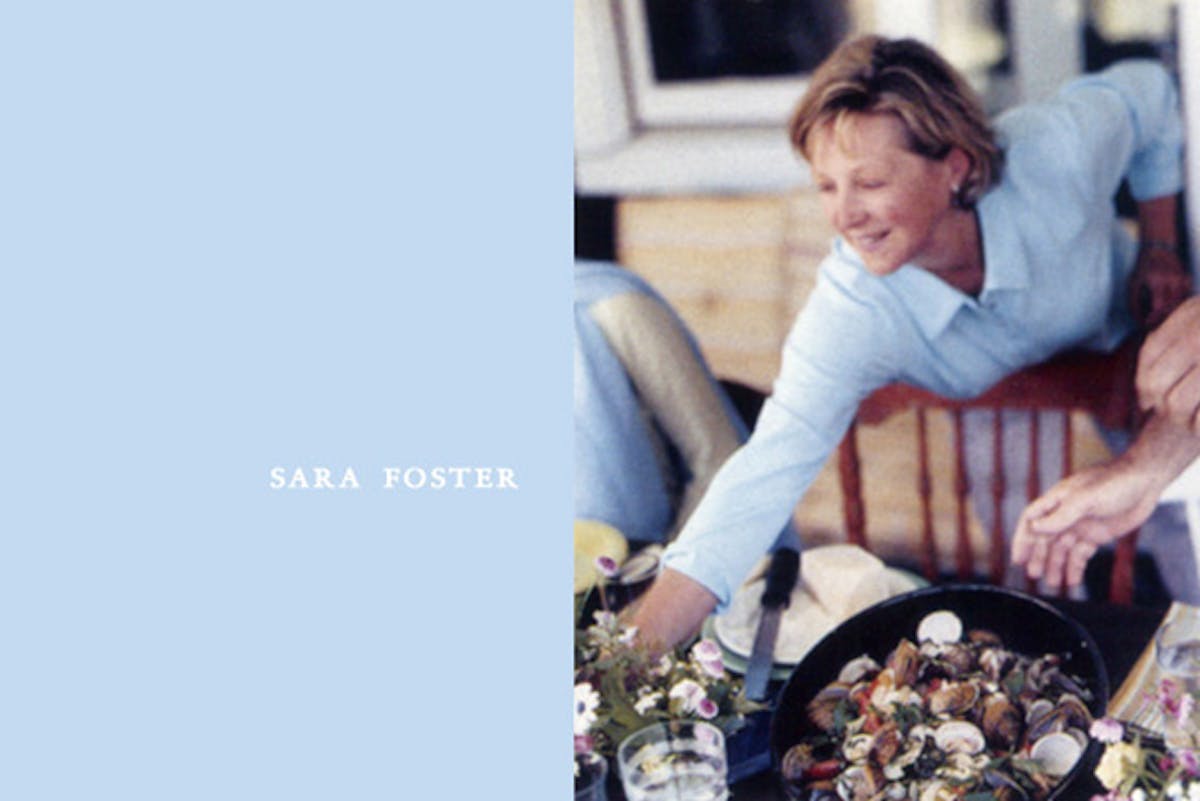 Sara Foster is the owner of two bustling markets in North Carolina. Google Maps tells me I'm precisely 2,824 miles from her Durham location, or approximately 42 hours in the car. Which is a shame because I've had Sara's books on my shelves for years, and I'd love the chance to taste her food at Foster's Market first-hand.
I'm sure many of you are familiar with Sara's books, or maybe you've seen her on television at one point or another. People. love. Sara. For her fresh, casual, relaxed approach to cooking. For her bright flavors and accessible ingredient lists. I couldn't help but jump at the chance to have her share some of the cookbooks that have inspired her over the years. She has picked some great books for her list, a few that are favorites of mine. But she also has a couple on her list that I've yet to see - time to keep my eyes peeled.
SARA'S COOKING STYLE (in her own words):
My rule of thumb, no matter what I am making, is to always start with a few fresh seasonal ingredients and to keep it as simple as possible. My inspiration for making dinner usually comes from a trip to the farmers market or grocery, or better yet, an outing, such as my recent road trip to the coast where soft shell crabs are just coming into season. I pick up whatever looks and smells the freshest, which has many advantages. First, it means whatever I make is going to taste great. And second, when I start with good ingredients I don't have to do much to them because I want the natural flavors of those foods to shine.
The season and the weather are also factors, not only for the ingredients I use, but also in what I do with those ingredients and how I like to eat. I tend to cook richer, slow-cooked meals in the winter, such as braised chicken and vegetables. In the warmer months, I usually throw together a salad and vegetable side dish to serve piece of grilled fish or chicken (or occasionally a big steak).
Right now, I am working on my fourth cookbook, A Little Slice of Southern, which is my take on southern food. A collection of foods I grew up eating in Tennessee but made to be fresher and lighter - more the way we like to eat today. This means, I have been making a lot of dishes with southern ingredients like peas, collard greens, grits and sweet potatoes - all things I really love. Cooking together and eating together are major parts of the Southern culture. The food doesn't need to be elaborate, just making dinner for the people you care about is really great for everyone, but especially the cook.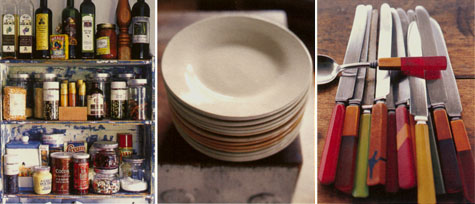 FAVORITE COOKBOOKS (the ones Sara turns to most often for recipes and inspiration):
- Appetite, Nigel Slater - I love the boldness of this book and his fearless approach to meat. He really knows how to work a grill pan and "the law of the wok" is a great reminder on how to cook with a wok.
- A Platter of Figs and Other recipes, David Tanis - It was a real toss up between this book and Chez Panisse Menu Book by Alice Waters. I love them both; not only for the simple seasonal recipes but the way they are organized into menus. Books like these never go out of style. I use the David Tanis book more because it is new to me, but I have to say the Chez Panisse book is the most worn book on my shelf.
- Cucina Simpatica, Johanne Killeen and George Germon - I have had this book forever and still make the Oven Cured Tomatoes, they are the best slow cooked tomatoes I have ever eaten. The pastas are incredible and the grilled pizzas, way before their time. The book shows Johanne and George as the true artists they really are.
- Frank Stitt's Southern Table - With sections like the Pea Primer telling you the difference between a zipper pea and a lady pea, this book is as much fun to read as it is to cook from. I made the White Bean and Collard Green Gratin for a dinner party recently and it was everyone's favorite part of the dinner.
- French Regional Cooking, Anne Willan - This is my go to book when I want to make something special and have the time to spend in the kitchen on a cold winter day making classic French dishes like Bouillabaisse, Coq Au Vin or Boeuf Bourguignon.
- Jamie at Home: Cook Your Way to the Good Life - I love the way he mixes and mashes, in your face, get it on the table method of cooking. Creative combinations of ingredients driven by his garden like " Hot and Sour Rhubarb and Crispy Pork with Noodles. There is also great information on gardening and making you realize the importance of where and how our food is being raised and produced.
- Martha Stewart's Cookies - I'm not a baker and usually don't have the patience but I love making cookies because they are so easy and somewhat therapeutic. The table of contents has a photo of every cookie, which I find very helpful, it helps you decide what you want to make in advance. The Chewy Chocolate Gingerbread Cookies are my favorite. We sell hundreds of the Peanut Butter-Chocolate Chip Oatmeal Cookies every day at Foster's.
- The Greens Cookbook, Deborah Madison - I used this book for several years before I realized it was a vegetarian cookbook. I still make the Chinese Noodle Salad with Roasted Eggplant. The Blackberry Crisp topping is my base recipe for all crisps. I mix up the fruit and sometimes add oats or nuts to the topping.
- The Heritage of Southern Cooking, Camille Glenn - This book was given to me by a friend and mentor in the late 80's when I had my catering business in CT. Clients were always asking us for southern dinners with sweet tea and biscuits. Bruce gave me this to refresh my southern roots and recipes. I love the pickles and preserves chapter, especially the chutneys and chow chows.
- The Zuni Café Cookbook, Judy Rodgers - I still have to eat at this restaurant every time I go to San Francisco because it is always the best, the cookbook is the same. The chicken and duck recipes are my favorite. Duck Braised with Red Wine and Prunes. Chicken with Figs, Honey and Vinegar and the Roast Chicken with Bread Salad is a great crowd pleaser.
Photo credits: photo of Sara is by Diane Cu, and detail shots were taken by Quentin Bacon.

Related links:
- Sara's blog
- Foster's Market website
- Foster's Market on Twitter
- Foster's Market recipes
- Book: Sara Foster's Casual Cooking
- Book: Fresh Every Day
- Book: The Foster's Market Cookbook