Garam Masala Tofu Scramble Recipe
A favorite (and quick) tofu scramble recipe using shaved fennel, caramelized onions spices and dried fruit, and then counter-balancing those flavors with cilantro and chopped nuts.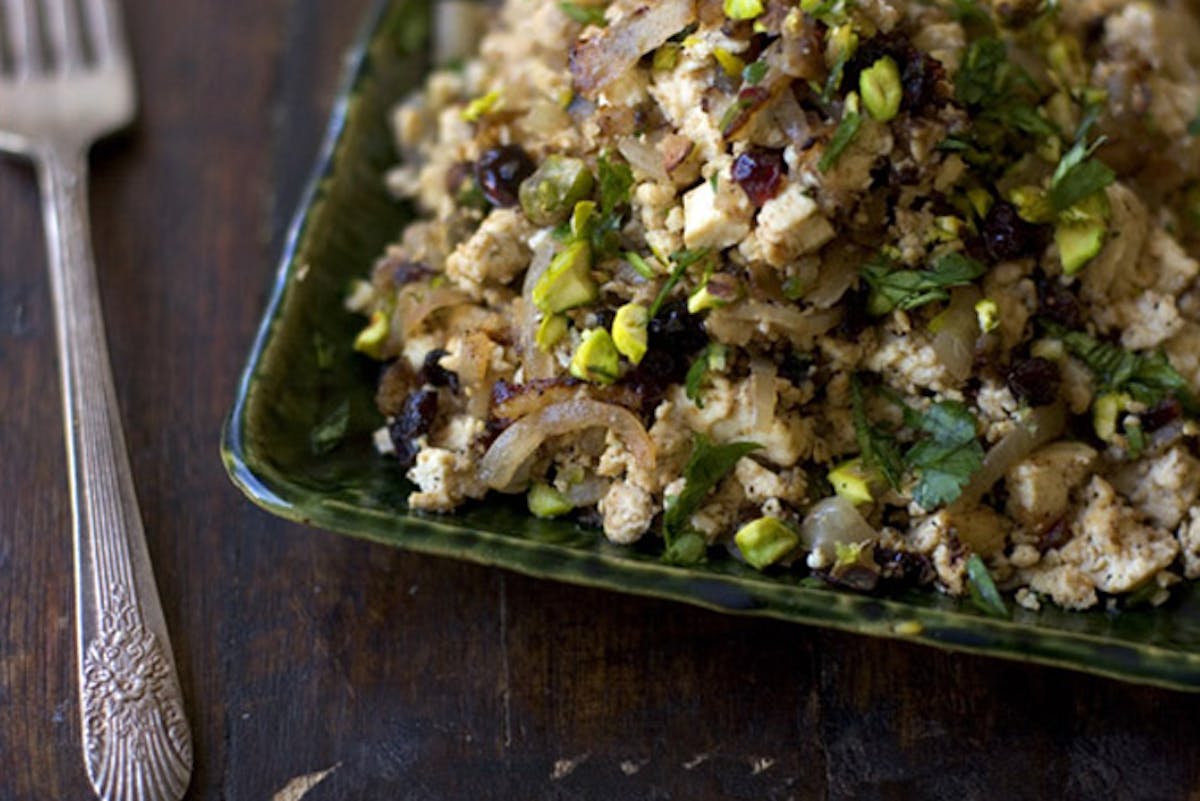 I'm going to try to get you excited about a tofu scramble recipe today, and I suspect it's going to be a tough sell - in fact, I can imagine hundreds of you rolling your eyes right at this moment. But hear me out. Tofu scrambles are a great way to get a delicious, vibrant, balanced meal out of a single pan. Bonus points for being able to do it in a short time period - in fact, more often than not I'll throw together a skillet for dinner (vs. breakfast) if I get home on the late side. I did a favorite tofu scramble in Super Natural Cooking, but this version is quite different. Lately I've been using warm and sweet flavors like shaved fennel, a garam masala spice blend, caramelized onions and dried fruit, and then counter-balancing those flavors with cilantro and chopped nuts. I love the play between all the flavors and textures. Even if you think you aren't a tofu fan, this one might win you over, and I encourage you to give it a go.
Try not to think of the tofu scramble as a replacement for an egg-based scramble - even though we are appropriating the word here. The crumbled tofu merits its own realm of culinary exploration, and while many of the ingredients you might pair with an egg scramble might work here, the reverse is less likely to be true. I mentioned in my book that I've long since given up on trying to convince a certain slice of my friends that the tofu scramble is a worthy culinary concept, but I still think they're great. And for those of you who cook for others, they work really well for mixed crowds. This variation happens to be gluten-free, dairy-free, vegetarian, and vegan - but not because I set out to make it that way, and not because I was taking ingredients away from the original idea - it just is, which works out nicely.
Enjoy! And if you're looking for more brunchy breakfast recipes don't miss this healthy granola, or the best waffle recipe , these homemade cinnamon rolls, a loaded frittata, pancakes, Herb Cream Cheese Scrambled Eggs, and the baked oatmeal is always popular. I also love this Cinnamon Vanilla Sunflower Butter on freshly baked toast. 
Garam Masala Tofu Scramble Recipe
Cut the onion/fennel thinner than you would for a slaw - extra thin, but not quite whisper thin. You can buy garam masala spice blends, or make your own from spices like cardamom, cloves, cumin, and cinnamon. On the tofu front, I actually like to use a firmer tofu which lends more structure in the end, softer water-packed work as well but lend a looser, and in some cases creamier texture.
a splash of olive oil
couple pinches of salt
1 1/2 teaspoons garam masala spice blend
1 medium onion, halved and cut into thin slices
1/2 medium bulb fennel, cut into very thin slices
1/4 cup dried cranberries, chopped
12 ounces extra firm orgnic tofu, crumbled
1/4 cup chopped cilantro
1/3 cup pistachios, chopped
Add the olive oil to a big pot over med-high heat. Stir in the garam masala, and then quickly add the onions and fennel.
Stir in onions and salt and cook until the onions soften, just a minute or two. Now it's up to you in regards to how long you'd like to let the onions cook - it you are in a rush, just cook them for a few minutes until they soften. If you have a bit more time, let them start to caramelized and darken. Stir in the cranberries, cook them for thirty seconds and add the tofu. Stir and stir to combine the tofu with the other ingredients. Remove from the heat and stir in the cilantro and pistachios. Taste and add more salt if needed.
Serves 4.