Favorite Cinnamon Rolls Recipe
Classic, homemade cinnamon rolls made from a favorite cardamom-flecked, buttery, yeast dough with a generous cinnamon-sugar swirl.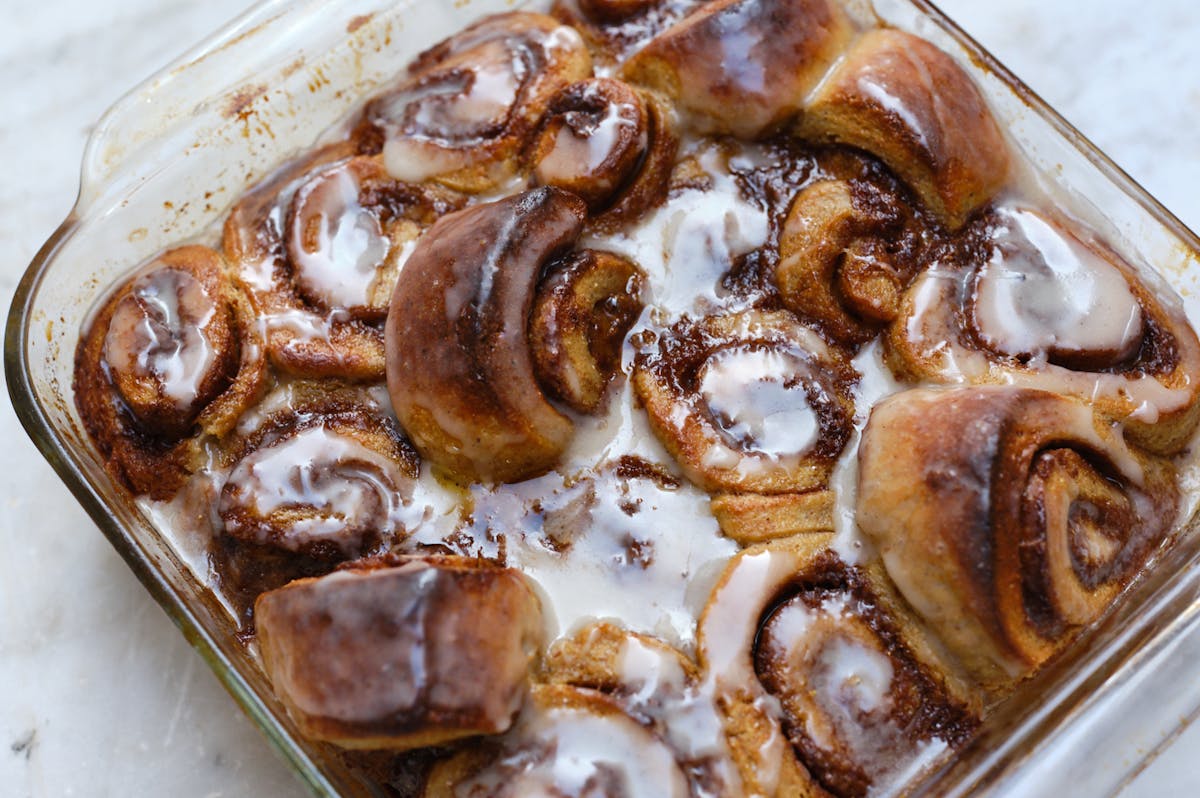 I make a version of these cinnamon rolls nearly every year for Christmas. The first time I made them was in 2010, inspired by the version in Lotta Jansdotter's book. They're beauties. Everyone LOVES them. The base recipe is for a version of Lotta's beautiful, homemade, hot from the oven, loaded with sugar and spice, golden, buttery, classic cinnamon rolls.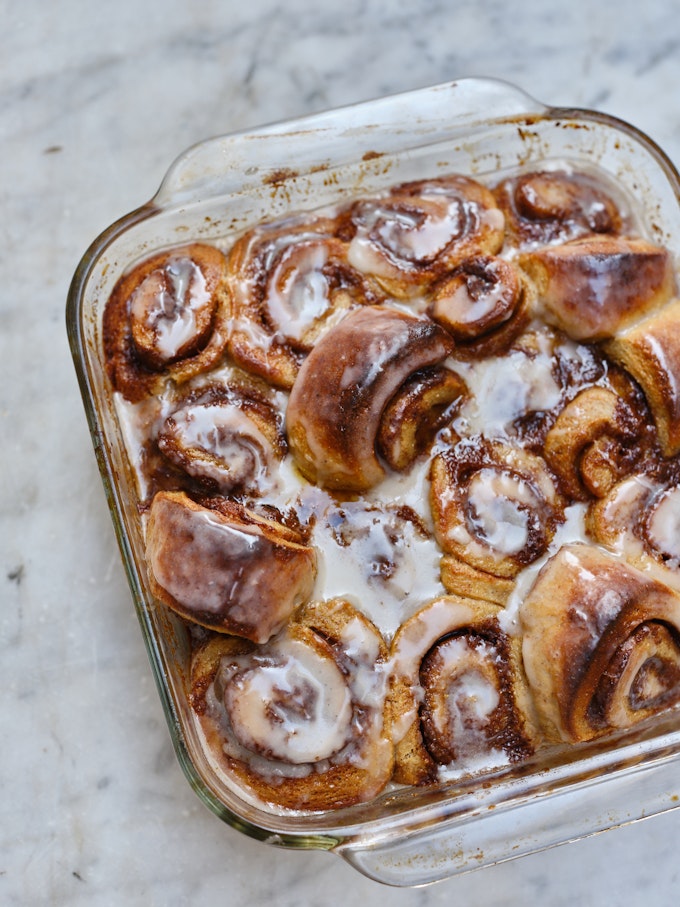 Cinnamon Roll Basics
To make cinnamon buns you start by making a buttery yeast dough. I know some of you shy away from yeast-based recipes, because of perceived difficulty, but these really are fun to make. One thing to know, they do take time. You'll need to let the dough rest and rise at various points, but most of that time isn't active, so don't let that deter you. Also, once you get the hang of things, you can play around with all sorts of different fillings in future batches. If you want to explore something beyond cinnamon sugar, the filling can be anything from jam, a sweet compound butter, a flavored cream cheese filling. Have fun, experiment, and use this recipe as a jumping off point.

How to Make Cinnamon Rolls: The Process
Making cinnamon rolls goes like this. Mix the dough. Let it rise. Roll it out. Put down the filling. Roll. Slice. (Freeze here, if you're going that route). Another rise. Bake. Lotta sprinkles her cinnamon buns with pearl sugar before baking, which gives them a nice crunchy top, but I know a lot of people like a thick slathering of icing - to the horror of some Swedes, I might add. Sometimes I serve these w/ raw sugar on top and icing on the side, and often use the icing from these hermit cookies.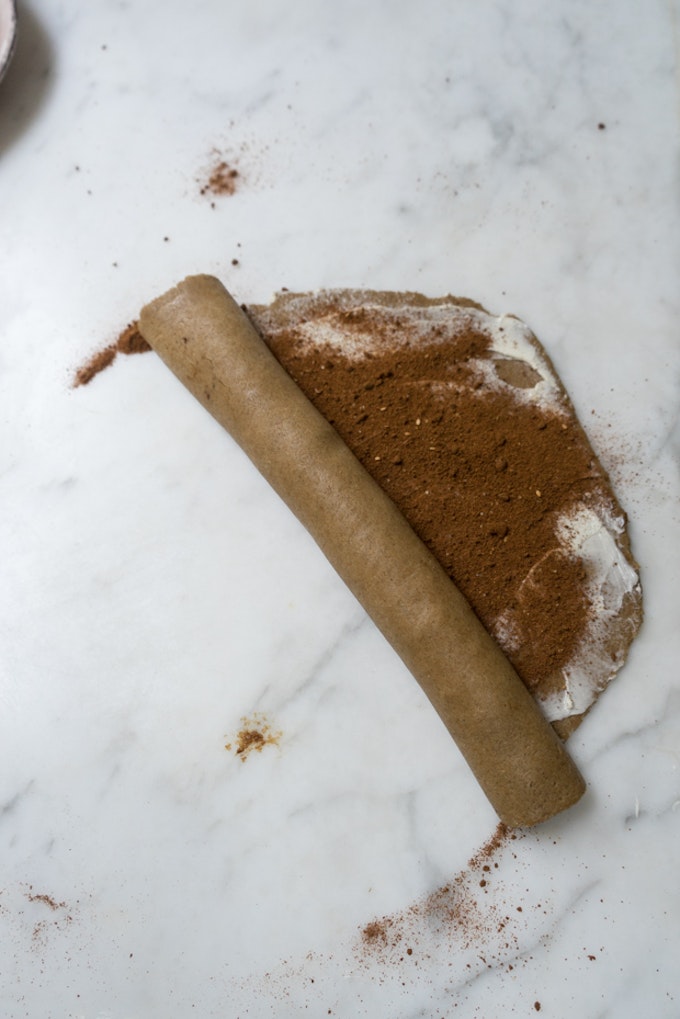 Variations
I've made little tweaks over the years reflected here. Above you see a version of the cinnamon rolls topped with icing. Alternately, you can do a simple sugar sprinkle before baking. I include instructions for both below. You can also play around with the flour. I've done versions with a percentage of rye and also whole wheat flour, for a kiss of rustic-ness. There are some great insights in the comments as well.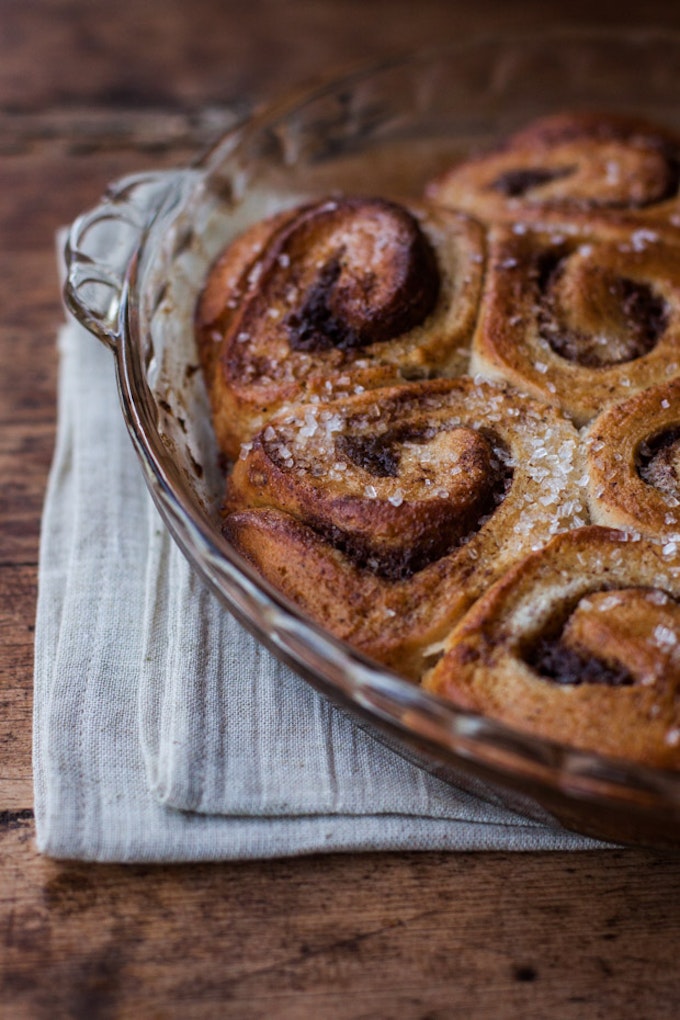 Make Ahead Magic
One of the great things about these cinnamon rolls, is that you can prepare them ahead of time. You can even freeze the pre-baked rolls. The night before you're ready to bake them, leave them to thaw, covered, on your counter, and bake them in the morning.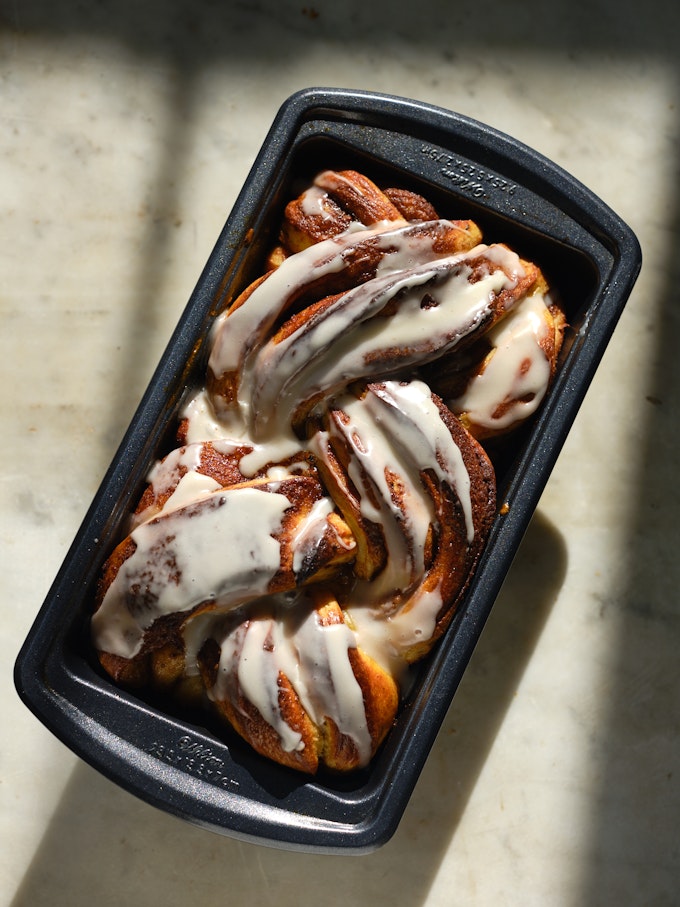 To Make A Cinnamon Swirl Loaf:
This is an easy tweak to the below cinnamon roll recipe & results in a beautiful, braided loaf. Don't be intimidated - it looks much more difficult than it is. Promise! The basic jist is this: instead of slicing your two tubes of tightly rolled cinnamon roll dough into individual buns, slice each tube lengthwise with a sharp knife and arrange them side by side, cut side up. See the illustration below to understand how to braid the strands. You should now have four "strands." If you are having trouble slicing, try getting your knife a bit wet, and clean between each cut.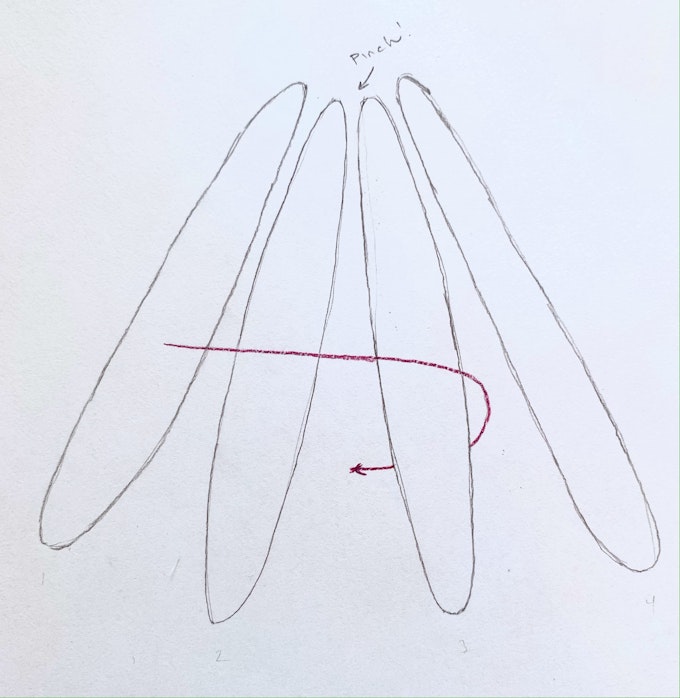 To braid: Pinch the top ends together. Now, take the left strand and move it over two strands (to the right) and under one strand back to the left. Switch to the other side: take the most right strand and lift it over two strands to the left and back under one strand to the right. Repeat, alternating from left side to right side until the loaf is complete. I find it easiest to say out loud, "over two under one, over two, under one." Pinch the ends together and carefully lift and tuck into a 9x5 loaf pan. It really doesn't have to be perfect, just aim for a reasonably tight braid.

Continue with the recipe as written, allowing the twisted loaf to rise in a cozy spot. You'll bake at the same temperature noted in the recipe, but for longer with the twisted loaf - closer to 30 minutes. And with a loaf like this, where you run the risk of a doughy interior if you under bake, I like to use an instant read thermometer to make sure the interior hits about 190F. If the top of your loaf darkens before the dough is cooked, tent a piece of foil over the top for the duration of the bake.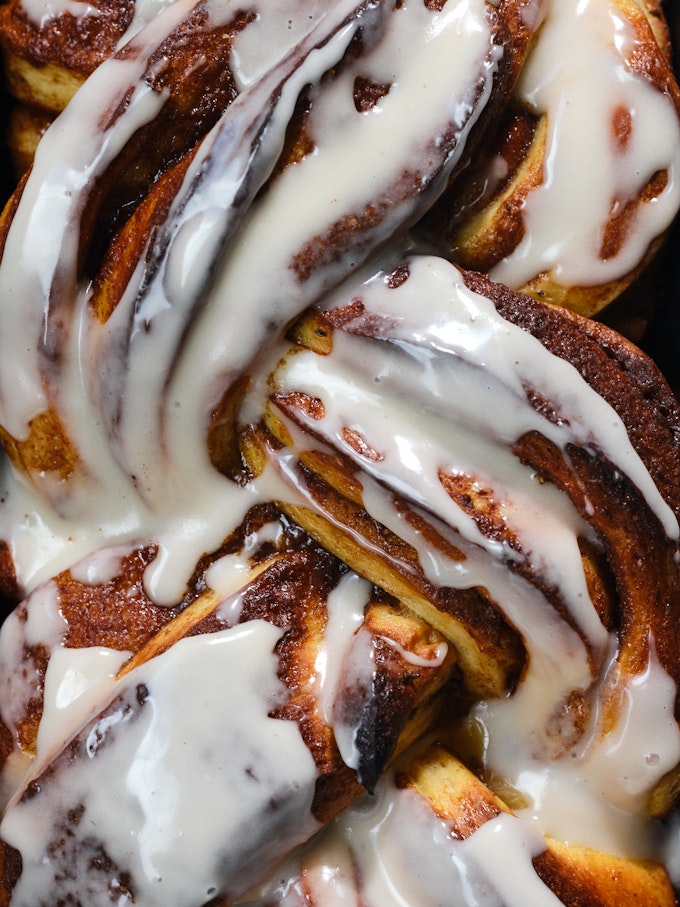 More Ideas:
There are a lot of way to go from classic cinnamon rolls to something else. Here are some of the ideas that have come up over the years. For the vegans out there, Shannon notes, "1 cup wheat whole wheat flour and used coconut milk and a flax egg. Topped with nutella and whipped cream." I make a version of the icing with creme fraiche, always a hit, but buttermilk is great too, and easier to come by.

Danielle had this to add," I added 1 tsp of a medicinal masala chai spice blend I ordered on etsy, and it put these over the top!" I love this idea, and heartily encourage experimenting with other spice blends as well. I make these at times with a cinnamon, rose petal, sesame blend. Also, hard to go wrong by using a bit of lemon zest in the bottom of your baking dish.
Hope you love these as much as we have over the years! If you're looking for breakfast recipes don't miss this healthy granola, or the best waffle recipe (seriously!), these classic pancakes, a loaded frittata, tofu scramble, Herb Cream Cheese Scrambled Eggs, and the baked oatmeal is always popular.
Favorite Cinnamon Rolls
If you plan on freezing any of the pre-baked cinnamon rolls, here's what you want to do. Freeze them for an hour on a baking sheet or until they'll hold their shape, then drop them into a freezer bag, squeeze out any air and seal well. The night before you want rolls for brunch, thaw them overnight on your counter top, covered with a clean dish towel, and bake per the instructions below any time the following morning.
Ingredients
4

teaspoons

active dry yeast

1

cup

warm whole milk (105F to 115F / 40C to 46C)

3/4

cup

/ 100g brown sugar

1

large egg, beaten

1/2

cup

/ 125g unsalted butter, barely melted

1

tablespoon

ground cardamom

1

teaspoon

fine grain sea salt

4

cups

/ 600g all-purpose flour
Filling
1/2

cup

/ 60g brown sugar

2

tablespoons

cinnamon

1/2

cup

/ 125g unsalted butter, softened
Glaze
1

egg beaten with 1 tablespoon of water

large grain raw sugar or pearl sugar for sprinkling OR icing
Icing
1

cup

powdered sugar

4

tablespoons

buttermilk or heavy cream

1/8

teaspoon

fine grain sea salt

1

teaspoon

vanilla extract
Instructions
Make the Dough:
Sprinkle the yeast over the warm milk in a large bowl. Add a pinch of the sugar and stir to dissolve the yeast. Let stand for a few minutes or until foamy.

Add the remaining sugar, the egg, melted butter, and cardamom. Stir until smooth. Stir the salt into the flour, then gradually add the flour to the bowl, a bit at a time, incorporating the flour after each addition. Transfer the dough to a floured counter top and knead for 8-10 minutes, or until the dough is smooth and elastic. Transfer the dough to a lightly oiled bowl, turn it to coat with oil, and cover with a kitchen towel or equivalent. Let the dough rise in a sunny or warm place until doubled, about an hour.

Cut the dough in half on a floured counter top and form each piece into a ball. One at a time, roll each piece into a rectangle 12 inches/30cm and 1/2 inch/12mm thick. See the photos up above if this is confusing.
Make the Filling and Shape the Rolls:
Start by combining the cinnamon and sugar in a small bowl. Spread half of the butter evenly over one rectangle of the dough. Sprinkle half of the sugar mixture evenly across the butter. Roll the dough up tightly lengthwise, then turn it so that the seam side is down. Cut the roll into 12 equal slices, a serrated knife works best. You can bake these, cut-side up, on a parchment lined baking sheet, in cupcake liners, or in a buttered baking dish. I used a well-buttered standard pie dish. Unless you are using individual cupcake liners, you want to arrange the slices about 1/2-inch from each other on the baking sheet or in the baking dish. They rise and expand, and end up nice and snuggly in/on the pan. Repeat with the remaining rectangle of dough and filling. You can freeze any slices you aren't going to bake at this point.

Cover the rolls you are going to bake with a dry towel and let rise in a sunny or warm spot until doubled, about an hour. The timing is pretty flexible here - you can go a few hours depending on what is convenient.

Heat the oven to 400F/ 205C with a rack in the top third. Brush the buns with the egg wash and sprinkle with sugar if you like. Bake the buns until golden brown, roughly 15-18 minutes. Don't over bake, the buns will dry out = not as good. Remove from the oven and serve warm if possible, plain or with a slather of icing* on top of each bun.
Icing:
Whisk the powdered sugar with the buttermilk, salt, and vanilla together in a small bowl. Stir until smooth, let sit for a few minutes, then adjust with more sifted powdered sugar if you want a stiffer icing, more buttermilk to thin it out.If icing your cinnamon rolls, spread a bit on each individual roll before serving or serving the icing on the side with a palette knife for individual spreading.
Related Recipes
More Recipes
Popular Ingredients